Policy
City Hall budget officials clash with City Council members at final hearing
New York City Budget Director Jacques Jiha faced spirited questioning from City Council members as they argued cuts will harm city services.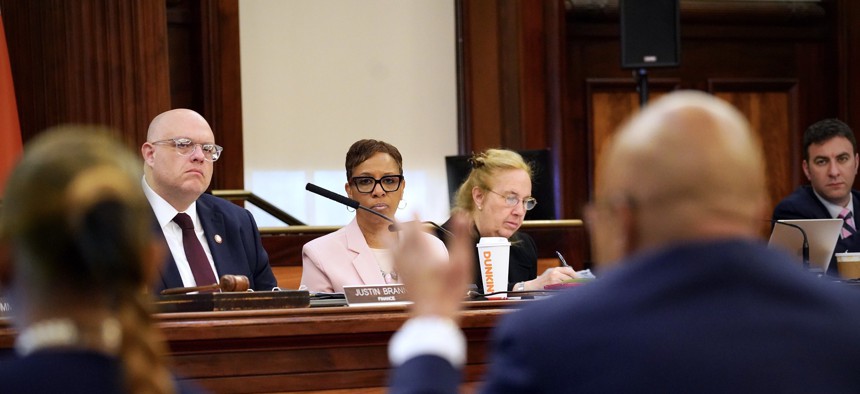 New York City's next budget is due before July 1, but a four hour long City Council grilling session with the city's top budget officials suggested there could be a long road ahead to negotiating a final deal.
At the hearing, which featured testimony from Office of Management and Budget Director Jacques Jiha, City Council members and Jiha repeatedly clashed over whether the administration's citywide budget cuts will harm the delivery of city services and programs.
Council leaders, including Speaker Adrienne Adams and Finance Committee Chair Justin Brannan, have asserted that the city's savings initiatives – including the most recent 4% budget cuts mandated for nearly all city agencies – will leave agencies struggling to meet demand for city services or programs like meal deliveries to older New Yorkers. And while a handful of agencies were partially or wholly exempted from the latest 4% cuts, they still face reductions from previous rounds of savings, also referred to as Programs to Eliminate the Gap. The city's public library systems, which were spared the latest round of cuts, recently testified to the council that they would have to reduce hours because of earlier cuts that are planned to extend into the upcoming fiscal year.
But Mayor Eric Adams' administration, represented on Tuesday by Jiha and the Office of Management and Budget, said that the savings initiatives have come largely from reducing vacant positions and reestimating program costs due to underspending. The latter was the case for two programs providing older adults free meals, which are facing budget reductions in the upcoming fiscal year because of less than anticipated spending this year. Jiha told Council Member Crystal Hudson, who chairs the Committee on Aging, that if more money was needed for the program because of increased demand in the future, the Office of Management and Budget would sit down with the Department of Aging to try to meet that need. "We will not let them go hungry," Jiha said.
On the issue of removing vacant positions, the council has pointed to short-staffed agencies already having trouble delivering services at full capacity, arguing that unfilled positions aren't necessarily superfluous just because they're currently vacant. Earlier this year, a report from the administration cited staffing shortages at the Human Resources Administration as partially to blame for slower processing of Supplemental Nutrition Assistance Program, or food stamp, benefits. 
Jiha said on Tuesday that there are still roughly 23,800 unfilled positions across the city. "We've been hiring people at a rapid clip. But on the other side we've also been losing people," Kenneth Godiner, first deputy director at the Office of Management and Budget, said of hiring across the city. Jiha said that city agencies still have plenty of unfilled positions left to hire for before worrying about the vacant roles being cut. "For every agency, hire up, and if you need more positions at the time after you hire up, then we can have a discussion," he said.
Though Council leaders said that they have spent the last few weeks hearing about how the latest cuts will lead to service reductions, Jiha suggested that it's not surprising to see agencies push to have their own programs funded. "This is their job, to advocate on their behalf," he said, in an exchange about the libraries. 
"We have a larger responsibility than every single agency head," Jiha added, speaking about the Office of Management and Budget. "They are looking at the particular agencies, their particular needs. We have to balance the city's budget (and) at the same time make sure that we have resources to fund (the council's) priorities and the mayor's priorities."
When failing to see eye to eye on the impact of budget cuts to services, council members and the city's budget officials were sometimes left talking in circles, with both parties showing visible frustration and at times trading heated exchanges. Socialist Council Member Charles Barron, who hasn't been hesitant to drop niceties with any of the administration officials testifying at budget hearings, accused Jiha of being "arrogant" in his responses to council members' questions.
"Were you able to watch any of our executive hearings with the city agencies?" Speaker Adams asked Jiha, after he said that the latest rounds of cuts didn't cut services or programs. "Their testimony completely contradicted what you just said in that services were not impacted."
In a report released on Tuesday morning, fiscal watchdog Citizens Budget Commission found that 13% of total savings achieved through the administration's Programs to Eliminate the Gap are budget reductions that could potentially reduce the current level of city services and programs. The watchdog found that 87% of savings were found from sources including vacancy reductions, cost reestimates and new revenue.
The hearing, which followed ten days of agency-specific hearings on the executive budget for fiscal year 2024, was the final executive budget hearing featuring testimony from the administration and city agencies. A hearing for public testimony on the executive budget is set to take place on Wednesday.
Though Tuesday's hearing was noticeably tense at times, the city's budget officials and council members did venture towards some common ground. Asked why Promise NYC – a new program providing child care to undocumented families that Mayor Adams has praised – didn't receive renewed funding in the executive budget, Jiha suggested the administration may be open to funding it.
"This is a very good program, to be honest with you," Jiha said in response to a question from Council Member Diana Ayala. "We will monitor it and it will be part of the discussion as we move toward (budget) adoption with the council."