Criminal Justice
Latrice Walker and public defenders pledge to fight excessive bail despite latest rollbacks to bail reform
Bail reform or no bail reform, judges are still bound by the Eighth Amendment prohibition on excessive bail, the Assembly member said.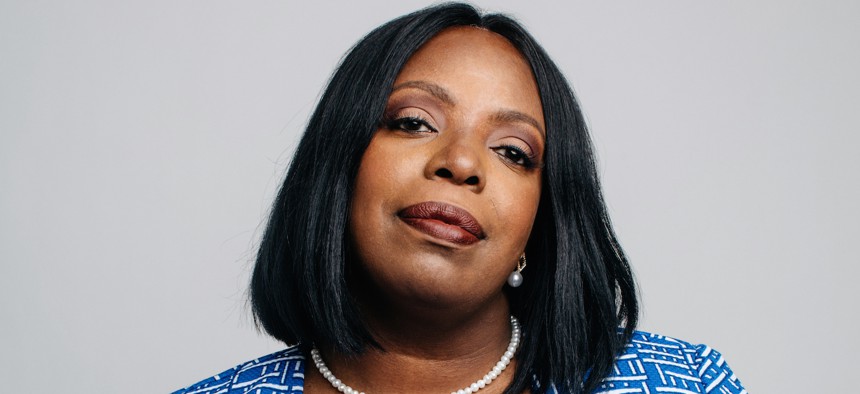 After months of budget negotiations over bail, Gov. Kathy Hochul and the Legislature finally came to an agreement on rollbacks to the state's bail reform law in this year's final budget, which removed the "least restrictive means" standard judges use when setting bail and other pretrial conditions. Despite the change to state law, though, judges do not have free rein to set bail at whatever level they want. Lawyers and public defenders say judges are still bound by the Eighth Amendment, which prohibits excessive bail, and they plan to ensure judges are not violating that federal standard when setting bail.
"If a judge decides to set bail at an amount more than necessary to ensure return to court, lawyers will (file a) writ on that case immediately," said Eli Northrup, policy director of the criminal defense practice at Bronx Defenders.
Even after the rollbacks, the sole purpose of bail in New York state remains ensuring that someone accused of a crime does not skip town before their trial in an attempt to evade justice. Judges are not allowed to set bail for any other reason, including concerns about a defendant's supposed "dangerousness." When the state enacted a bail statute in 1971, the Legislature notably rejected the inclusion of a "dangerousness" standard for setting bail. Back in 2019, the Legislature passed the infamous reform to eliminate cash bail for many nonviolent and low-level offenses. The law also required judges to be explicit about flight risk for defendants for whom they set bail. The state's bail laws have evolved and the latest evolution in the state budget this year to remove the "least restrictive means" standard judges use was met with great opposition from criminal justice advocates and progressive lawmakers. 
During the Assembly floor vote on the budget bill containing the bail rollbacks, Assembly Member Latrice Walker – one of the original architects of the 2019 bail reform law – gave an impassioned speech and later released a statement explaining her opposition, which included a promise to "see you in court." In a subsequent interview with City & State, the Assembly member – along with several lawyers and public defenders – clarified that she currently has no plans to launch a facial challenge to the rollbacks. Instead, the lawsuits will come from public defenders and other defense attorneys who are challenging judges' excessive and unnecessary impositions of bail in specific cases. "To say 'we'll see you in court' is because that's the forum where the rubber meets the road," Walker said.
The governor has claimed that the "least restrictive means" standard limited judges' discretion in setting bail. She has asserted judges were confused over the "least restrictive means" standard. But Walker and public defenders say that whether or not the state law actually contains the words "least restrictive" cannot change the fact that judges may not impose excessive or unnecessary bail on defendants. That's because the state constitution, not to mention the Eighth Amendment to the U.S. Constitution, prohibits excessive bail. 
In an interview with City & State earlier this month, the Assembly member specifically highlighted the Supreme Court case U.S. v. Salerno. That case upheld the constitutionality of the 1984 Bail Reform Act, which allows federal judges to order defendants detained after finding that they pose a flight risk or a public safety risk. Most of the Salerno ruling is not directly applicable to New York courts, since New York state law does not allow judges to consider a defendant's dangerousness when setting bail. But one section of the case is relevant.
"(The Salerno Case) did say is in jurisdictions where the purpose is returned to court, the amount of bail set has to be set only an amount that would ensure that," said Amanda Jack, a public defender with the Legal Aid Society. The upshot is that the U.S. Constitution bars judges in New York from setting excessive bail or imposing conditions on defendants that are not necessary to ensure their return to court.
Northrup also pointed to a specific part of the Salerno opinion that focuses on judges setting bail, which states: "Thus, when the Government has admitted that its only interest is in preventing flight, bail must be set by a court at a sum designed to ensure that goal, and no more."
"There's always going to be a constitutional floor that we're standing on with very firm feet," Jack added. "So we're going to keep showing up – standing on that very firm floor." Jack said that she and other public defenders have for years  – even prior to 2019 –  challenged any bail decisions from judges that do not adhere to the standard of only setting the amount necessary to return to court. Their plan is to continue fighting against any instances where judges do not adhere to the standard – after the removal of the "least restrictive means" standard officially goes into effect.
Experts who spoke with City & State agree there are strong arguments to be made about the use of bail by citing the Salerno Supreme Court case. Kellen Funk, a Columbia Law professor, said the case's importance cannot be overstated since the Supreme Court has only reviewed a handful of cases involving bail in the last century. Salerno is the most recent of those cases – and touches on several important aspects, including due process and equal protection under the 14th Amendment. Funk largely agreed with the public defenders' interpretation of Salerno.
Even still, some legal jurists and scholars also have significant questions about the implications of the opinion of the case. Funk also asserted a majority of legal scholars have taken the language to mean pretrial liberty is a fundamental right, like other constitutional rights, although it is not explicitly stated anywhere in the opinion. "The court doesn't squarely in black and white say pretrial liberty is a fundamental right. It says 'Liberty is the norm and detention is the carefully limited exception.' But, that's not quite saying clearly what everyone thinks the opinion says. There is room for disagreement."
Walker and public defenders warned that the removal of the "least restrictive means" language from state law could lead to judges being even more likely to set excessive bail. In those cases, public defenders can appeal the bail decisions or even file federal lawsuits asserting that the excessive bail violates the Eighth Amendment – and they may eventually win those cases. In the meantime, though, their clients will sit in Rikers – which has reportedly had harsh conditions for detainees. Even though removing the "least restrictive" language from state law does not eliminate defendants' constitutional rights, it still imposes additional steps on defendants trying to challenge excessive bail. "The individual is harmed now because their recourse comes after the fact – as opposed to it just being the standard of the state of New York," Walker said.