Energy & Environment
Pursuing opportunities within New York's electrification goals
Industry leaders, policy makers gathered to discuss the possibilities at City & State's New York Electrification Summit in Albany.
New York's decarbonization goals present lofty challenges for generators, distributors and consumers, but the electrification transition also comes with immense opportunity, according to industry leaders, policy makers and advocates at City & State's Electrification Summit in Albany Wednesday.
Among the main topics at the summit was the state's ambitious Climate Leadership and Community Protection Act. Signed into law by former Gov. Andrew Cuomo in 2019, the act requires the state to reduce "economy-wide" greenhouse gas emissions 40% by 2030 and no less than 85% by 2050 from 1990 levels. 
Energy professionals also have cautioned that the state's decarbonization goals include the requirement that 70% of energy be developed by renewable sources by 2030, which may be difficult to achieve. Speakers at the summit acknowledged the complexities of reaching the state's goals, but noted the opportunity for jobs and economic development electrification offers, among other benefits. 
"The CLCPA is one of the most advanced challenges in the world. It requires adapting our systems and innovating new ones," Bryan Grimaldi, vice president of corporate affairs at National Grid and emcee of the summit told attendees gathered at the historic Renaissance Albany Hotel. National Grid along with Clean Path NY sponsored the event. 
Delivering a keynote address, John O'Leary, deputy secretary for energy and environment in Gov. Kathy Hochul's administration, underscored the governor's push to enact the CLCPA across five pillars: reliability, decarbonization, environmental justice, and economic development. O'leary also spoke of environmental initiatives in the recently approved state budget, including a controversial requirement that some new buildings be decarbonized beginning in 2025. Other challenges facing the state's climate goals, according to O'Leary, include inflation and geopolitical instability. "As we navigate these headwinds, we have to be nimble, and there are tailwinds too," O'Leary said.
Pivoting to opportunities, O'Leary mentioned how incentivizing electric vehicles could potentially benefit power producers and the New York Independent System Operator by providing more consistent demand in non-peak times such as overnight.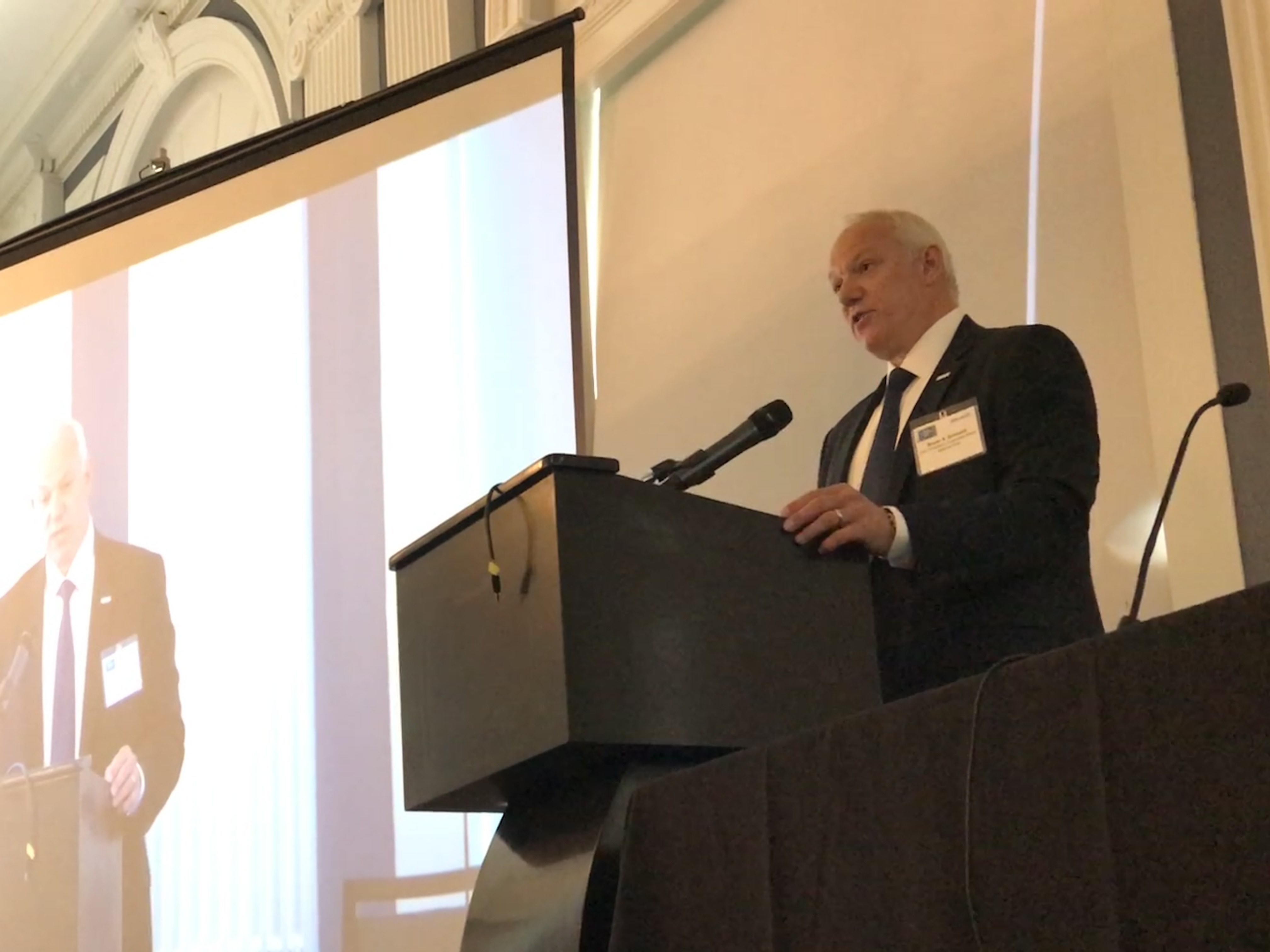 He also promoted the Hochul administration's push to ensure energy affordability during the transition, including the newly enacted state budget's provision of $200 million to support utility customers making less than the state's median income and $200 million towards the New York State Energy Research and Development Authority's EmPower Plus program to subsidize home electrical retrofits.
"For all of you, everything here will continue to generate a massive signal, market signal, political signal, for the deployment of clean energy technologies, products and services that will allow us to decarbonize and make this transition in a just and equitable way," O'Leary told attendees.
A diverse set of panelists followed to discuss building electrification in New York, affordability and equity and reliability. Represented on the panels were the Public Utility Law Project, Alliance for Clean Energy, NYS Builders Association, Building Decarbonization Coalition, New York Independent System Operator and Independent Power Producers of New York, among others.
Delivering a second keynote address was Justin E. Driscoll, acting president and CEO of the New York Power Authority. "As the largest owner and operator of the high-voltage grid in our state, we at NYPA are laser-focused on electrification efforts and the interplay with our system," he told attendees. "Also,we are also working closely with our government customers as they look to electrify their operations as well."
Driscoll noted that utility executives, lawmakers and officials, as well as business leaders have "useful ideas and perspectives" on decarbonization in the state. "While strategies and tactics will differ, we are aligned in our collective desire to achieve a cleaner, healthier New York for this and future generations," he said. 
The NYPA will embark on "considerable preparation, hard work, and, yes, continuing scientific and engineering breakthrough" in the months ahead, according to Driscoll, who added that the Authority, in its "desire to achieve substantial progress" will consider every possible option. "No potential solution is off the table," he said.
Driscoll later detailed the Authority's efforts to help transform New York's grid to meet the state's decarbonization goals. "In fact, over the next two years, we will spend nearly one billion dollars on transmission projects," he said. "This considerable investment will play a major role in helping to achieve the Hochul Administration's bold energy aspirations."
He also spoke of "leveraging private sector dollars through strategic collaborations to minimize the cost and risk to New Yorkers," noting a collaboration with Clean Path NY on a renewable energy and transmission project. "This effort is a great example of what is being achieved as some of the best minds of the public and private sector come together to change the energy landscape," he said. 
The project involves building out 175 miles of new, underground, high-voltage DC transmission, with 105 miles being built within existing NYPA rights-of-way. The effort will reduce the impact to local communities along the route. Partnering on the project is Invenergy and energyRE. The plan pairs a NYPA investment with a private-sector investment of $11 billion, making it one of the largest infrastructure projects in the country, he said.