Cannabis
Slow cannabis market 'the product of a choice' says state weed czar
New York has been criticized for a sluggish licensing process, but Chris Alexander said that's necessary to achieve equity.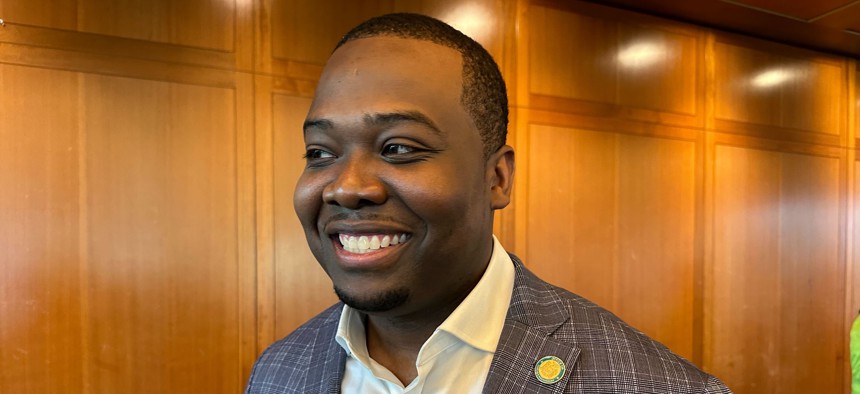 Isn't it fitting that the growth of legal cannabis in New York state is kinda… chilled out? The state's weed czar, better known as Office of Cannabis Management Executive Director Chris Alexander, defended the limited recreational weed market so far as the natural result of prioritizing equity.
"That slow rollout is the product of a choice that we have made as a state," he said Friday. "The choice to do the hard thing. To make sure that those who are impacted have an opportunity to participate in a meaningful way." 
Alexander was giving the keynote at City & State's Cannabis in NY Summit Friday morning at the Museum of Jewish Heritage in lower Manhattan. He said the Office of Cannabis Management isn't measuring success by the speed at which legal shops get opened. "We have today more licensees of color than anywhere else in the country," Alexander claimed. "They're not all operational … but we're working hand in hand to get them operational."
Gov. Kathy Hochul told the Syracuse Post-Standard in October that she expected 20 shops to open by the end of 2022, and another 20 or so to open each month after that. Eight months later? There are only 12 businesses legally selling adult-use cannabis across the entire state.  
Alexander didn't mention enforcement for the illegal cannabis market in his remarks – exemplified by the smoke shops popping up all over New York City – but City & State caught him afterwards, and he touted the extra powers given to his office in the state budget. "The biggest thing is we can chain doors now," he said. "Before, we were just seizing product."
That's one of the top issues on many New Yorkers' minds – like New York City Council Member Gale Brewer, who highlighted the illegal shops in her Upper West Side district: "I have 63 of them!" 
Alexander knows the state has been criticized for not doing enough to lift the barriers to entry for hopeful entrepreneurs. He called the first couple years of the process "A little more frustrating than it needed to be, but this was a good faith effort to create diversity in the industry." And now? "We're going to refine, retune, and then come back and try to do something that will be more effective."