Policy
There's no time to read budget bills, and Albany leaders are just fine with that
The budget is already a month late, but legislative leaders are still bypassing a three-day aging period meant to give lawmakers a chance to read the dense legislation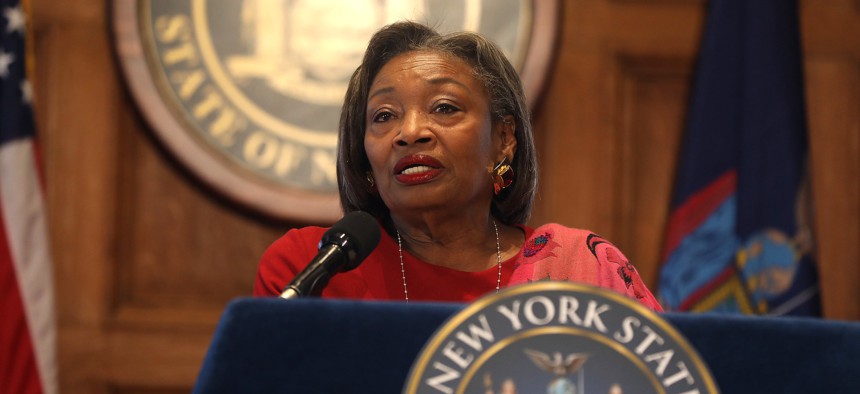 State lawmakers began voting on budget bills on Monday, exactly a month after the spending plan was due. The rub – the Legislature only introduced hundreds of pages of final bill text on Sunday evening and Monday morning. A final piece of legislation that includes the most contentious policy issues – long dubbed "The Big Ugly" – was only introduced Monday night. But state Senate Majority Leader Andrea Stewart-Cousins said Monday afternoon that her chamber plans to finish voting on all of the bills by the end on Tuesday.
This is par for the course in Albany when it comes to the budget, whether it's approved on time or a month late like this year. Under state law, lawmakers cannot vote on new or amended legislation until three days after introduction. The period of time is meant to give them time to read through the language of the bill in order to fully understand it before casting a vote. But the governor can issue a "message of necessity" in order to skip that aging process and permit immediate voting. For years, that's how the state has approved its budgets.
But with the spending plan so late already, why not wait a few extra days to provide lawmakers and political observers time to read through all the new language?
Asked about the sped up time frame, Stewart-Cousins brushed off the concerns of good government advocates that bypassing the statutory aging period only makes the already-opaque budget process less transparent. 
Speaking to reporters on Monday, Stewart-Cousins said that her members will still have enough time to digest all the new language in amended budget bills even without the mandatory three-day aging period. 
"People are able to read it," she said. "Certainly, we have drafts circulating, people are able to read it, we're talking about, we are creating opportunities to make sure people understand what is in there." As for whether average New Yorkers and outside observers should have the opportunity to read the bills before their legislators vote on them, Stewart-Cousins said that her chamber wants to avoid another budget extender. On Monday evening, Hochul unveiled a sixth and presumably final extender to keep the government running through Thursday. It will need to be approved by noon on Tuesday.
Good government advocates have long bemoaned the rush to approve those major policies and massive spending proposals with little to no time for public scrutiny. "This is a failure in transparency," the Citizens Budget Commission wrote in a December report focused on improvements to the state budget process. "Budget bills should be required to properly age so they may be reviewed before a vote is held." The report noted that lawmakers approved at least one piece of budget legislation with a message of necessity in each of the last nine budgets.
"Mistakes get made – I've seen lots of bills where they have to come back and deal with them again because they jammed them through and they're not adequately reviewed," said Blair Horner, executive director of the New York Public Interest Research Group. He said that discussing the contents of a budget bill with leadership and staff in conference is not a substitute for reading the actual language in the bill. "Getting briefed about what's in the budget and reading the budget are not the same thing," he said, adding that "unless you've taken a speed reading class, it's going to be hard to blow through these bills."
A notable example came in 2020, when many lawmakers expressed surprise at a budget provision inserted at the behest of former Gov. Andrew Cuomo that granted nursing homes immunity for civil liabilities for COVID-related deaths. The existence of this last-minute addition to the budget bills was not reported on until roughly a month after the bills' passage. Assembly Health Committee chair Richard Gottfried described the provision "very troubling" to The New York Times.
Assembly Speaker Carl Heastie has said for many years that he would prefer not to include non-fiscal policy in the budget. Stewart-Cousins called this year's spending plan the most "policy-laden" budget since she became majority leader, which she said was a major contributing factor in the month-long delay. But Hochul has little incentive not to cram the state budget full of policy proposals. Under state law, the governor has the most institutional power during the budget process, which makes it the best time for them to get major parts of their legislative agenda done.
Last week, Republican lawmakers pleaded with legislative leaders not to rely on a message of necessity this year, so that legislators and their staff could have enough time to read through the incredibly dense budget bills before voting. "If politics are important enough that they hold up the budget for nearly a month, then at a minimum they should warrant a full public vetting and honor the three-day aging period," Assembly Minority Leader William Barclay said in a statement. In a tweet on Monday, as well as a text message to City & State, state Senate spokesperson Mike Murphy pointed out that most other states, as well as the federal government, don't have a similar aging process for pending bills. Voting rights advocate Jarrett Berg responded that "26 wrongs don't make it right."