2023 session wrap-up
40 government reform groups decry proposed tweaks to NY campaign finance law
In a letter to legislative leaders, the watchdogs said the changes undermine the much celebrated campaign finance reforms passed in 2019.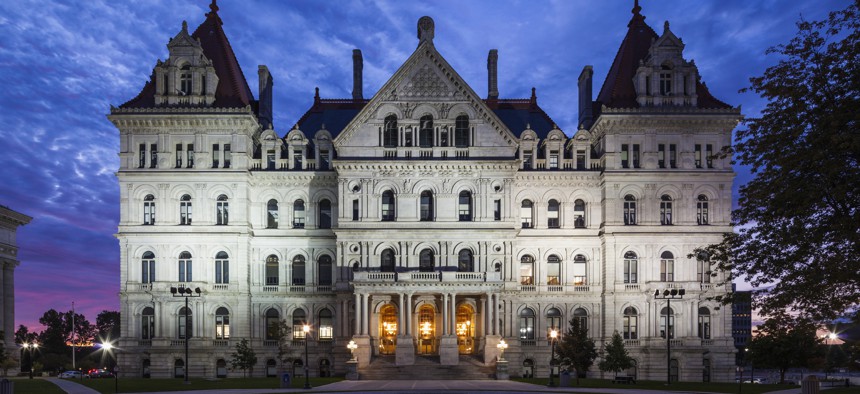 After lowering barriers to running for office in New York years ago, state legislative Democrats are poised to tweak some of the state's celebrated campaign finance laws to make sure they can cash in on big donations too. And anti-corruption government watchdogs are none too pleased. 
A coalition of 40 so-called good government organizations, including Reinvent Albany, Common Cause New York, Citizens Union and the state League of Women Voters, have condemned the proposed tweaks in a letter sent Friday to state Senate Majority Leader Andrea Stewart-Cousins and Assembly Speaker Carl Heastie. 
"Changing the nature of the small donor matching system at this point in its implementation undercuts the spirit of the program and is harmful to our state's democracy," the letter said. 
A state commission on campaign finance reform created the statewide public campaign donation matching program in 2019 to much fanfare that included long-called-for campaign finance reforms that are kicking in in the 2024 election cycle.
The program will match small-dollar campaign donations, between $5 and $250, with public funding – with the caveat that those donors didn't give any additional money in the same election cycle. Those rules were supposed to go into effect last year after Election Day. While there were discussions of delaying the implementation of the law, the state budget this year did include $39.5 million for the program.
Now, lawmakers are considering substantive changes to the law before they leave for the year at the end of this week. First reported by the Buffalo News, lawmakers are considering a change to also allow the first $250 of larger donations to get matched. That means a candidate will still benefit from public funds even when a donor gives more than $250. It allows lawmakers to still cash in on substantial public matching funds even if they have donors who max out their contributions. Where the matching funds originally would have evened the playing field for candidates without access to big donors, these tweaks would tilt it back toward the establishment again, advocates said. The offices of Senate Majority Leader Andrea Stewart-Cousins and Assembly Speaker Carl Heastie did not respond to requests for comment in time for publication. 
"That is completely counter to the point of the program – which is to empower small donors to lift the voices of everyday people in our political system," said Reinvent Albany Senior Policy Adviser Rachael Fauss. "No one should be fooled to think that the Legislature agreeing to do this is anything other than a step backwards for democracy in New York state," Fauss said.
At least one lawmaker said the tweaks are meant to simplify the process for everyone involved. In a statement to City & State, Assembly Member Jeffrey Dinowitz, who had previously introduced legislation to make larger contributions matchable, said he was mystified by the provision of only making contributions up to $250 matchable. 
"It would mean setting up a scenario where candidates would be constantly on the lookout to refund parts of contributions because it would run afoul of the $250 special. That made absolutely no sense to me and in fact, it creates a bureaucratic nightmare for the treasurers of the various campaigns," Dinowitz wrote.
The Bronx Assembly member said he preferred the New York City regulations on campaign contribution matching – in which the first $250 of larger donations are matched. Dinowitz also asserted the state's regulations on campaign matching were not part of the campaign finance rules and matching funds implemented a few years ago, but were instead done administratively without any input from the Legislature. The Legislature abdicated their responsibility for creating campaign finance law by tasking a commission with creating the rules for the public campaign finance program. The Legislature then declined to reject or make changes to the rules set forth by the commission, which became law automatically in 2020. 
According to the Reinvent Albany, another change being floated by lawmakers is to change the amount of contributions in the district needed for an Assembly candidate to qualify for the public matching program, which Fauss said will only benefit incumbent lawmakers and create a barrier for challengers.  As it stands right now, candidates need 75 contributions to qualify, but under current proposals being reviewed, that number could go up to 150.
As part of the reforms that created the public matching fund program, the commission also lowered contribution limits for candidates seeking legislative office in 2024 or statewide office in 2026. Donations for statewide office have a limit of $18,000 (down from $69,700), donations for state Senate have a new limit of $10,000 (down from $19,300) and Assembly candidates have a limit of $6,000 (down from $9,400). Changes to those limits are not being considered as part of the end-of-session tweaks. 
With just a few days left in the legislative session, Fauss said that lawmakers are trying to get this proposal into the "Big Ugly" package of omnibus bills at the end of session and rank-and-file lawmakers will may feel pressure to vote yes on the proposal in order to get their other legislative priorities passed before the end of session. "The Legislature shouldn't be doing it in the dead of night at the end of session," Fauss said.