Heard Around Town
A big change in the plans to renovate Penn Station
The new plan to renovate the Manhattan train hub will no longer include funding from surrounding office towers, Gov. Kathy Hochul announced.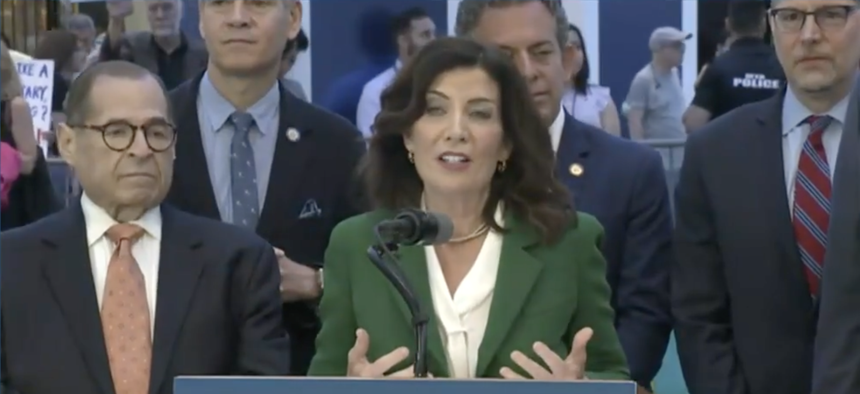 Gov. Kathy Hochul announced the next steps forward for the Penn Station renovation project at a press conference Monday morning. With MTA Chair Janno Lieber, Rep. Jerry Nadler, state Sen. Brad Hoylman-Sigal, Assembly Member Tony Simone and Manhattan Borough President Mark Levine standing at her side, Hochul had to raise her voice to speak over hecklers attempting to steal the show. 
The ongoing efforts to renovate Penn Station have continued to be muddled with controversy, criticism and differing perspectives on how to address the deteriorating Manhattan train hub that serves hundreds of thousands of commuters each day.
Several months after real estate developer Vornado announced they were pausing their plans to build multiple towers around the site as part of a public-private partnership to renovate the station, Hochul announced the new Penn Station renovation plan will exclude funding from the big office towers altogether. Hochul said the state will now instead focus on new funding sources for the redesign as well as improving the surrounding streetscapes. The towers were one of the most debated aspects of the previous "GPP" Penn Station plan.
"I no longer want that to be a delay … to this process which is moving forward today," Hochul said of the plans for office space in the previous plan. "We're no longer tolerating delays."
The governor also did not count out the possibility of eventually addressing office spaces in the future, but acknowledged the need to put it on the back burner to move the renovations to Penn Station forward. "We're not saying that there will never be demand again for office space, but we have to deal with the realities we're in. And I want to get this done," Hochul said. 
The elected officials all seemed to present a cool and calm front amid ongoing shouting from bystanders. While addressing the crowd, MTA Chair Janno Lieber couldn't help but acknowledge the hecklers – asserting that everyone agreed the plans to renovate Penn Station continues to be controversial. "Welcome to New York where everybody doesn't agree all the time," Leiber said.
Hochul concluded her remarks ironically with a pledge to get input from the community – who happened to be ever so present heckling during the announcement. "We will take their advice and their input because this is their neighborhood as well. And we respect that, but it's all about making this an extraordinary city," Hochul said.