Policy
As fires rage on, city looks to further regulate lithium-ion batteries
There's been a massive increase in fires, and deaths in New York City relating to bad batteries used in some e-bikes.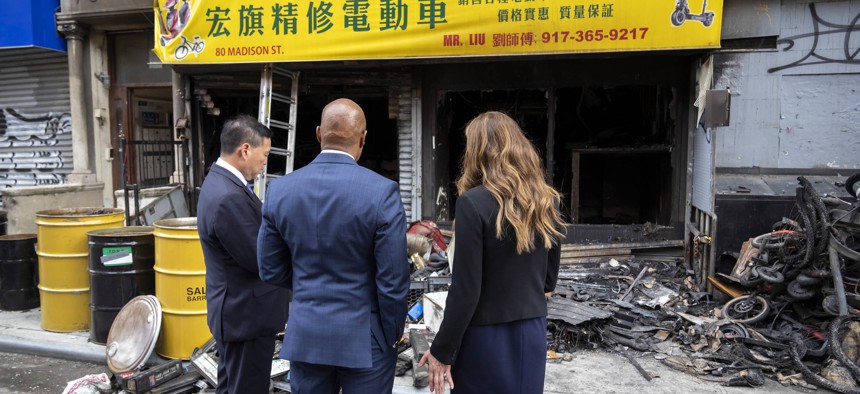 Flames shot up through the metal security gate of a storefront just after midnight on Tuesday, the fire melting a large hole in the aluminum panels. Smoke billowed from the burn, blurring view of the situation.
This was the scene at HQ E-Bike Repair Shop in Chinatown in Manhattan. Four residents of the apartments above the store died as a result of the blaze, with another two people in critical condition and others sustaining minor injuries. The shop was cited for violations related to their e-bike battery charging set-up last August and fined $1,600, but the issues were not corrected.
Tuesday's was the 108th fire from electric bicycles and scooters so far this year, an issue the mayor's office and the New York City Council have been working to combat.
"Being a New Yorker means looking out for your community, so this is our response," Mayor Eric Adams said at a press conference three blocks from the burned shop on Wednesday. "We don't need to wait for another tragedy or loss of life or injury to our first responders who are responding to these e-batteries."
E-bikes and e-scooters use lithium-ion batteries. When a bike has a refurbished, second-hand or homemade battery, or if the cable being used didn't come with the battery, there's a risk that the charging battery will explode. The number of battery-caused fires has been increasing every year since the council legalized personal electric vehicles in 2020 – starting out with 44 fires in 2020, 104 in 2021 and 220 in 2022.
Adams announced that 311 calls about questionable activity related to lithium-ion batteries will get a response visit from the Fire Department of New York within 12 hours, instead of within the previous 72 hour standard. Questionable activity includes many batteries charging all together, batteries plugged into extension cords and the sale of what appears to be, or is being called, refurbished batteries.
Additionally, Adams announced that the FDNY and the Department of Small Business Services will be partnering to provide information about battery safety to e-bike stores and repair shops across the city. 
Those guidelines include to charge batteries in an open space, to not to charge overnight, to never plug a battery into an extension cord and to not charge near exits, because if a fire does break out it'll block people's escape routes.
Wednesday's announcement builds upon the mayor's Charge Safe, Ride Safe program, which promotes safe battery-charging practices and increases enforcement against illegal device use.
The council passed a package of bills in March meant to deal with battery fires, and at least eight more bills are currently being discussed. One previously passed law requires all e-bikes, e-scooters and batteries to have been certified by an accredited testing lab before going on the market. Another restricts the assembly and sale of lithium-ion batteries using parts taken from old batteries. Three other laws require the development of reports and education campaigns about the fire risks of personal electric vehicles from the FDNY and the Department of Consumer and Worker Protection.
"We have to take the next step, which is more convenient disposal, more information, more opportunities to swap out, so we need another round of bills to protect workers," Council Member Sandy Nurse, who's sponsoring a lithium-ion battery bill, said in an interview with City & State.
Nurse's bill would require people and stores that buy or accept second-use batteries to report the batteries they get and how they dispose of them to the Department of Consumer and Worker Protection. The department would have to publish an annual report based on this record keeping, and the data would be available to the FDNY and Sanitation Department upon request.
Council Member Keith Powers has two bills in committee related to e-bike fires. One would establish a rebate program where users could trade in their used or uncertified batteries to get certified ones for free or at a reduced cost. 
The other would require all businesses that use e-bikes for delivery to provide their delivery riders with fireproof or fire-resistant containers for charging batteries.
"We're seeing a citywide crisis around the battery fires that is hitting every single community," he told City & State. "I had a fire in my district in Midtown in the fall of last year – but even before that, we have been looking at ways to tackle this crisis. We're seeing every stretch of the city right now being affected by it, and it definitely requires intervention."
Another battery bill comes from Council Member Robert Holden and would raise the civil penalty for e-bike and e-scooter violations from $250 to $500. 
"The previous NYC Council's hasty decision to normalize these devices without adequate safety measures has proven to be a grave mistake," he said in a written statement. "We must take immediate steps to enforce registration, licensing and insurance requirements to ensure the safety of our citizens."
Council Member Marjorie Velázquez has a bill that would require the New York City Police Department and the Department of Transportation to compile and report data on e-bike and e-scooter usage. She explained that by having data to go off, the city will be able to better regulate lithium-ion batteries.
"We can't afford to have any more fires," she said in an interview. "We can't afford to have any more of these situations." 
As well intentioned as the council and mayor may be in their efforts to regulate lithium-ion batteries, it might not be enough. John Jay College of Criminal Justice fire sciences professor Glenn Corbett said in an interview that federal regulation is needed to stop the importation of cheap batteries, which he called the "fentanyl of fires." Only lab-tested and certified batteries should be on the market for people to use, he said, and until that's the case, New Yorkers are going to continue dealing with e-bike fires.