Budget
Hochul and fiscal watchdogs warn of larger-than-expected state budget deficits
The state's spending is on track to outpace its revenue by more than $10 billion, leading conservatives to call for decreased spending and progressives to call for more taxes on the wealthy.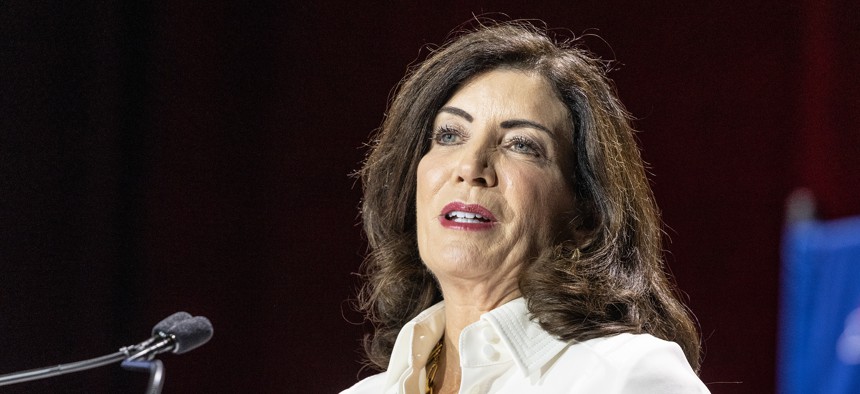 In recent weeks and months, Gov. Kathy Hochul has warned about a potential financial downturn in the state, amid concerns of a possible nationwide recession. After repeated instances of lower-than-projected tax receipts coming in, the state's latest economic projection has watchdogs worried as out-year budget gaps nearly doubled compared to predictions earlier this year. But they're split on the best ways to reduce those holes as New York spending continues to hit record highs. 
According to the enacted budget financial plan, released by the state Division of the Budget earlier this month, New York will maintain a balanced budget in Fiscal Year 2024 (the 12 months beginning April 1, 2023). But the state is projected to have a $9.1 billion budget deficit in FY 2025, with a $13.9 billion hole in FY 2026 and a $13.5 billion hole in 2027. That's well over the respective $5 billion, $8.6 billion and $7.2 billion gaps originally projected as part of Hochul's executive budget in February, holes that the conservative Empire Center think tank called "more manageable." 
The updated projections came after the state comptroller's office released data that showed actual tax revenues were much lower than projected, largely due to a significant dip in personal income tax receipts. The state collected just under $11 billion in total taxes in the month of April, which was $4 billion lower than what the state predicted in a February fiscal update. New York took a particular hit with personal income taxes, which make up the largest chunk of the state's finances, taking in just $7.5 billion instead of the projected $12.3 billion, a roughly 50% drop in collections compared to the same month last year. Tax receipts hit record highs in April 2022, so budget officials expected to see some drop in collections, but they did not expect it to drop by half.
With the financial uncertainty, fiscally conservative and right-leaning watchdogs like the Empire Center and Citizens Budget Commission have started sounding the alarm about the state's continued spending. "In enacting this budget, the Governor and Legislature added billions of dollars in fiscally unsustainable recurring spending, which widened the gaps," CBC President Andrew Rein said in a statement about the enacted financial plan. "Revising tax receipt estimates downward $5 billion annually widened them further." The Empire Center's Ken Girardin wrote earlier this month that the new budget gap estimates are the "clearest evidence to date that Albany's three-year spending binge… can't be sustained."
Although Albany officials approved the biggest budget in New York history at $229 billion, much of it recurring spending, they did not include any new taxes to bolster the state's finances, making good on Hochul's pledge not to raise taxes. The final budget only included a hike to the Metropolitan Transportation Authority payroll mobility tax for suburbanites, the proceeds of which will go directly to the transit agency rather than into the state's general fund. And while Hochul agreed to extend a higher corporate tax rate originally scheduled to sunset this year, she declined legislative proposals to increase personal income taxes for the wealthiest New Yorkers. Hochul cited the looming recession fears as a major reason to leave tax rates alone.
While conservatives have cited the fiscal uncertainty as a reason for Albany to cut spending, progressives have pointed to the fiscal uncertainty in both the state and around the country as reasons for New York to raise taxes on the wealthy and create new, recurring revenue streams to weather potential financial downturns. "Contrary to the governor's rhetoric, raising income taxes on top earners will not contribute to a recession – it will help reduce its severity," economist and Democratic Socialists of America organizer Emily Eisner wrote in City & State in February, when next year's projected budget deficit was just $5 billion. "It is far past time to raise taxes on the rich and restore the robust public goods our state needs." And that hasn't changed now that the Division of the Budget has much higher-than-expected budget gaps for the next three years. 
Some have questioned whether the budget gaps over the next three years will really be as bad as currently projected. Although actual tax revenues have been much lower than the rosier projections from February, they have been somewhat higher than the dire predictions made in the enacted budget plan. The fiscally left-leaning watchdog the Fiscal Policy Institute pointed to higher-than-expected tax returns for the fiscal year so far as reason for New Yorkers not to put too great importance on the fears of economic downturn. According to the most recent data from the comptroller's office, receipts for the current fiscal year, which started April 1, are so far 3.4% higher than projections made in the enacted financial plan released earlier this month, with personal income tax collections 5.5% higher than predicted. "The tax receipt shortfalls in April and May are of concern, but do not necessarily indicate an imminent recession and certainly do not warrant spending cuts," Fiscal Policy Institute Executive Director Nathan Gusdorf wrote on June 16. "These shortfalls reflect weak performance in 2022 capital markets, which have shown growth and resilience since the start of 2023." 
The Fiscal Policy Institute released an analysis of the enacted financial plan late last week. The group argued that the state is well-positioned to weather a potential recession thanks to strong reserves strengthened in recent years and cautioned against excessive fiscal pessimism. The report recommended viewing out-year revenue projections, and thus projected budget gaps, as "uncertain" since they reflect a particularly pessimistic outlook the group argues is already starting to turn around. It also argued against spending cuts as a response to fiscal insecurity and supported the use of the state's $19.5 billion rainy day fund to cover revenue shortfalls that may arise. 
Both the CBC and Empire Center noted those robust reserves as reasons why the state "isn't in immediate danger of running out of money," as Girardin put it. But both groups cautioned against tapping those funds for anything short of a serious recession, as depleting them before then would leave New York in dire straits. The CBC's Rein argued against the Fiscal Policy Institute's reasoning earlier this month, before the group's analysis even came out. "Some may argue that the new, lower receipt estimates are too cautious – that the problem is not dire," he wrote on June 12. "Make no mistake; even if receipts are a few billion dollars higher, the State's finances will still be unstable." And he added that once one-shot and non-recurring revenue streams dry up or sunset, the state's "more than $20 billion annual structural budget gap will be revealed."