Homelessness
Homeless persons among most vulnerable as air quality remains unhealthy
As many New Yorkers remain on city streets exposed to potential health risks, advocates and city outreach teams have fanned out across the city, administering aid and encouraging people to come indoors.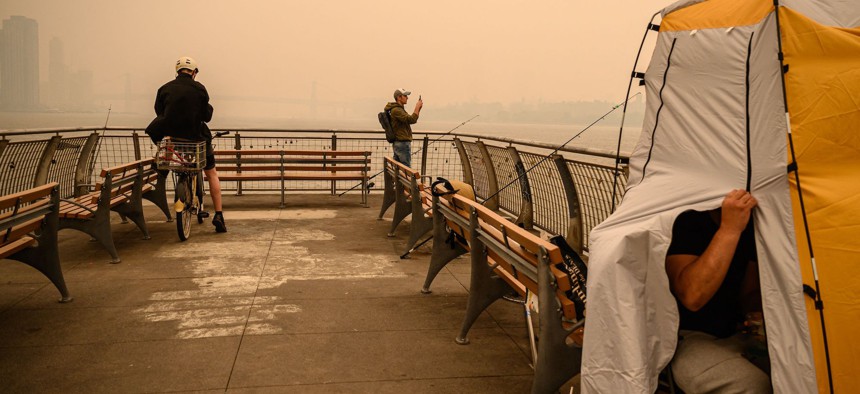 As a blanket of smoke cast by wildfires across the Canadian border clouds city skies in an unsettling gloom for a third day, New York City officials have urged residents to limit outdoor activity whenever possible. But for many New Yorkers experiencing homelessness – who are among the most vulnerable to the dangerously polluted air – seeking shelter isn't so easy.
"When you have something like this, I always get emotional because it's those people that are going to suffer the most. Those people, they don't have a choice and we don't want to keep going on as if that's okay," said homeless advocate Shams DaBaron. "It's not okay for that person under these circumstances to be in a cardboard box. Something like this could literally be costing lives, sending people to the emergency room."
Like teams from the homeless and social service departments who said they've conducted 24/7 outreach, he's ventured out several times already to try and encourage people on the street to come indoors to a safe haven or another location where they'd have respite from the hazardous conditions. DaBaron – who was previously homeless – and other advocates attest that many New Yorkers opt to stay on the streets instead of seeking shelter in congregate, city-run sites because they feel unsafe and exposed there. 
While the air quality has improved slightly since Wednesday's peak, conditions continued impacting the city in a myriad of ways Thursday. City streets and trains have been noticeably less crowded and far more New Yorkers have been donning masks. There's been a spike in air purifier and mask sales. Flights were delayed into the city for a second day in a row and the city announced this afternoon that students previously slated to attend school Friday would do so remotely instead. Perhaps most concerningly, over 300 New Yorkers visited local emergency rooms yesterday due to asthma – nearly double the amount from Tuesday, according to Gothamist. State advisories warning about the poor air quality note that exposure to smoke can cause short-term health effects including coughing, shortness of breath, and irritation to the eyes, notes and throat. Older adults, children and people with underlying health conditions are especially vulnerable.
"Having a place to go to get away from the smoke can be life-saving for our most vulnerable homeless neighbors, many of whom suffer from respiratory illnesses," Coalition for the Homeless tweeted yesterday evening.
Similar to when the city experiences a Code Blue – when temperatures drop to 32 degrees or below overnight – or during periods of extreme heat, city outreach teams have "redoubled" their canvassing efforts to homeless New Yorkers. A spokesperson for the Department of Social Services said teams have distributed masks, water and other supplies while attempting to coax people on the street to come indoors to shelter, low-barrier programs like Safe Haven and stabilization beds, and Drop-In Centers. As outreach teams have prioritized especially vulnerable unhoused New Yorkers, Street Medicine Teams are following up with clients with known respiratory conditions, they added.
 "Through our year-round outreach efforts our dedicated teams are out day and night making sure we are reaching any vulnerable New Yorkers and encouraging them to come inside off the streets and subways," the spokesperson said in a statement. "During extreme conditions, our outreach teams redouble their efforts citywide, prioritizing their most vulnerable clients and offering shelter services and support to any New Yorkers experiencing unsheltered homelessness."
A day after the city's Air Quality Index lingered in the "hazardous" level throughout the afternoon and into the evening, things have gradually improved Thursday. The morning started out with an air quality level of "very unhealthy," shifting to "unhealthy" at a 164 reading as of 4 p.m., according to AirNow. Conditions are projected to clear up even further tomorrow and into the weekend, although forecasting with 100% certainty is impossible. 
"Things will progressively continue to get better through Tuesday, when we have a front moving through that should push everything out," Emergency Management Commissioner Zach Iscol said during a press briefing Thursday morning. "Smoke modeling and pollution modeling is very, very hard to do."
DaBaron said the last couple of days have been eerily reminiscent of the early days of the coronavirus pandemic when people experiencing homelessness struggled to quarantine. While engaging with Mayor Eric Adams and other members of his administration about the needs of people experiencing homelessness, he said he's determined not to let the moment pass – to use a crisis like this week's air quality and the pandemic as an opportunity to fight for better shelter conditions so people on the streets will be more likely to seek help during future emergencies.
"Just think of the psyche of the person who is right now on the street in an already vulnerable state to see the skies blacken, maybe not even understanding the danger level," DaBaron said, clarifying that he is glad to see that the city is out and about engaging with individuals. "These things I hope we are paying attention to. I hope in these conversations of housing and homelessness, we are starting to understand that not addressing these issues or connecting these issues is really going to cost people their lives."
Homelessness Case Studies
Powered By
NEXT STORY: NYC DAs tell Legislature to address deed theft before session end