Heard Around Town
How should Congress join the AI revolution? Chuck Schumer has thoughts
The majority leader unveiled a plan to address the emerging technology – and it's emerging threats.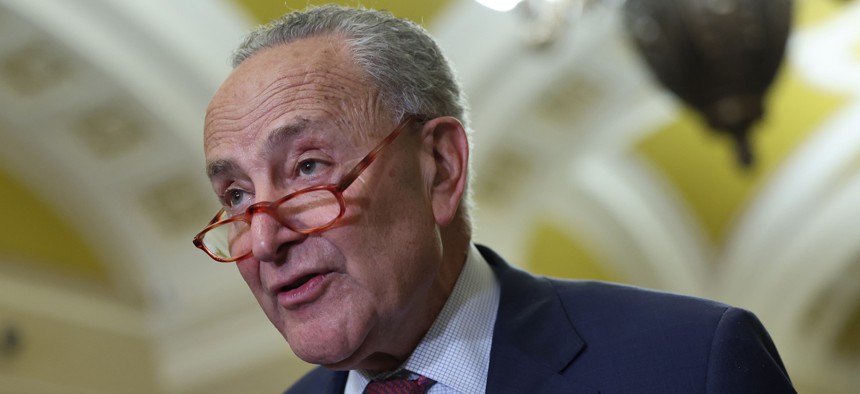 U.S. Senate Majority Leader Chuck Schumer took to Twitter Wednesday afternoon to discuss artificial intelligence, tweeting: "Congress must join the AI revolution." That was immediately met with a puzzled response from Queens Assembly Member Ron Kim, who tweeted back "what the …". Twitter owner and Tesla CEO Elon Musk replied: "Definitely."
Schumer's tweet was all part of a longer, more detailed thread explaining his effort to implement a legislative strategy for regulating artificial intelligence – at a time when AI is poised to change many aspects of daily life. 
While delivering a keynote address at the Center for Strategic and International Studies, Schumer warned of the dangers of AI – including job displacement, misinformation and a new age of weaponry. According to Schumer, AI is not like "anything Congress has dealt with before" and for that reason he predicted Congress would be "starting from scratch" in its approach to try to regulate it. 
Congress is historically behind the eight ball when it comes to proactively regulating emerging technology – including TikTok and Meta in recent years. Observers even point to the European Union – who, for months – has been regulating AI. 
"We have no choice but to acknowledge that AI's changes are coming, and in many cases are already here. We ignore them at our own peril. Many want to ignore AI because it's so complex. But when it comes to AI, we cannot be ostriches sticking our heads in the sand," Schumer said. 
As the use of AI continues to grow, there have been growing concerns about the ethics, privacy and safety risks of the technology. Schumer acknowledged individuals who've called on Congress to act, saying "I hear you loud and clear."
The majority leader laid out his SAFE (an acronym for security, accountability, foundations and explain) Innovation framework to develop regulations on AI on the federal level. Schumer also said he would launch "AI Insight Forums" this fall which will feature a bevy of industry stakeholders – from national security experts to AI developers and community leaders. 
While Schumer was adamant that Congress needed to up its game in handling AI, he remained hopeful the chamber was up for the challenge to handle the emerging technology.  "Don't count Congress out," the majority leader said.
In an interview with City & State, Kim said he was glad Schumer had a larger framework for regulating the dangers of emerging technology, aside from social media. "We need a lot more than a tweet to get ahead of what's happening with artificial intelligence. I'm glad (the tweet) was a follow-up for a detailed explanation of what he meant".
Kim added: "Chuck Schumer is the second most powerful politician in the nation. with that role, comes greater responsibility to make sure we prepare an economy that can embrace new technological changes"
Powered By
NEXT STORY: Maria Torres-Springer: New York has 'really failed' on housing