Homelessness
Mayor, City Council head for likely veto showdown over expanding housing vouchers
Mayor Eric Adams vetoed a package of bills expanding access to housing vouchers, but the City Council is prepared to vote to override the veto.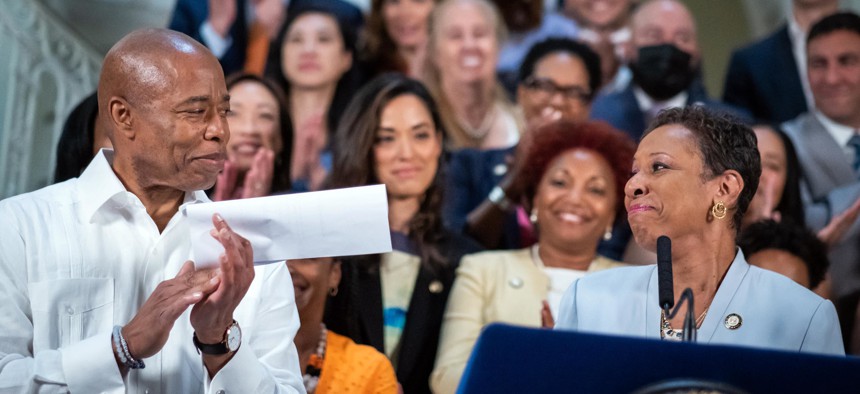 New York City Mayor Eric Adams vetoed a package of bills Friday that was meant to move people out of homeless shelters – setting up a likely City Council vote to override that veto.
It's a political power struggle over how to serve some of the city's least powerful residents, with the mayor insisting the city can't afford the legislation, and the council arguing it can't afford not to pass it. 
The council package consisted of several bills, including one that would eliminate the longstanding requirement that a person has to have resided in a homeless shelter for 90 days before being eligible for city rental assistance vouchers. It would also expand access to those vouchers, making anyone under a certain income level who is at risk of homelessness or eviction eligible, and prohibiting sources of income or work status from being used as a basis for eligibility.
The Adams administration came out against the package, saying that it would be too expensive to implement and would deprioritize those most in need of housing vouchers by expanding eligibility too much.
But last week, Mayor Adams took emergency action to suspend the 90-day rule, pending a more permanent elimination of the rule. That was seen as a policy concession to the council, since the mayor's office said it had initially pitched just suspending the rule for children and families, not single adults too. 
So why did the mayor oppose a package of legislation, and then act unilaterally to implement one of the changes that the package included? The administration maintains that it supported getting rid of the 90-day rule, but not the other bills in the council's package. "Last week, our administration made it easier for New Yorkers in shelter to become eligible for CityFHEPS housing vouchers and move into permanent housing by eliminating the 90-day length-of-stay requirement," Adams said in a statement on Friday afternoon announcing the veto. "Today, we helped New Yorkers once again by vetoing a package of bills that would take us backwards, by leading to longer shelter stays for the most vulnerable New Yorkers, while simultaneously creating a structure that could saddle taxpayers with billions of dollars in costs each year."
If the mayor's emergency rule change was also a strategic attempt to appease council members who voted for the package but who would accept just axing the 90-day rule as a compromise, City Council leaders said that it wouldn't work. "I don't think that this (emergency rule change) does anything to pick off votes," City Council Member Diana Ayala, a sponsor of the legislative package, told City & State last week. "We still maintain a good hold of our majority to override a veto, if in fact that happened."
Asked Thursday about members siding with the mayor, City Council Speaker Adrienne Adams agreed. "I'm not worried," she said. 
The City Council quickly denounced the administration's veto of the broader package in a statement on Friday afternoon, wasting no time in noting that each of the bills in the package passed with enough votes to override the veto. "The mayor is only hurting the city by delaying solutions and contributing to the eviction crisis that leads more New Yorkers to lose their homes, become homeless, and join the already-high shelter population," Speaker Adams said in the statement. "The Council is prepared to override the mayor's veto to truly confront the rapidly deteriorating eviction and homelessness crises made worse by this Administration's budget cuts and failure to enact solutions."
The council estimated the package would cost the city $4 billion annually when fully phased in, but a more comprehensive analysis from the Community Service Society suggested that would be offset significantly by savings from shelter spending, meaning it would have a fiscal impact of less than $1 billion a year.
This is just Mayor Adams' second veto, and the first time he's vetoed legislation passed by the current council. He vetoed a bill his first month in office that would have increased penalties for violating a specific zoning regulation, but that had been passed under former Speaker Corey Johnson, and most of the members who voted for it had been term-limited out. That was the first veto in eight years, as former Mayor Bill de Blasio never shot down a bill the council passed over his two terms. But during Michael Bloomberg's tenure, vetoes – and overrides by the council – were quite common. 
The veto of the four bills comes at an already tense moment between the mayor and the council, with the city budget due before July 1. "These negotiations are tough. They're very different than last year," the Speaker Adams said on Thursday. Are discussions intensifying? "They've been tense since day one."
This story has been updated to mention that the council bill includes income restrictions for housing voucher eligibility.
Homelessness Case Studies
Powered By
NEXT STORY: Nonprofits make final appeals as New York City budget deadline nears