Policy
Nonprofits make final appeals as New York City budget deadline nears
Negotiations have "been tense since day one," said City Council Speaker Adrienne Adams.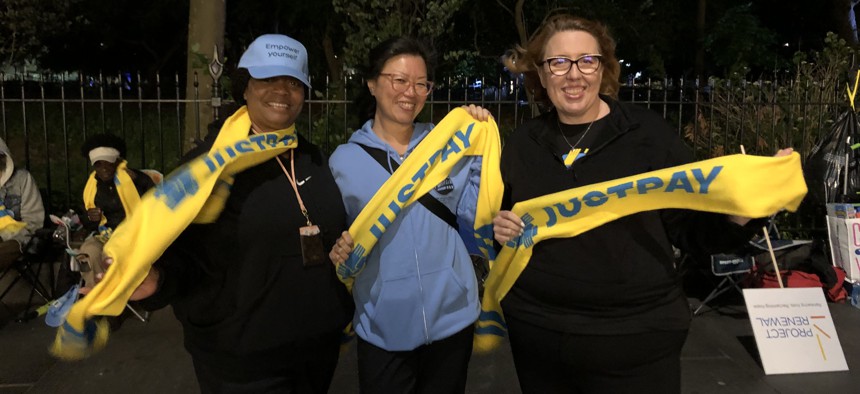 Homeless service providers stood outside the gate to New York City Hall on Thursday handing out flyers to City Council members reading, in large bold type: "DON'T ALLOW THE BUDGET TO CUT HOMELESS SERVICES."
Mayor Eric Adams' administration asked agencies to reduce their budgets this year to offset rising costs, and last week the Department of Homeless Services told its contractors it would be passing along those cuts to them, reducing their allocations by 2.5%.
Homeless shelter and street outreach providers were pissed – "During the worst homelessness crisis in a generation, City Hall is going back on its word, cutting already signed contracts and asking us to do more with less," a spokesperson for one provider told City & State, asking for anonymity during ongoing negotiations. So the group known as the Family Homelessness Coalition is making a last-minute push to head off those cuts before they're baked into the fiscal year 2024 city budget, which is due before July 1.
"Cut the very systems at the center of this crisis management, you're going to have not nearly as strong of a response," said Chris Mann, director of policy and advocacy at Win, a shelter provider for women and families. Beyond distributing flyers outside City Hall, the coalition has an email campaign targeting council members, and they're individually calling members of the council's Budget Negotiating Team as well as advisers to the mayor.
"The council was noncommittal, but more and more their message has been 'we're against cutting these agencies. We're standing with you,'" Mann said. "But it's all a political chess game, keeping information close to people's chests."
About 50 other nonprofit leaders showed their desperation for more funding by staying out all night near City Hall on Wednesday night into Thursday morning. The sleepout was organized by the JustPay campaign, which calls for pay increases and an automatic cost of living adjustment for nonprofit employees working under city contracts.
"There's 50 nonprofit executives out here tonight. And we are losing sleep because we can't pay our workers a fair wage," said Michelle Jackson, executive director of the Human Services Council. "We have seen a labor deal announced a week, and we have been left out of those conversations."
The weather was wet and unseasonably cold for June when City & State visited the campout on the Broadway side of City Hall Park. But they were prepared with coffee and donuts – and the right clothing. "We have rain boots, see!" Esther Lok, chief of staff of Bridging Access to Care said, pointing down to her feet.
The action was targeting both the mayor and the council ahead of their final deal on the budget, but City Council Speaker Adrienne Adams said she's already on board. She appeared at a rally with the groups Thursday before the council meeting, and she has tweeted her support.
But that doesn't mean it's a done deal. Across many conversations around City Hall on Thursday, members and observers predicted a budget deal would be announced sometime next week after the June 27 primary election.
"Everybody wants to have a Fourth of July. We don't want to do a barbecue here," a City Hall source said. "We can't, he's vegan," they added, referring to the health-conscious mayor.
"We're all very hopeful that it will happen on time. Conversations seem to be progressing," said Fabien Levy, the mayor's press secretary.
At a press conference Thursday, Adrienne Adams said negotiations were ongoing but difficult. "They've been tense since Day One. It's a tough budget," Adams said. "The mayor's proposed budget did leave out a lot of funding. So many essential services for New Yorkers that we're focused on restoring right now. And that really is the brunt of the negotiation – the restoration piece."
With that background, experienced members like City Council Member Gale Brewer aren't willing to make a prediction. When will the budget deal be reached, she was asked? "I have no fucking idea," she said.