Immigration
Report: Funding cuts threaten services for asylum-seeking kids in NYC
The city launched child care for asylum-seekers and English language learning high school programs soon after migrants started to arrive. The future of those new initiatives is uncertain.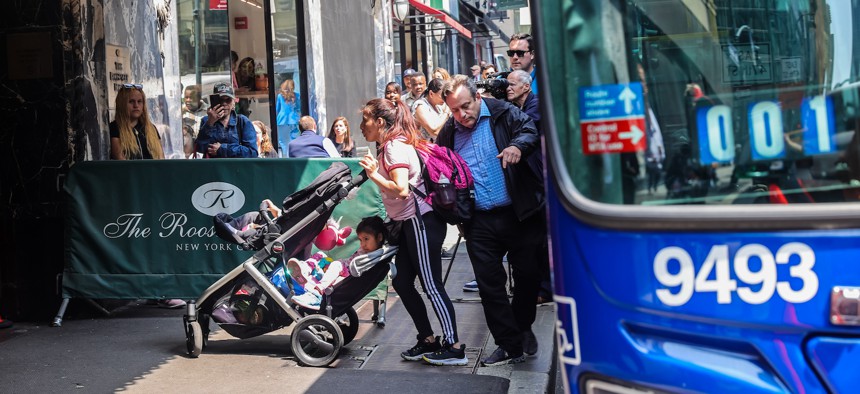 The future of several key programs that have helped support immigrant students is at risk – a looming reality made all the more urgent by the arrival of thousands of asylum-seeking families who've leaned on subsidized child care and intensive English classes while navigating a new city and school system, according to a new analysis from Advocates for Children of New York, an advocacy group focused on the educational rights of marginalized children.
Since July 2022, New York City's school system has helped enroll over 18,000 new students in temporary housing. While the city does not ask students' their immigration status, most of these children are believed to be recently arrived asylum-seekers from Latin America. The report, which was released Tuesday, charges that New York City Mayor Eric Adams' proposed budget for the coming fiscal year doesn't make the investments needed to adequately support immigrant students. It also says that the ending of funding for programs like Promise NYC – a subsidized child care program for children who aren't documented – and English language learning programs in six city high schools would likely have destabilizing ramifications for both children and their parents. 
Specialized child care for undocumented children
Adams launched Promise NYC in January 2023, billing it as a first-of-its-kind program intended to serve around 600 children whose parents' immigration status makes them ineligible for other state and federally-funded child care services. (Undocumented kids are eligible for the city's free 3-K and pre-K programs, but they are not specifically oriented toward recent arrivals nor are they open to the city's youngest children.) Advocates say that the program has been a vital resource for families, allowing them to enter the workforce or have more time to search for a job and manage their immigration cases and apply for asylum. But the $10 million initially put forward by the city to fund the program was only enough to cover six months. Revenue is expected to dry up by the end of the month unless the Adams administration renews programming. While budget negotiations are ongoing, the Adams administration has yet to commit to renewing the program.
Pushback against the end of the program has grown. Over 60 different advocacy organizations urged Adams in a letter to extend funding for Promise NYC in March. A few weeks later, over a dozen City Council members and state lawmakers also pressed the city to allocate at least $20 million "to sustain and expand" the program. 
English language learning in high schools
The report also expressed concerns about what it described as a lack of funding for six newly launched high school programs in the outer boroughs aimed at helping high school immigrant students learn English.
Even before the influx of immigrant families began entering the public school system last year, the city has historically struggled to meet the needs of teenagers learning English. In one example, just 67% of English language learners who entered the ninth grade in 2018 graduated by August 2022, with 15.4% dropping out – more than triple the dropout rate of their peers, according to the report. 
Hoping to create more options for these teenagers, the city rolled out new programs at six existing transfer high schools in Brooklyn, the Bronx and Queens last fall specifically for newly arrived immigrants. While advocates have long called for the city to increase the number of transfer schools (which help students who are behind on credits or are in need of additional support) that specifically serve English Language Learners, the report said that the new programs haven't received "sufficient resources to provide the intensive support that newcomer youth typically need." Each of the six schools were allocated a mere $50,000 this year – less than the cost of employing a single Spanish-speaking teacher. Advocates for Children is calling for an additional $3 million to help support the programs.
A spokesperson for the Department of Education said that all newcomers in upper grades who are identified as an English language learner will receive their mandated English services – and that all high schools are equipped to help them do so.
"Regardless of their immigration status or language spoken at home, every student deserves access to high-quality schools that meet their unique needs," said Nicole Brownstein, director of media relations for the education department. "As we have done since we launched Project Open Arms, we will continue to work with students, families, and partners to ensure that newcomer students have what they need in our public schools."