2023 session wrap-up
State lawmakers debate late into the night at session end
The legislature passed a series of bills Thursday night, from a bill to form a commission to study reparations in the state to a bill to seal criminal records after a certain amount of time.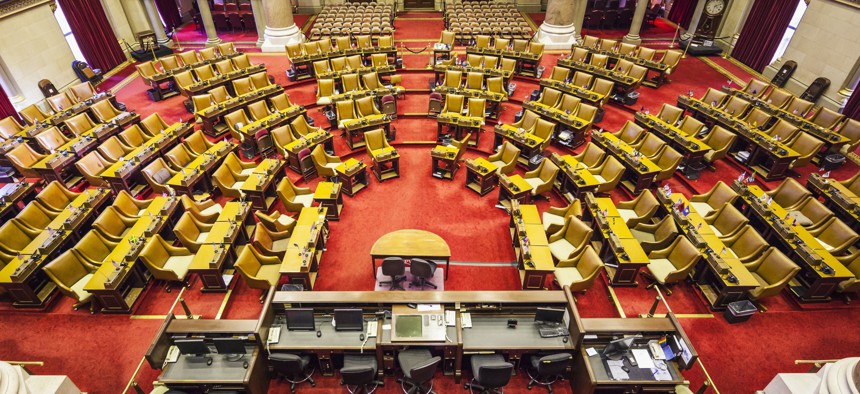 Thursday was the last scheduled day of the 2023 legislative session, and lawmakers stayed late into the night debating a slew of controversial bills. The Legislature passed several bills – including a bill to establish a commission to study reparations and an omnibus bill on election law – but did not finish all their work. Lawmakers returned to the Capitol to convene for session Friday morning to debate several more controversial bills still on the docket.
Here's a recap of Thursday's developments and what's to come:
Reparations commission 
Both the state Senate and Assembly passed a bill to establish a commission on the prospect of reparations for Black New Yorkers. The bill, sponsored by state Sen. James Sanders Jr. and Assembly Member Michaelle Solages, was first introduced in 2017 – state Sen. John Liu joked that Sanders has been fighting for it "since he had a full head of hair" – and has gained momentum in the years since. While addressing the floor, Sanders said he was voting in favor of the bill to honor the tens of thousands of slaves who died. "I'm voting for those 50,000 Americans who died to end this madness that is slavery and would put their lives on the line again, to ensure that the horrible stain, this legacy, that lingers on this nation – they would put their lives on the line again to end it," he said.
Several other Democratic senators also gave impassioned speeches while casting their votes in favor of the bill, including state Sens. Jabari Brisport, Jamaal Bailey, Samra Brouk and Lea Webb. "I am the dream in the hope of the slave. I encourage us all to rise together and vote in favor of this legislation," said Webb, quoting the late Maya Angelou. Now the bill is off for review by Gov. Kathy Hochul – who hasn't shared much insight into where she stands on passing it.
Changes to election law  
The bill, sponsored by state Senate Majority Leader Andrea Stewart-Cousins and Assembly Speaker Carl Heastie, would make a number of changes to the state's election law: moving the date of the presidential primary election from June to April, allowing for early voting in March for the presidential primary, allowing each party to elect a presidential delegate and providing different nomination processes for delegates, among other things. The bill passed both chambers and is now headed to the governor's desk.
Coverage for All 
The New York Coverage for All bill has been a top priority for immigration advocates in recent years – and this legislative session was no different. If implemented, the bill – sponsored by state Sen. Gustavo Rivera and Assembly Member Jessica González-Rojas – would compel the state health commissioner to apply for a federal waiver in order to expand federally-subsidized healthcare to undocumented immigrants. The bill passed the state Senate on Thursday night after Rivera debated its merits with Republicans. At one point, Rivera seemed to become frustrated with the GOP line of questioning. When asked about how using federal dollars to pay for health care for those without legal documentation wouldn't violate federal statutes, he simply replied, "That's how waivers work, bro." As of Friday morning, the bill was not included on the Assembly debate list for consideration.
What's left
The Clean Slate Act, a popular criminal justice reform bill that would seal most criminal records after a certain time frame has elapsed, has been making progress in the final days of session. The bill's sponsors, state Sen. Zellnor Myrie and Assembly Member Catalina Cruz, remain confident that the bill will finally get passed in both chambers this year. On Friday morning, the most recent version of the bill – which includes a number of tweaks to address concerns from critics – was sent to the Senate Codes committee, a sign that it is set to be voted on in the chamber before lawmakers head home. The Assembly has also started debating Clean Slate.