Heard Around Town
Hochul: 'This is the new normal' after flooding devastates parts of the Hudson Valley
The governor is sounding the alarm on the effects of climate change.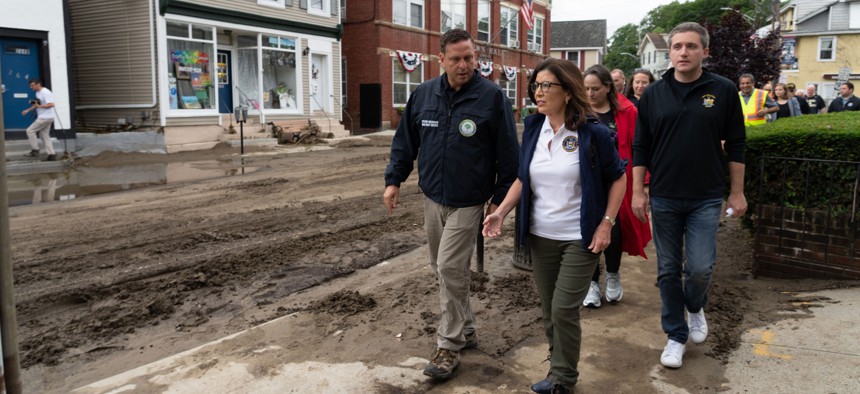 After a weekend of torrential rain storms and flash flooding across the state, Gov. Kathy Hochul delivered an update on storm conditions from the Hudson Valley Monday – while asserting recent events show the effects of climate change. 
"My friends … This is the new normal," Hochul said after explaining this was only the second time in history the National Weather Service has issued a flash flood emergency and these events come just a few weeks after smoke from Canadian wildfires negatively impacted the air quality in the state.
"We must change our behavior as a planet, as a country, as a state and in our own homes," the governor added, to "fight the ravages of climate change".
On Sunday, the governor issued an executive order to declare a disaster emergency in Ontario and Orange counties. Hochul said she'd heard stories from residents describing their loss, fear and anxiety while witnessing the pain in their eyes. She acknowledged the Highland Falls woman who was killed trying to evacuate. 
Several local leaders also joined the governor's press conference including Orange County Executive Steve Neuhaus, who gave an in-depth account of the efforts by storm officials – including the state police, state transportation department, zone commanders and Homeland Security officials – to address the damage from the storm and assist with the recovery of the woman who'd been killed in the storm. 
"We will get to every person that needs help. We are prioritizing it for life and limb, thankfully those calls have gone down," Neuhaus said of efforts in the coming days.
Neuhaus said U.S. Sens. Chuck Schumer and Kirsten Gillibrand have both been in communication as recently as this morning to provide help. "Everybody here has been pushing for a federal disaster declaration because we're going to need it," Neuhaus said while asserting there were "easily tens of millions of dollars" worth of damages.
According to Hochul, the first step is to assess the damage in order to put in a request to FEMA, who she said has offered to provide "all the help necessary" and Schumer also has offered infrastructure money to help in rebuilding. 
The governor expressed optimism that the community would be able to rebuild and vowed to be there every step of the way. "This region is resilient. They will build back," Hochul concluded.