Energy & Environment
How will New York's cap-and-invest program shape up?
Environmentalists push to protect disadvantaged communities.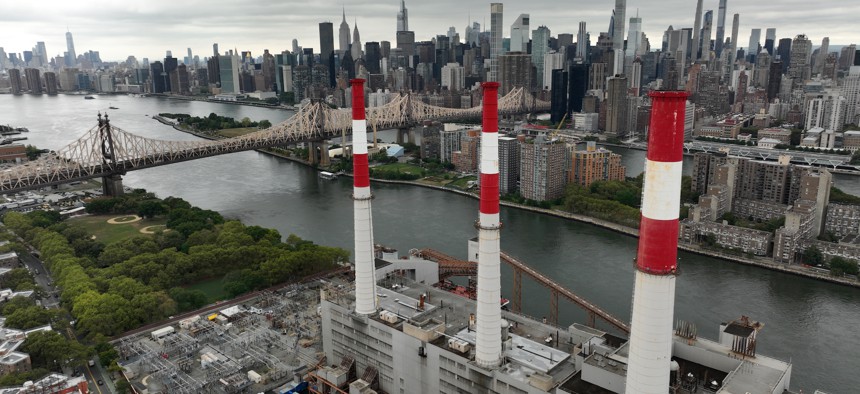 In early May, New York joined the likes of California and Washington when lawmakers approved a measure in the state budget to create a cap-and-trade program. Recommended by the state Climate Action Council as a measure to help New York meet its ambitious climate goals, the move by legislative leaders and the governor was praised by environment advocates.
But the legislation was sparse on details about the program – and two months later, New Yorkers still don't know much more about what it will actually look like or how much it will cost companies.
"To be honest with you, our team is really looking at that now," Tim Cawley, the president, chair and CEO of Con Edison, told City & State in a recent interview. "The early intake based on the team that's looking to pull that together from the regulatory side of the house is really open ended there. They're getting input from a wide variety of stakeholders before they zero in on any particular course of action. And we think that's a really healthy and robust way to pull together rulemaking in such an important area."
Called cap and invest in New York, the idea of the program was to place caps on how much companies can pollute, which will decrease year-over-year, and it required them to purchase emissions allowances if they expect to exceed the cap that will also gradually decrease. Companies that overestimate their emissions and have leftover allowances could also trade their surplus to companies that have exceeded their own limit. The money raised from the program would go toward climate initiatives. While not a direct comparison, one can think of it a little like congestion pricing: It serves to both raise money and discourage specific behavior. Only instead of targeting driving, it takes aim at carbon emissions. It's all to help hit the state's goal of reducing emissions 40% by 2030 and 85% of 1990 levels by 2050.
The language signed into law by Gov. Kathy Hochul focused mainly on how the money from the program will be spent. Specifically, 30% of the profits will be set aside for a rebate the governor proposed that would aid New Yorkers in their decarbonization efforts. Of that, 30% would go toward assisting small businesses phase out their use of fossil fuels, while the rest would go toward other climate change mitigation efforts.
What's unclear, however, is the accounting methodology that will be used and, as a result, how much polluters will have to pay. Earlier this year, there were reports that the Hochul administration worked with lawmakers to overhaul emissions accounting in a way that would have put New York in line with other states on calculating methane emissions. The change, which critics said would have benefited utility companies, was ultimately shelved. 
When asked whether the governor might pursue similar accounting changes in the future, John O'Leary, the governor's deputy secretary for energy, noted that New York's standards differ from other states and countries, and he emphasized the need to prioritize affordability but declined to predict how the regulations would shape up.
"As we go through this process, I think the governor's view is that we need to design a program that's affordable, and we're going to look at the various options and tools that we have to ensure that we meet our climate goals while also promoting affordability," O'Leary told City & State. "So the specific question that you're raising, we don't have an answer for it at the moment other than to say the state law is what it is, but we're interested in developing a program that delivers the benefits to New Yorkers of swift climate action, invests in communities, creates jobs and protects affordability for everyone."
Assembly Member Didi Barrett, who chairs the Assembly Energy Committee and introduced a measure earlier this year that would have revised the state's emissions accounting methodology, also highlighted the cost issue and the impact on customers. 
"I think it's important to understand the costs and data right now, as we continue to move forward," Barrett said in an email in which she compared costs under current state law to projections using the Intergovernmental Panel on Climate Change system. "For example, according to the Division of the Budget, the average added cost for natural gas bills under the current CLCPA accounting method would be an additional $595 annually, compared to $330 under the IPCC-based method. For heating oil, average costs under the current CLCPA accounting method would be an additional $605 annually versus $410 annually under the IPCC-based method."
The cap-and-invest legislation leaves the regulatory framework up to the state Department of Environmental Conservation and the New York State Energy Research and Development Authority to develop. And the state agencies are still in the fact-finding portion of the pre-proposal phase, having just closed out the first round of public comments on July 1. The two agencies, whose heads co-chair the state's Climate Action Council, began holding a series of information sessions on June 1 for people interested in learning more about the ideas behind the program.
"These webinars are a really important part of the expansive stakeholder outreach that we plan to do, because we do understand how this program is for the state, and to ensure that we achieve our requirements under the Climate Leadership and Community Protection Act," said Jon Binder, chief of the Bureau of Climate, Air and Energy in the Office of General Counsel at the DEC, at the start of the first overview info session in June. "We really are eager to receive your input as we design the details of this program."
With scant regulatory details included in the legislation, environmental advocates hope that concerns unaddressed in the law – particularly around safeguarding communities disproportionately harmed by polluters – will be included in the finalized program. "We want to make sure the program is designed in a way that not just protects disadvantaged communities, but benefits disadvantaged communities," Liz Moran, New York policy advocate for the environmental group Earthjustice, told City & State. "Cap and trade programs we've seen in other regions of the country and other places have actually resulted in much slower progress in disadvantaged communities, and we don't want to see those mistakes replicated in New York." Moran's group recommended that the New York ban allowance trading to companies that operate in those communities, as well as for the state to consider implementing specific caps on companies in those communities.
Statutorily, the state has until the end of the year to have the full program up and running, but climate advocates don't expect state officials to hit those goals. According to the New York League of Conservation Voters' Julie Tighe, state Department of Environmental Conservation Commissioner Basil Seggos signaled that his agency and NYSERDA would be more likely to have a proposal by the end of the year, with actual final regulations and implementation early next year.
"Thousands of New Yorkers participated in the seven recent webinars, representing a diverse range of stakeholders, including the public and regulated communities, to learn more about the considerations going into developing New York's Cap-and-Invest Program regulations and provide initial feedback," NYSERDA and the DEC said in a joint statement to City & State. Spokespeople said the two agencies are reviewing the comments they have received so far and plan to hold a second round of public engagement focused specifically around affordability and equity later this year.
In the meantime, climate advocates continue to say it's vital to pass accompanying legislation to supplement the cap-and-invest program. "(It's) a very important tool, but we need other policies that will guarantee to ratchet down emissions," Moran said. "Especially because the implementation of the program may take a little bit of time." She pointed to the Build Public Renewables Act, which will require the New York Power Authority to shift to clean energy production, and the All-Electric Building Act, which will soon ban gas hookups in new construction, as important legislative victories in the past year to help reach the state's climate goals. Both passed as part of the budget as well.
State Sen. Kevin Parker, who chairs the Senate Energy and Telecommunications Committee, said the cap-and-invest measure is more detailed than two related measures he had proposed in past years, the Climate and Community Investment Act and carbon pricing legislation. "And so cap and invest is kind of the stepchild of carbon pricing and the Climate and Community Investment Act," Parker said. "And so, this iteration really is a lot more detailed than both my bills. What we settled on was providing some authorizing legislation, and now I'm talking about cap and invest, to the executive with the provisions that they can't essentially spend a dime without coming back to the Legislature."