Health Care
'We simply want our health care.' Retirees rally at City Hall for Medicare Advantage bill
Fresh off a recent legal victory, retirees are pushing the City Council to buck the mayor and union leaders.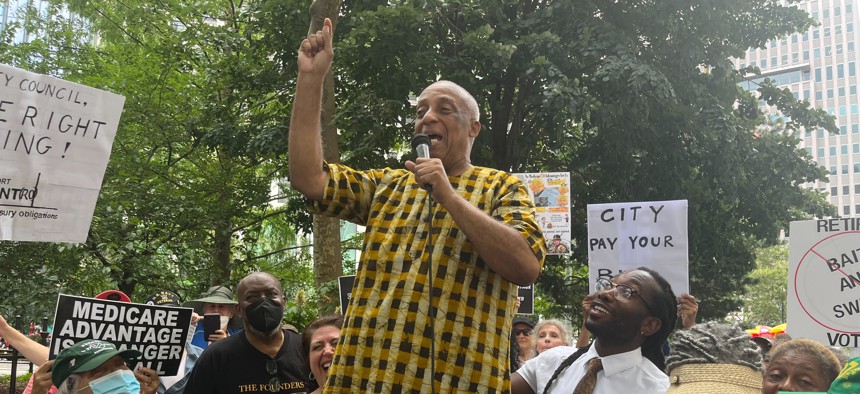 With handmade signs and buttons, a group of municipal retirees gathered on Broadway outside of City Hall Park on Thursday to show support for keeping their existing health care plans. The city is attempting to switch insurance plans for municipal retirees, potentially saving the city hundreds of millions of dollars – while angering many former employees. Retirees are fighting the move in court, and now they want the City Council to take action as well.
"The city should be ashamed of themselves," New York City Council Member Charles Barron said at the rally. Barron has introduced a bill in the City Council that would essentially preserve an option for retirees to keep current plans. "You got money for the (Police Benevolent Association). You got money for DC37's leadership. You got money for the (United Federation of Teachers). Then you need to have money for the retirees."
City workers and their dependents are eligible for free health insurance after they retire. Previously, the retirees would enroll in traditional Medicare and would get Senior Care, a supplemental plan from EmblemHealth. The money that covers the premiums and various other benefits come from the Joint Health Insurance Premium Stabilization Fund, which is jointly controlled by the city and the leaders of municipal unions.
The money in this fund is shrinking, and in 2018 former Mayor Bill de Blasio and the union leaders came up with a plan to cut spending on health care, as City & State previously reported. To do this, retirees will no longer get traditional Medicare plus Senior Care. Instead, they'll get Medicare Advantage from Aetna, which will have lower premiums for the city to pay, saving the city an estimated $600 million. However, Medicare Advantage could also come with smaller networks to choose doctors from and higher out-of-pocket costs for the retirees. On top of that, there's evidence to suggest that Medicare Advantage plans often deny plan holders care. As a result, retirees have been protesting the changes to their insurance, recently securing a legal victory when a Manhattan Supreme Court judge temporarily blocked the switch.
The City Council bill to intervene and maintain the status quo for retirees is gaining bipartisan support. It currently has 14 sponsors, including Black radical socialists, DSA members and outer borough conservatives. 
But Barron's bill faces long odds. New York City Mayor Eric Adams has said he will move ahead with the planned switch, and he has the support of the DC 37 municipal employees union leadership. "The city's Medicare Advantage plan, which was negotiated in close partnership with the Municipal Labor Committee, improves upon retirees' current plans, including offering a lower deductible, a cap on out-of-pocket expenses, and new benefits, like transportation, fitness programs, and wellness incentives," mayoral spokesperson Jonah Allon said in a statement. "Further delay in implementing it will only cause greater uncertainty for our retirees and have a detrimental impact on our city's budget."
City Hall has also said that the bill would interfere with the collective bargaining process and City Council Speaker Adrienne Adams has expressed similar concerns, Politico reported. DC 37 leader Henry Garrido is strongly opposed, and has floated pulling the union's support of lawmakers who back it.
Barron himself won't be able to advocate for the legislation much longer: He was recently defeated in a primary election and is set to leave office at the end of the year. 
Barron introduced his bill on June 22. It would require the city to provide retirees at least one Medicare supplemental insurance plan with benefits equal to or better than the plan they currently have, rather than being automatically switched to Medicare Advantage.
"Money is not the problem," Barron said. "Mayor Adams is the problem."
Republican Council Member Ari Kagan, a co-sponsor on Barron's bill, also spoke at the rally. 
"We're talking about hundreds of thousands of people who make our city better, safer, cleaner for decades," Kagan said. 
New York City Organization of Public Service Retirees President Marianne Pizzitola, who led the rally, said that retirees won't stop fighting the new health care program until it's changed into something that they actually want to use.
"You're not going to bribe us with a perk, a ride to a doctor that doesn't take this plan," Pizzitola said. "We simply want our health care."