New York City
New York City Council members probe shelter limits for asylum-seekers
At a hearing Thursday, Adams administration officials said many people are ready to make an "exit strategy" within the 60-day cap.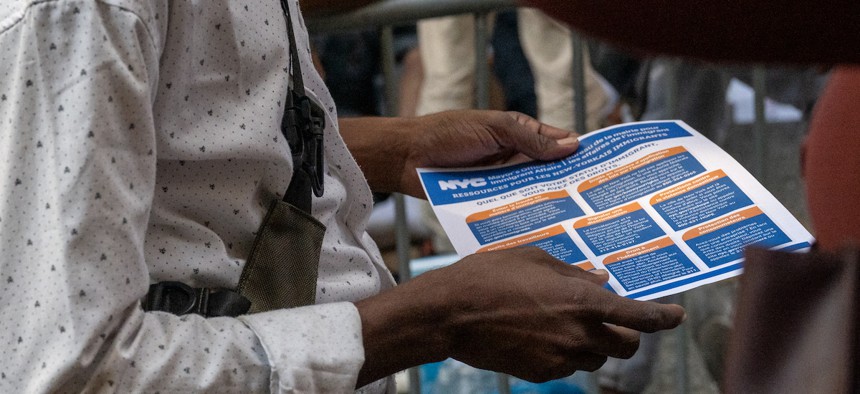 Facing a barrage of questions from the New York City Council on the Adams administration's controversial new plan to limit shelter stays for single adult migrants, city officials expressed tentative optimism Thursday that with support, many asylum-seekers may be able to successfully leave city care within the 60-day time frame. But some City Council members fear that even still, the policy will leave a number of asylum-seekers with nowhere to go but city streets.
"I don't want to throw migrants into an unfamiliar water and hope that they can swim. I want to know they can swim," said Council Member Diana Ayala during Thursday's joint Immigration and General Welfare oversight hearing. 
New York City Mayor Eric Adams' July 19 announcement about the new 60-day policy has been met with a swell of pushback from immigrant advocates and a number of elected officials who've expressed concerns that the change will drastically drive up street homelessness and erode the city's longstanding right to shelter law. Migrants were previously allowed to stay in shelters without needing to reapply as long as they needed, and that's still the case for the general shelter population. While nobody who has received a notice from the city has had to reapply for shelter yet, last week's backlog of newly arrived migrants lined up outside the asylum-seeker arrival center heightened concerns that more people will end up on the streets while waiting for space to free up in city care. The Adams administration contends that with a shelter system stretched far beyond its capacity, the policy is the only way to ensure space remains for families with children. Only single adult asylum-seekers are receiving notices that they have 60 days to find alternative housing or to apply for a new shelter placement.
City officials emphasized Thursday that they are pairing notices with intensive case management to discuss options with asylum-seekers and help them figure out what they want to do. While the process is fairly new, Dr. Ted Long of New York City Health + Hospitals said the conversations that have taken place so far speak to migrants' resourcefulness and suggest that the approach may help people get where they want to go. 
He said of the roughly 1,450 migrants who've received notices and had those conversations with case workers so far, roughly 65% say they are ready to make an exit plan.
New York City Emergency Management Commissioner Zach Iscol also said that the city will pivot if street homelessness rises in relation to the 60-day policy. 
Thursday's hearing comes on the heels of Adams delivering a grave address from City Hall Wednesday in which he said that the number of migrants staying in city shelters could rise to over 100,000 people by June 2025. He also said that the latest projected bill tagged to the city's efforts to shelter and care for new arrivals could grow to over $12 billion in that same time frame.
A spokesperson for the New York City Council told City & State last month that members didn't hear of the mayor's plans to implement the 60-day rule until right before the announcement – and even then, that was through news reports. Council members expressed some frustrations Thursday that communication on the matter has improved little since then, urging the administration to collaborate better with the body going forward.