Policy
Is New York ready to legalize supervised injection sites?
Two sites in New York have saved hundreds of lives, but stigma and lack of buy-in from the governor might prevent expansion.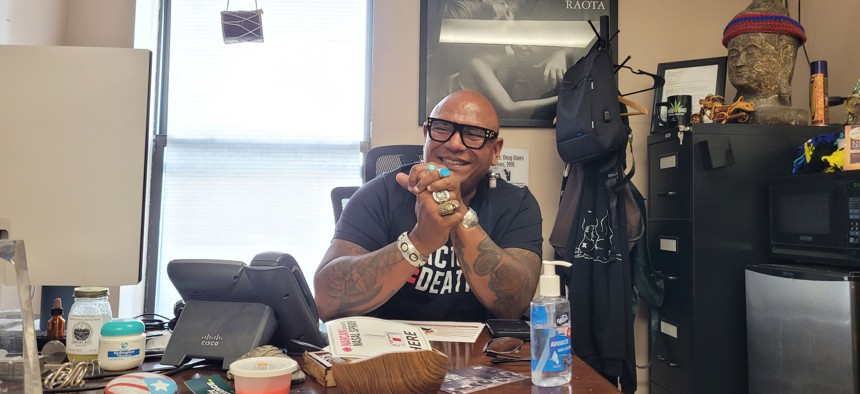 Behind Sam Rivera's desk in his office at the Harlem OnPoint supervised injection and harm reduction center is a sign for an early syringe exchange program. "Clean Needles Save Lives: Drug Users Doing It For Ourselves, 1991," the metal sign reads, with a photo and description of the response to the HIV/AIDS crisis. It's not just a bit of historical memorabilia – Rivera was there. "My early work in harm reduction was literally going into a shooting gallery and cleaning syringes in a bucket so people wouldn't get HIV," Rivera told City & State, referencing communal spaces that drug users would get high in. "And that's fighting, we had to fight for everything. No one supported harm reduction."
A lot has changed since then. Today, Rivera heads OnPoint NYC, the largest provider of harm reduction services for drug users in New York City – and the operator of the nation's first two supervised injection sites. The sites are places where drug users can bring pre-obtained drugs into a safe and sterile setting to shoot up under the supervision of trained professionals who can intervene in the case of an overdose. OnPoint's two locations are in Manhattan – one in East Harlem and a second in Washington Heights. They opened with the blessing of the city government in November 2021 to national attention. They're a pilot program of sorts, so both supporters and detractors are keeping a close eye on the outcomes.
It hasn't been an easy road – the United States and New York both continue to have a massive opioid crisis as overdose deaths continue to skyrocket. Combatting decades of messaging around the war on drugs and "just say no," advocates like Rivera are trying to get the public more on board. Harm reduction services like supervised injections sites are meant to minimize the damage of drug use with the understanding that strict prohibition drives drug use into the shadows, but it doesn't save lives. "It's important to go back to the syringe exchange process, the process of HIV, to figure out how we get as close as possible to normalizing (supervised injection sites)," Rivera said. He'd like to see the opioid and overdose crisis treated like any other public health emergency, rather than blaming and stigmatizing drug users. 
But supervised injection sites are still a political hot potato. They remain illegal at both the federal and state levels, limiting the kind of funding they can get to grants and donations. Although they have the support of New York City Mayor Eric Adams, they still face opposition from community leaders who are reticent about locating them in their neighborhoods. At the state level, Gov. Kathy Hochul hasn't offered her backing, nor signed off on using settlement money specifically meant to combat the opioid crisis. A bill that would legalize the facilities statewide hasn't moved in the Legislature, and neither legislative leader has publicly offered their support for the bill. And with limited research on OnPoint's impact, despite research from other parts of the world, hard data to support either success or failure in New York is still scarce. It's an experiment, and the whole country is watching to see if New York City's approach works. No pressure.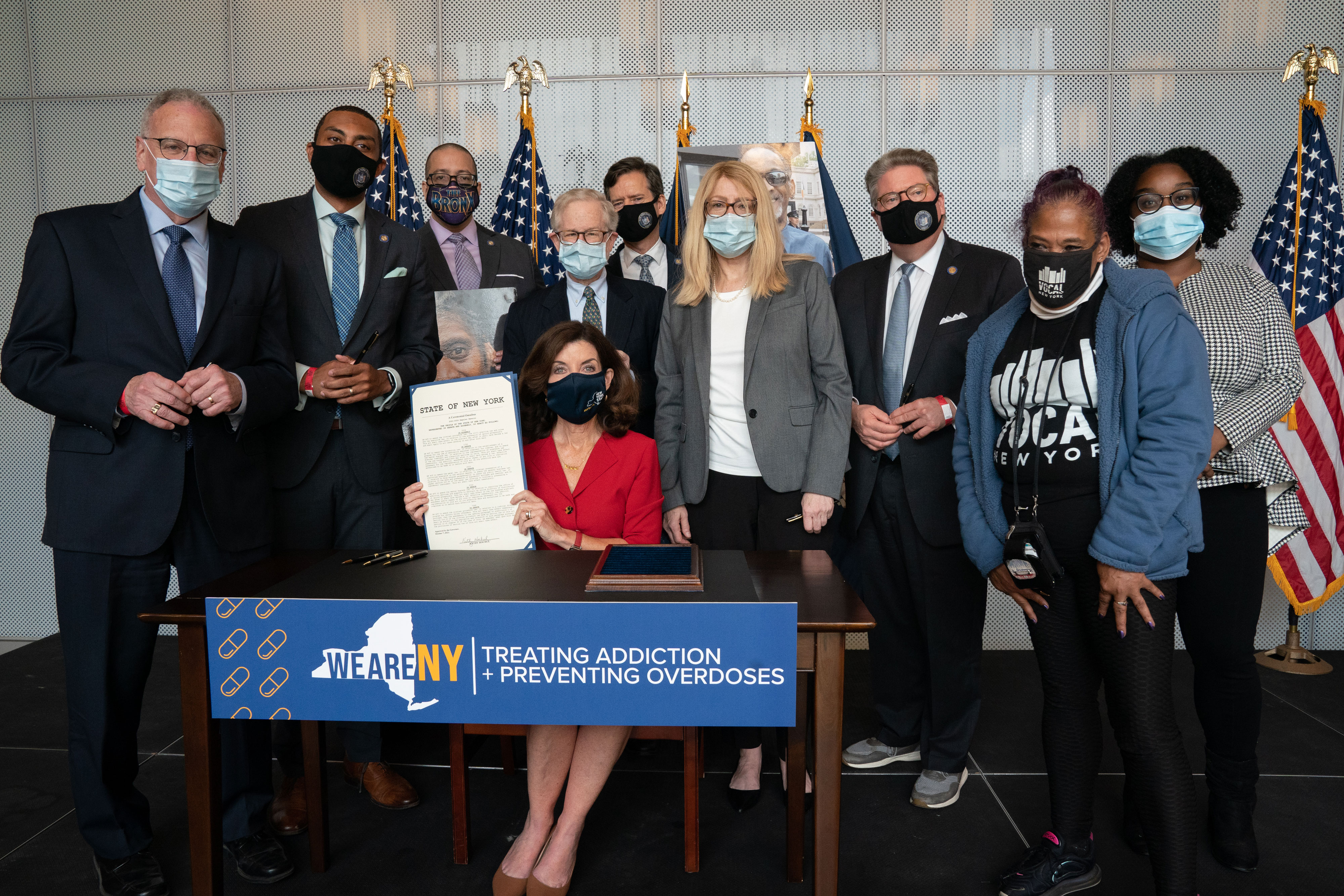 Hochul has talked fairly extensively about the opioid and overdose crisis in New York, where rates of use and death remain high. Yearly opioid overdose deaths have increased nearly 300% since 2010 hitting 4,233 in 2020, according to the state Department of Health. That number went up even more to 4,762 in 2022, according to the Opioid Settlement Fund Advisory Board. In 2020, opioid use led to 13,976 hospital discharges and 12,245 emergency room visits, per state data. Opioid prescription has declined between 2012 and 2021, but still remains high at a rate of 300 scripts per 1,000 people – that rate increases outside of New York City. Most recently, Hochul announced the launch of a statewide media campaign and podcast meant to help educate the public on the crisis and highlight the available services for those who may be struggling. As part of the campaign, the state Office of Addiction Services and Support is entering into a new partnership to increase access to naloxone, an overdose reversal drug that works by blocking opioid receptors in the body. Money for that partnership is coming from the state's Opioid Settlement Fund, over $2.5 billion that opioid manufacturers paid to settle lawsuits over their role in the epidemic. 
Earlier this year, Hochul announced new state funding to increase the availability of fentanyl test strips. Her office said that since the beginning of the year, more than 1.1 million fentanyl test strips have been ordered through a new partnership the state addiction services office established. 
But Hochul has not supported supervised injection sites, and her administration has declined to heed recommendations that money from the Opioid Settlement Fund be used to help fund the facilities. That lack of support has left many in the harm reduction community feeling that Hochul's response has failed to meet the scope of the crisis. "Her response is to buy fentanyl test strips," Rivera said. "What's a test strip going to do about saving lives?" Rivera said the test strips are helpful for stimulant users, for example, people using cocaine at a party, but that his clients haven't used test strips since 2018 because "it's in everything," so testing for it makes no impact. OnPoint instead uses a new form of testing in collaboration with the New York City Health Department that shows not just whether fentanyl is detected, but how much of it is mixed in. 
In a letter to the Opioid Settlement Fund Advisory Board from the Office of Addiction Services and Supports, Commissioner Chinazo Cunningham rejected the supervised injection site recommendation on legal grounds. "This recommendation violates State and Federal Laws, rules, and/or regulations," Cunningham wrote in the letter. "There are both Federal and State statutes, as well as case law, that currently prohibit the operation of Overdose Prevention Centers ("OPCs") and allocation of State monies for OPCs." It has been the most common reason cited by the governor, despite the state engaging in other federally illegal practices – like the regulation and sale of cannabis.
Although Cunningham's name is on the letter, she has been involved with and supported supervised injection sites in the past. She helped to establish New York City's two facilities that launched in 2021, before she went to work for the state government. Hochul's new Health Commissioner James McDonald, confirmed by the state Senate in June, also has a background in harm reduction services. While at the Rhode Island Department of Health, he headed its Drug Overdose Prevention Program. Last year, Rhode Island did what New York is currently declining to do by investing $2 million of its opioid settlement money into opening the state's first supervised injection site.
Her response is to buy fentanyl test strips. What's a test strip going to do about saving lives?
– Sam Rivera, executive director of OnPoint
Hochul continues to leave the door open to a plethora of options to address the overdose crisis, but without specifically offering support for supervised injection sites. "As one of the millions of Americans who lost a loved one to overdose, Gov. Hochul is committed to aggressively tackling the opioid crisis and has invested a historic $2.8 billion in addiction services since taking office," spokesperson Avi Small said in a statement. "Gov. Hochul will continue making smart, responsible investments to address the extraordinary scale of this crisis and deliver support to those who need it." Asked about the sites at a press conference in March, Hochul also referenced the legal roadblocks to bringing them statewide. "As far as a statewide policy, it's something that we are exploring," Hochul said at the time. "We're looking at our limitations that we have, because we have to follow federal law, and finding out whether that's the best option."
Legislation currently stalled in Albany would address part of the concern in New York by legalizing supervised injection sites statewide. Right now, they operate in a legal gray area in New York City with the support of Mayor Eric Adams and cooperation of the police department. The bill faces an uphill battle as stigma around drug use and supervised consumption remain a major roadblock. But bill sponsor state Sen. Gustavo Rivera (no relation to OnPoint's Sam Rivera) said that he has given over a dozen tours to colleagues, including those who went in reticent. "(For) like 95% of the folks, it's an incredibly eye-opening experience, because these are just human beings," said Sen. Rivera, a Democrat from the Bronx who is chair of the state Senate Health Committee. "This setting sort of helps people reconsider their views on what drug use is and how we should actually treat it." He has offered to give Hochul a tour, but the governor hasn't yet taken him up on that. A spokesperson for state Senate Majority Leader Andrea Stewart-Cousins did not return a request for comment on whether she has toured a site. A spokesperson for Assembly Speaker Carl Heastie said he toured the St. Ann's Corner of Harm Reduction in the South Bronx, which offers many of the same services as OnPoint and is seeking to open a supervised injection site.
OnPoint's Rivera has an open-door policy for community members interested parties to take tours of the facility. One such person was Julie Atwell, the parent coordinator at an East Harlem public school. A 20-year resident of the neighborhood, Atwell wrote about how touring OnPoint caused her to change her mind about both drug use and supervised injection sites. She published her thoughts in a City Limits opinion piece entitled "Overdose Prevention Centers Help Make Communities Safer," where she mentioned the plethora of services OnPoint provides in addition to simply being a place to shoot up. "Like many, I've regarded people who struggle with drug addiction with fear or disdain," Atwell wrote, expressing her concerns about public drug use and its impacts on public school children in the area. But visiting the facility caused a change. "As a parent coordinator who is dedicated to the well-being and safety of families, and as a mother myself, I am heartened by all the services OnPoint makes available," Atwell wrote. 
Atwell's opinion is not one shared by everyone in the community, though, as other neighbors of the East Harlem site have complained that it has increased dealing and public drug use in the area. It also led to increased usage in nearby subway stations in both Harlem and Washington Heights after OnPoint centers close for the day, a dilemma that officials hope to mitigate by getting the sites to 24/7 operation. Community opposition has also resulted in a delay in opening a supervised injection site in the South Bronx as local leaders asked that a nonprofit locate it somewhere other than originally proposed. Sen. Rivera recalled a "rough" town hall last year when staff from OnPoint discussed harm reduction and supervised injection sites. He said that he more recently ran into a resident who attended and was staunchly against the facilities with a "deep stigma" around people he considered "junkies." Sen. Rivera extended an invitation to tour an OnPoint facility, which would be the first time he would accompany someone other than lawmakers or press. He said that visit is still in the works.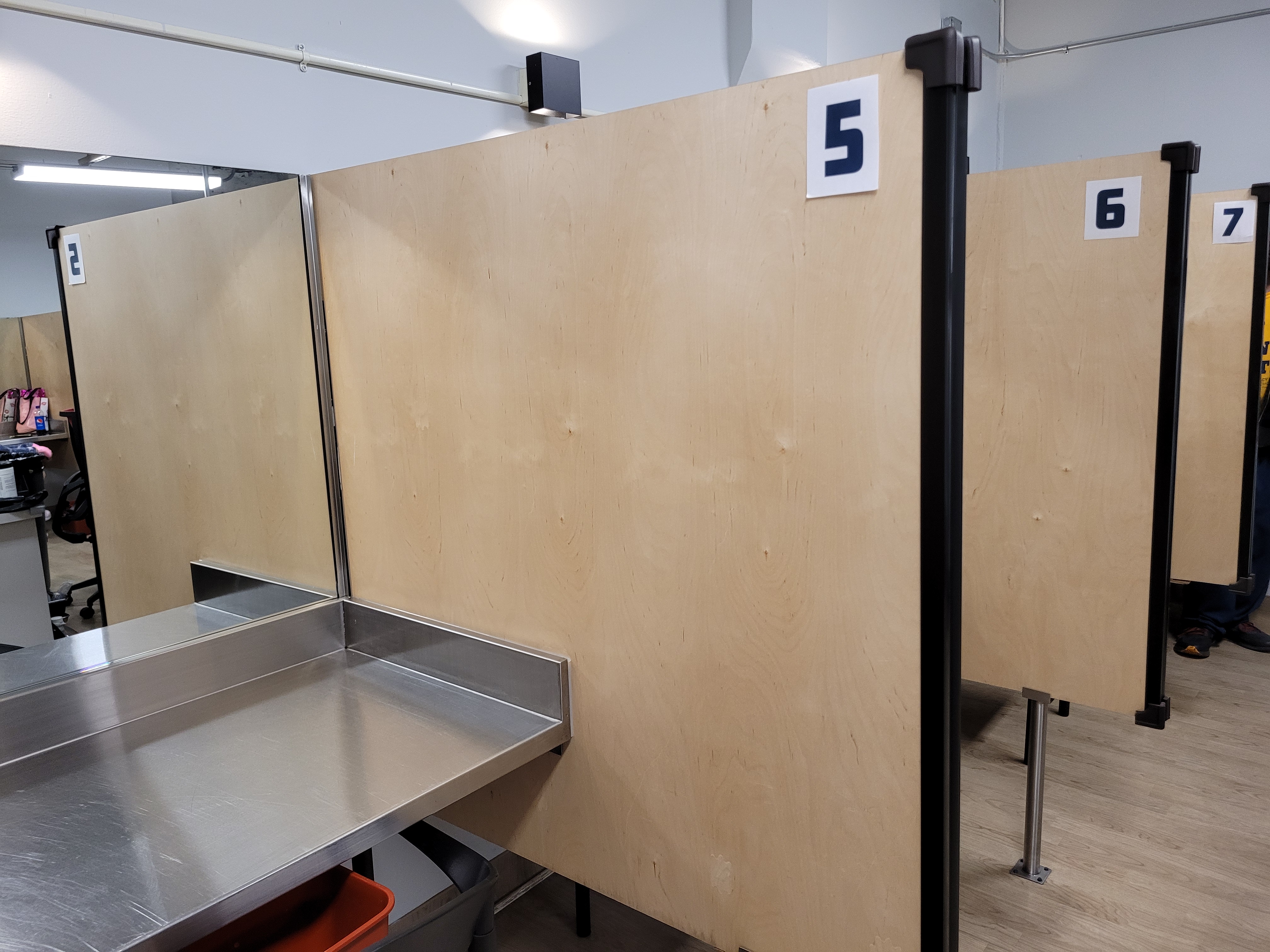 A visit to a supervised injection site starts first with paperwork. Before anything else gets done, clients of the Harlem OnPoint facility answer a series of questions and start a client profile, providing information about their drug use, demographics and where they are staying, as well as signing liability forms. Clients must agree to certain terms and conditions – OnPoint does not accept first-time users, and clients cannot deal on the premises. For returning clients already fully registered with OnPoint with a profile stored in their system, staff at intake will ask a series of simple questions when they come in to use, like whether or not they overdosed since their last visit, or if their drug use has changed in that time.
Once the intake is done, clients wait in the lobby until they are called back to use the drugs they brought under the supervision of trained staff and volunteers. At the back of the room are a pair of double doors with the words "Overdose Prevention Center" emblazoned on top. That's the only place in the building that people are allowed to use, and any supplies used in the room are used and disposed of exclusively in there. The small room has a total of six booths for injecting, with mirrored walls to ensure staff is able to maintain a close eye on people as they use and respond immediately if an issue arises. Everyone working in the room has trained to the level of a certified nurse in overdose intervention, and OnPoint has begun hiring more EMTs and former nurses with more formal medical backgrounds who still undergo additional training. A central area in the middle contains boxes of safe and clean paraphernalia, while "crash carts" with supplies to respond to overdoses are kept near the back. "Everybody in here has an active paperwork on them," said Rayce Samuelson, an overdose prevention specialist who runs the room. "So I know where they are, what they're using and how they're using it."
Use of the injection booths has no time limit. "We don't want to be rushing people, we don't want to be making them shoot up as quickly as they can and continue to mark up their veins," Samuelson said. "We want to be here to give education, to make sure people are using the safest and healthiest way possible." But with limited space at the Harlem facility, staff need to ensure a safe flow of people without sending people out who have not reached medical stability after a high.
Samuelson estimates that about 100 to 150 people a day use the supervised injection site at the Harlem facility. That means on an average day, the lobby outside the room is a flurry of activity as clients wait. "The perception is that when you open the door, people are just using," OnPoint's Rivera said. Instead, people who are waiting may choose to take a nap, wash their clothes in the available washing machine, get a meal or take a shower. "The way I describe it is a holistic building full of services that get to really, truly meet people where they're at," Rivera said. "Harm reduction is the epitome of meeting people where they're at." Plans are in the works to expand those services even more to open a barber shop, start a pharmacy and establish a larger food program.
Outside the supervised injection rooms, OnPoint also offers medical services in a separate, clinical setting with doctors who can refer clients to outside providers if needed, as well as mental health and counseling services who can similarly connect clients with additional resources outside the program. And upstairs is what they call the holistic health center, where clients can get massages, acupuncture and aromatherapy. "When we have it fully set up for services, it looks like a spa," said Juan Cortez, manager of the holistic treatment program. "We wanted to do that intentionally, we wanted to have a spa setting for poor people." 
We don't want to be rushing people, we don't want to be making them shoot up as quickly as they can and continue to mark up their veins. We want to be here to give education, to make sure people are using the safest and healthiest way possible.
– Rayce Samuelson, an overdose prevention specialist at OnPoint
Cortez said that people who use drugs, who have served time in prison for related offenses, have trauma they have to work through often with little support or even the ability to simply relax. The services he provides are meant to help deal with the stress associated with drug use, prison time and trying to right one's life. "We all work together to treat the person as a whole, so not one component is more important than the other," Cortez said. "They all work equally together in helping people change their lives."
If co-locating a spa-like center in the same building as a supervised injection site seems odd, OnPoint's Rivera offered an example of why it makes sense to offer such services all in the same place. "Imagine coming out of an overdose, and then going upstairs and having an acupuncture session, or an aromatherapy nap, having a meal," He said. "That's the impact, and we've seen it working."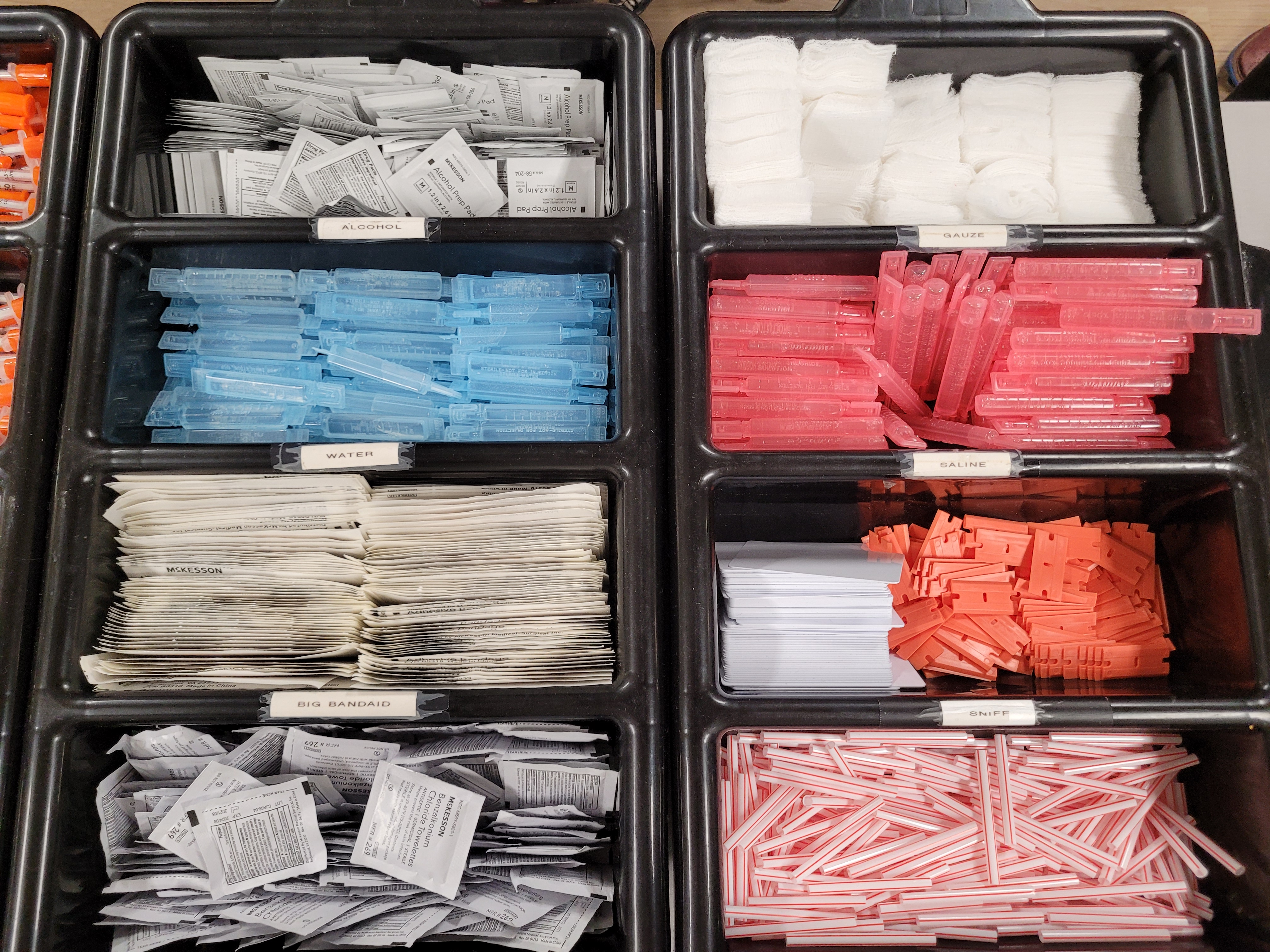 Since the first two supervised injection sites opened under former Mayor Bill de Blasio in November 2021, over 3,700 people have signed up as clients, the site itself has been used over 83,000 times and staff have intervened in 1,008 overdoses with no deaths at either facility. "My favorite datapoint is zero," OnPoint's Rivera said. "No one's dying, no one has to die again – ever."
In most of those overdose interventions, staff are able to step in so quickly, they often don't use naloxone. In fact, it's only used about 12% of the time at the Harlem facility, according to Samuelson. Most of the time, staff can provide oxygen to someone beginning to overdose, which will stabilize them before a more serious, complex overdose can begin. In the cases when naloxone gets administered, Samuelson said they use a .4 milligram microdose rather than the 4 milligram Narcan spray – which they carry just in case – in order to prevent withdrawal symptoms after the overdose. "When they wake up, they often don't know they've overdosed," Samuelson said of the instances when microdoses of naloxone are used. "And that's really the point of this building, is to center our care around the patient… We don't want to put somebody into withdrawal, make them feel really sick and send them out into the community."
Although supervised injection sites are still new in the United States, they have been far more extensively studied in other parts of the world where they are more common. The European Union, for example, has had sites operating since the 1990s – when needle exchange programs were still new in the United States – and currently have about 80 spread throughout various countries. Last year, preliminary Centers for Disease Control and Prevention data found that over 106,000 people died in the U.S. as the result of a drug overdose. Fewer than 6,200 people died in all of the European Union in 2021, according to this year's European Drug Report, despite it having over 100 million more people living there.
In North America, Canada established the continent's first supervised injection site in 2003. Today, the country has 38 in operation. According to Canadian government statistics, staff at the facilities have intervened in 47,000 potential overdoses and drug-related medical events between 2017 and March 2023, with no reported deaths on site.
"The literature is pretty sufficient in its scientific findings that support the efficacy of overdose prevention centers, or supervised consumption sites, as being effective for reducing drug-related harm," said Daliah Heller, director of drug use initiatives at the public health organization Vital Strategies. "And also conferring benefits on the surrounding community – and certainly not conferring harm on individuals or the communities in which they're situated." Even though their positive benefits are not universally accepted, even critics don't assert that supervised injection sites have led to outsized negative impacts. Keith Humphreys, a professor of psychiatry at Stanford University and former White House drug policy adviser, has been a frequent advocate of finding a middle ground between harm reduction and drug policy enforcement, citing in 2019 the similarities between Vancouver and West Virginia in opioid-related deaths despite wildly different approaches to public health. "Better data should be published on the impact of all interventions, and we need metrics that chart the whole journey of addiction from first engagement through to recovery," Humphreys wrote in an op-ed for a Canadian newspaper this year.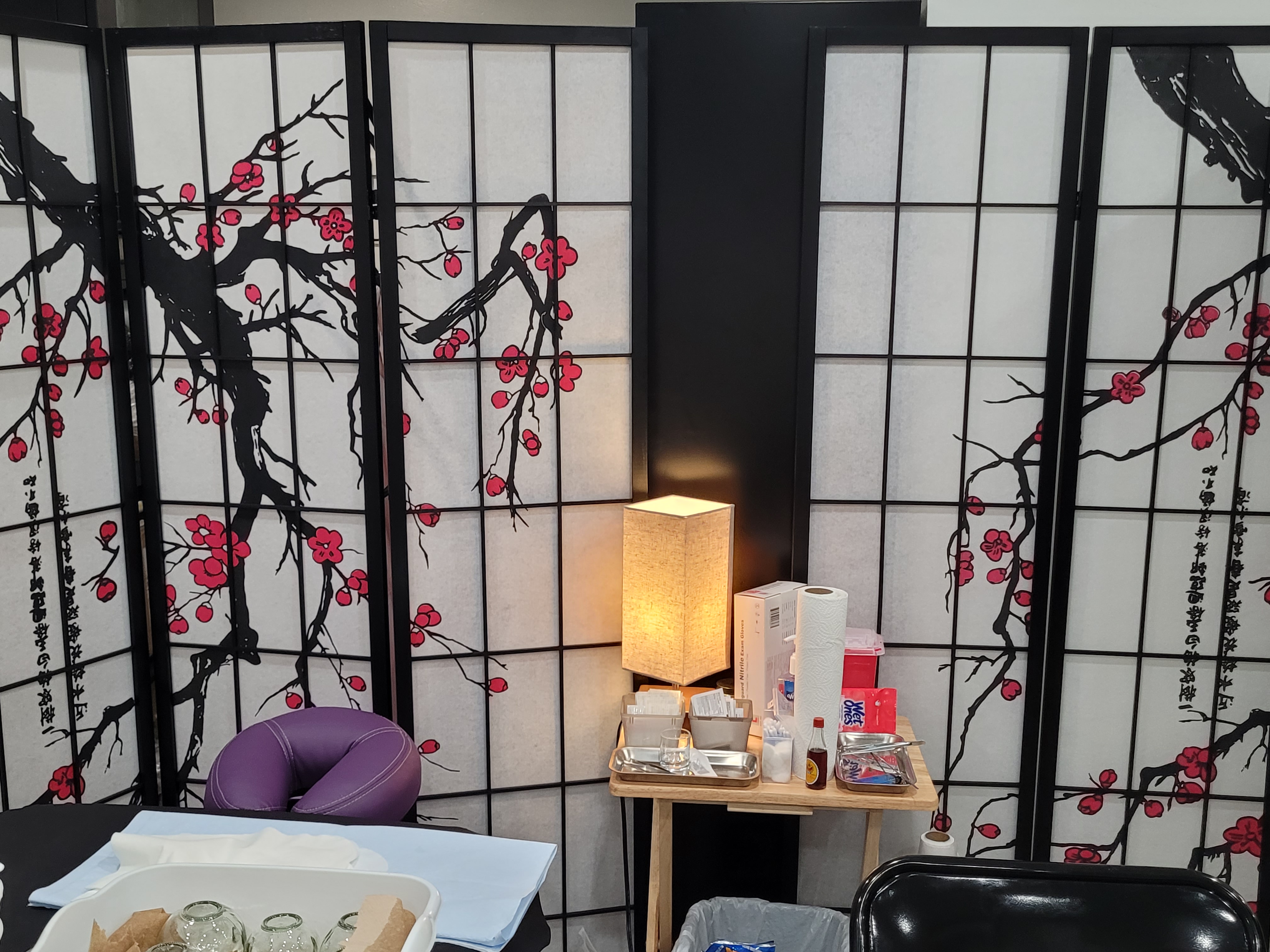 One client using the supervised injection site one June afternoon, who gave his name as Mark, said he has lived on the streets for the past year and a half, and he wound up overdosing on heroin in unsafe locations. Mark said that he attended the elite Fordham Prep as a teenager and worked as a welder and a carpenter. But his addiction wound up consuming his whole life. "This shit affects everyone," he said. 
OnPoint allowed Mark to start changing course. "This place kind of saved my life," he said. As of June, Mark said he had gone six months without an overdose thanks to the supervised injection site. He said he has started to regain weight, use less and has been in detox for the last several months while also making use of other services like the showers at the facility. "I get a chance to relax and unwind, and not put myself in trouble." He said that OnPoint has provided him not just a safe place to consume, but a community where he has built relationships with staff. "I love these guys."