Heard Around Town
NYPD doesn't need to be more detailed in tech transparency, official says
"I'm more concerned about public safety and keeping people safe and being true to the spirit of the law," Ruben Beltran said, when asked about criticisms of POST Act compliance.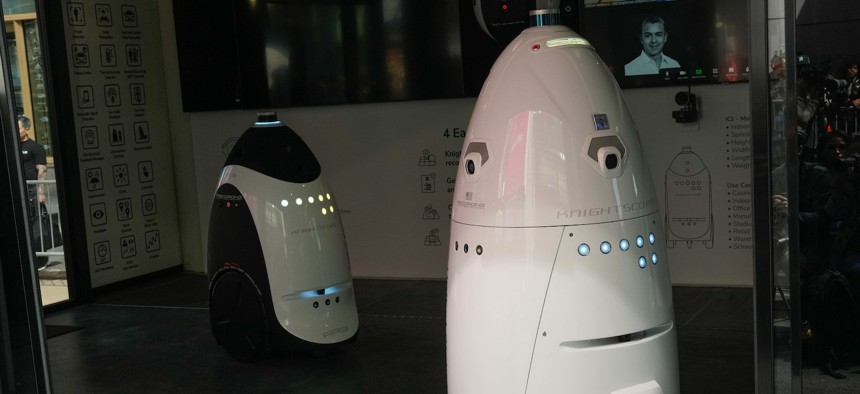 Mayor Eric Adams is off to Israel on Sunday to – among other things – learn about Israeli technology. Whether or not those discussions will include police technology is unclear.
But back in New York, the topic came up at a regular public safety briefing Friday, at which New York Police Department Chief of Information Technology Ruben Beltran made his first appearance. 
A veteran of the department and head of its IT bureau, Beltran discussed enhancements to existing systems, including creating a 311 "clustering application" to better analyze calls and complaints. 
Police technology is a contentious subject. The NYPD has been criticized for using tools including facial recognition and four-legged robots. At Friday's briefing, chief of operations for the Office of Public Safety Justin Meyers said that the administration is committed to the "responsible" implementation of technology.
But asked about criticisms that the NYPD isn't fulfilling the intent of a landmark technology transparency law, Beltran suggested that more detailed reporting on police technology wouldn't be worth the department's time or advance transparency goals.
Privacy and civil liberties advocates have accused the NYPD of skirting the intent of the Public Oversight of Surveillance Technology Act, a 2020 law requiring the department to release impact and use policies on all of its surveillance technologies. Rather than issuing policies for specific makes or brands of tools it uses, the department has mostly released policies for broader categories of tools, like "thermographic cameras" and "GPS tracking devices."
A 2022 report by the Office of the Inspector General found that while the department has largely complied with the POST Act's requirement to issue policies, the grouping of several technologies under the same use policy is "contrary to the intent of the POST Act."
"I disagree somewhat that providing a more granular level of description of those technologies would really benefit the intent of that law. We can continue to drill down and drill down, and the responsibility to classify, to update technology descriptions that are very similar, would be arduous for the police department," Beltran said, when asked about this today. "I'm more concerned about public safety and keeping people safe and being true to the spirit of the law."
Beltran echoed the argument that the NYPD used to fight the passage of the POST Act for several years – that disclosing details about the technologies used by the department would put officers and the public at risk. "We do want to have that transparency," Beltran said Friday. "But we also don't want to create laws that put us at a disadvantage to criminals that use technology freely to victimize people."
Meyers noted that while the OIG found that the department is in compliance, the administration would be open to changing how it complies. "Being compliant with the law is the most important part, and the NYPD is compliant with the law," Meyers said. "Now the second part is looking at, are there responsible and effective additional things that we can do. And we're absolutely engaged in those conversations."