Events
City & State's Government Procurement conference focuses on modernization
The event attended by government leaders and procurement experts stressed the importance of robust digitization and best business practices.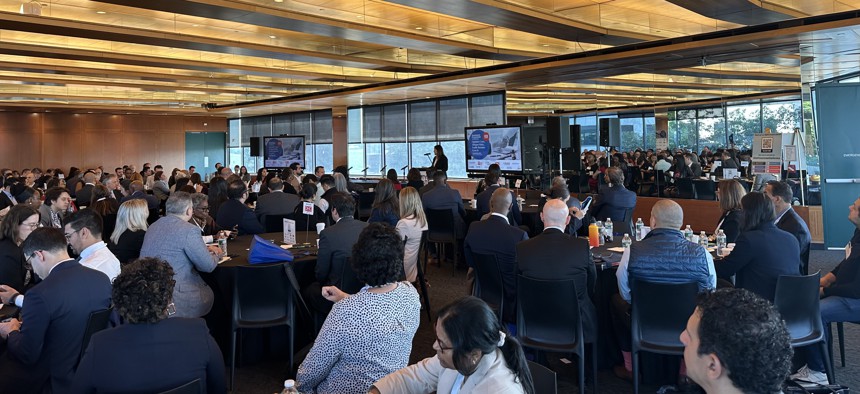 City leaders, lobbyists and procurement specialists gathered at the Museum of Jewish Heritage for City & State's Government Procurement Conference to discuss best business practices amidst the procurement process. 
Keynote speaker, Jeanette M. Moy, commissioner of the state Office of General Services, led the conference by highlighting the agency's commitment to improving procurement:
"This conversation is around optimizing costs, mitigating risks, and enabling business growth. Each of us play an incredibly important role in how we serve the people of the state of New York, and through procurements, we can optimize costs for municipalities, nonprofits and government agencies by leveraging the state's buying power," she told attendees. "That is the Office of General Services' mission: procurement at the core is government in action. At the end of the day, it's the goods and services that we use in order to build to support and to serve." 
As the city grapples with heightened digital demands and influx of migrants, the need to increase efficiency in the procurement sector remains paramount. Moy emphasized streamlining processes and increased digitization to meet the city's modern goals:
"We need to implement modern technology very rapidly to catch up with what's happening in the rest of the world, looking at digital processes and platforms that will help make the government work better and more effectively, and work better with businesses and to focus our efforts primarily on service outcomes. It also means not straying too far from our core competencies."
Moy highlighted the agency's outreach efforts and expansive data collection initiatives to better locate areas of need.
"2023 has become an incredibly transformative year for the Office of General Services. This summer, we launched our five-year strategic plan across all areas of our agency's operations including procurements," noted Moy. "Our plan incorporates insights from 1,500 survey responses, focus groups with staff, municipalities and vendors, and including actually some of you in this very room, and I thank you for participating. We've heard from your feedback. And we know that we need to evolve because it all comes back to change, as we face all of these issues in a rapidly evolving world."
"And we are committed to that change in our agency down to every granular level, we are committed to being transparent with our customers, our vendors and the public while promoting fairness and contracting community through open competition, a level playing field and efficiency," she added. Through robust data collection, Moy envisions better support to customers with greater executions of goods and services. In doing so, the commissioner stressed the agency's pledge to incorporate sustainability and equity across the office.
"Now to support these commitments, we made foundational changes in our agency. We created an Enterprise Project Management Team to coordinate our efforts as we modernize our services and implement statewide change," she said. "We created a division of resiliency and sustainability, which enables the state to adapt their operations to mitigate the impacts of climate change. And we are building an analytics team to institute a culture of data-driven decision making, because you cannot manage what you cannot measure."
As sustainability goes hand-in-hand with modernization, procurement processes must adapt to changing markets and environmental challenges.  As the state moves towards greater digitization, Moy stressed the importance of implementing an E-procurement process to enable greater accessibility and transparency throughout the procurement process.
"When we do our work well, it should be quiet, it should be silent, but it really enables services that the government has, and the markets are changing," she said. "We are moving towards a more sustainable side of society because of your answering the environmental challenges in front of us."
Panelists discussed some of the efficiencies brought by PASSPort, the city's end-to-end digital procurement platform in addition to best business practices and the importance of relationships in advancing procurement goals.  
Claude M. Millman, partner of Kostelanetz LLP, highlighted the importance of relationships and the work of lobbyists in initiating change. "I think it's really important to develop relationships with all of the government agencies that you're going to deal with, before problems arise," he said. "You need to know the procurement professionals, and you really need to have relationships with the government relations professionals."
Millman said he thinks "lobbyists get a bad name." "But if you're not using a lobbyist, you're just an unregistered lobbyist," he told attendees. "So don't feel so bad about the registered ones. They're actually the ones that are complying with all the disclosure obligations and things like that, and most likely doing it right." 
This sentiment was echoed by the panel's moderator Keith Wright, the former assembly member who is chair of the New York County Democratic Committee member and works as director of strategic planning within the government relations group at Davidoff Hutcher & Citron LLP.
"I've said this a number of times, politics is about relationships," he told attendees. "It's really about relationships throughout the city, throughout the state." 
Panelists also discussed methods to strengthen MWBE and small businesses across the city, while accounting for diverse obstacles. Across the board, experts highlighted the importance of simplifying procurement processes and increasing transparency: all key elements to good business. 
"New Yorkers deserve a government that provides the same level of high service that they get in their daily lives," said Moy. "Those are our expectations. And that means that our agencies must deliver for customers in a fast, seamless and coordinated fashion, which creates even stronger pressures on our procurements."