Policy
Meta, TikTok and more take down thousands of subway surfing videos
Eric Adams has blamed social media for a lot. Now those platforms are stepping up to discourage subway surfing.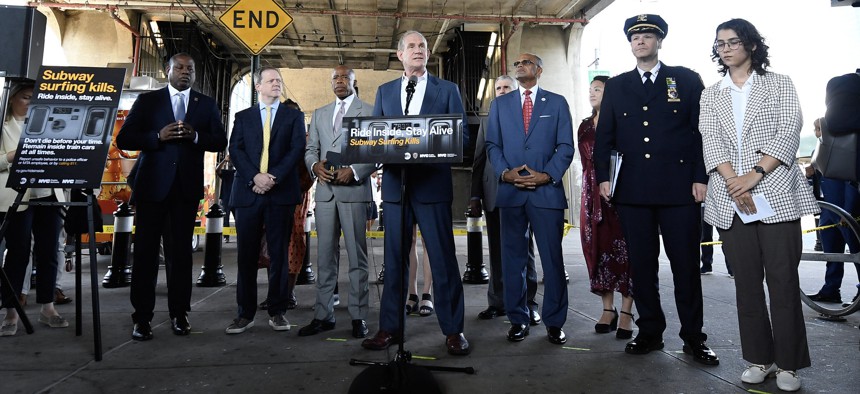 For all his interest in being a tech-friendly mayor, Eric Adams is ultra-wary of social media. He's repeatedly criticized the effects of social media on young people in particular, once calling on platforms to remove drill rap videos that display violence, and holding a "social media summit" earlier this year to explore social media's impact on young people's mental health. 
For the most part, social media companies have ignored the mayor's public criticism. City Hall declined to comment when asked whether those efforts have resulted in any commitments or action from social media companies. 
Some of the mayor's criticisms, like linking drill rap videos spreading on social media to gun violence – a criticism he's since walked back – have faced pushback, coming across as out of touch. Reining in or regulating these global companies is arguably not a job the mayor of New York City is best equipped to tackle. But he's also not alone in some of his criticisms; plenty of local and some federal officials have blamed social media for young people's declining mental health.
There's at least one issue where major social media companies – including Meta, TikTok and Snapchat, as well as Google and YouTube – have responded to alarms raised by Adams and other New York leaders: "subway surfing," the dangerous practice of climbing onto the outside of moving subway cars, which has killed five teens this year. Those companies have removed more than 3,000 videos and photos involving subway surfing since this spring, according to the Metropolitan Transportation Authority. 
At a press conference on Tuesday morning, MTA Chair Janno Lieber, Adams, and several other city and state officials announced a new public service campaign designed by high school students and aimed at discouraging subway surfing. Google and YouTube have also agreed to provide free ad space for the campaign.
So far this year, 88 people have been arrested in New York City for subway surfing, according to NYPD Chief of Transit Michael Kemper. That's more than double the number of people who had been arrested for subway surfing by this time last year. 
The mayor compared subway surfing to other dangerous viral video trends like the "Kia Challenge" car thefts or a spicy chip eating challenge that was linked to the death of a teenager in Massachusetts. "These viral videos make young people try dangerous things, and it is really impacting on their environment and how they move forward to become adults," he said. "The consequences of these actions are not only taking lives but ruining lives."
The commitment from technology companies is the result of months of talks, according to the MTA. "This has been a partnership that started out with us saying to them, 'You've got to do something,'" Lieber said on Tuesday. "Because all of a sudden, as the mayor has highlighted again and again and again, young people are being subjected to massive doses of video and material that was glorifying this. And they actually stepped up. They developed algorithms to weed it out and they're working with us to take it down and now, as I said, we're actually doing content to discourage subway surfing." 
Lieber credited Adams with pushing the social media platforms to address subway surfing videos, noting that the mayor of New York City possesses a more influential voice than the chair of the MTA.
The tech companies' collaboration to discourage subway surfing reflects New York's evolving relationship with the tech ecosystem, said Julie Samuels, executive director of the trade group Tech:NYC. 
"I don't think you can separate the politics of subway surfing from the fact that these companies have thousands of people who work there and who live here, and they have a huge real estate presence here," Samuels told City & State after Tuesday's press conference. "These moments where the companies work with the city, work with the state, to make New York work better for New Yorkers – you're going to see more and more of those moments."
Samuels also said, however, that social media companies are not responsible for the dangerous practice. "At the end of the day, the social networks are just a tool," Samuels said. "There was subway surfing before social media. Unfortunately, there will be some subway surfing after this as well."
New York City has had its fair share of clashes with tech companies in the past. The same day that this public service campaign was announced, stringent city regulations on short-term rentals through platforms like Airbnb went into effect – the result of a yearslong regulatory battle.
Tech:NYC, started in 2016, includes as its members hundreds of large and small technology companies. That includes some of the tech giants frequently targeted for regulation by the federal government, like Meta and Google, as well as ones that have been wrapped up in more local policy and regulatory fights, like Uber, Doordash and Airbnb.
"When we started Tech:NYC, a lot of those conversations were much more butting heads, and now they feel more collaborative," Samuels said. Still, she said, there will always be issues where City Hall and tech companies disagree. "That's actually how it's supposed to work."