Immigration
New York looks at options for state work authorization for asylum-seekers
Lawmakers including Catalina Cruz and Jenifer Rajkumar have introduced bills. Gov. Kathy Hochul said she's considering "possible language."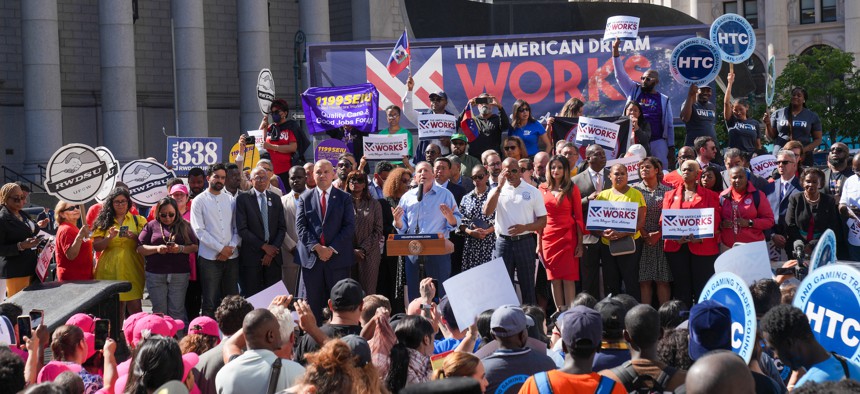 A day after raising the prospect of the state issuing work permits to asylum-seekers if the federal government would not expedite work authorization, Gov. Kathy Hochul said that she is "looking at possible language" to do just that. But she hedged when asked about two recently introduced bills that would enable state-level work authorization as legal experts question whether the state could make such a move.
During an unrelated press conference in Manhattan, Hochul told reporters she met with legislative leaders on Tuesday to discuss a multitude of issues, including the migrant crisis and the prospect of a special session for state lawmakers to take additional steps to address it. Although she has expressed a willingness to call legislators back to Albany, Hochul gave no indication that she's planning to do that in the immediate future. "Of course, I can call anybody at any time, but it has to be for a certain objective," Hochul said when asked whether she would call an extraordinary session, which would allow her to set the agenda but would still require cooperation from leaders to get bills passed.
First, Hochul said, she and legislative leaders would need to determine what lawmakers would seek to achieve if they returned before the regularly scheduled start of session in January. The governor suggested this week that the state could move to issue work permits to asylum-seekers if the federal government won't take action to expedite the process. 
Already, lawmakers have introduced two pieces of legislation that would do that. Assembly Member Catalina Cruz and state Sen. Luis Sepúlveda introduced the New York Emergency Expedited Temporary Work Permit Act on Tuesday, which would allow migrants to seek two-year authorization to work in the state within 45 days of applying for asylum. Current federal law requires asylum-seekers wait 150 days before applying for work authorization, and they cannot receive it until their asylum application has been pending for at least 180 days. "Given the federal inaction to expedite federal work permit applications for asylum seekers, it is incumbent on New York State to exercise its State's Constitutional duties and powers reserved to States under the Federal Constitution and enact a New York State Asylum Seekers Worker Permit Program as outlined in this legislation," a memo attached to the bill reads.
The legal justification is shaky at best, according to immigration law experts. "Under a standard interpretation of federal immigration law, states don't have the authority to issue their own work permits," Fordham law professor Jennifer Gordon said in an email. "There's an argument that the state could itself hire people who don't have work permits." She noted that the University of California is starting a program under that ethos, which she and other immigration law experts have expressed support for.
Cruz told City & State that should it pass, she expects court challenges, whether from individual Republicans or the federal government, but expects that New York would prevail in court. "With this bill, we seek to step into the shoes of the federal government, there's no question about it," Cruz said. "But there's also no question about the fact that we are in the middle of a crisis. And… in the past, whether it was an environmental disaster… or even a pandemic, the state has done this before, step into the role of federal government." Assembly Member Jenifer Rajkumar also introduced similar legislation on Tuesday meant to enable the state Department of Labor to issue work permits. 
A senior White House official discouraged states from issuing their own work permits during a briefing with reporters Tuesday. "The provision of employment authorization is very clearly a federal authority, and so it is not something that we would encourage states to pursue," the senior official said. "If someone was seriously on that, we'll take it as it comes." Cruz said she's aware of those comments and would prefer the federal government step in to make her legislation moot, but they should at least allow the state to act. "The only reason we are here is because we have been left to fend for ourselves," Cruz said. "If the federal government isn't going to do its job, then at the very least they need to get out of our way."
Hochul said that she is aware of the comments from the Biden administration on Tuesday when asked about them and the bills to issue state work permits. "And I'm saying, it's a federal problem, we need your help to do something," Hochul said. "So I'm looking at possible language – I want to make sure it's going to be successful." She noted that other states have taken action in the past regarding work authorization, but always with federal approval. Hochul did not say whether she had reviewed the newly introduced legislation, nor whether legislative leaders expressed any support for the bills during their most recent conversation. "There are options on the table that we're talking to them about, so that does not mean there has to be a special session," Hochul said. "So we talked about whether that is necessary… And I'm not here to say and share with you that a decision has been made, because one has not."
Asked about the chance of lawmakers returning to Albany and discussions with the governor, a spokesperson for state Senate Majority Leader Andrea Stewart-Cousins told City & State that there are no plans right now for legislators to return to Albany this year. A spokesperson for Assembly Speaker Carl Heastie did not return a request for comment, but Heastie has expressed multiple times in recent months that he does not plan to call his chamber back either.