Policy
City Council hearing features fiery discussion of migrant shelters
A lack of fire alarms and fire suppression systems has prevented some shelters from housing asylum-seekers, frustrating City Hall and council members.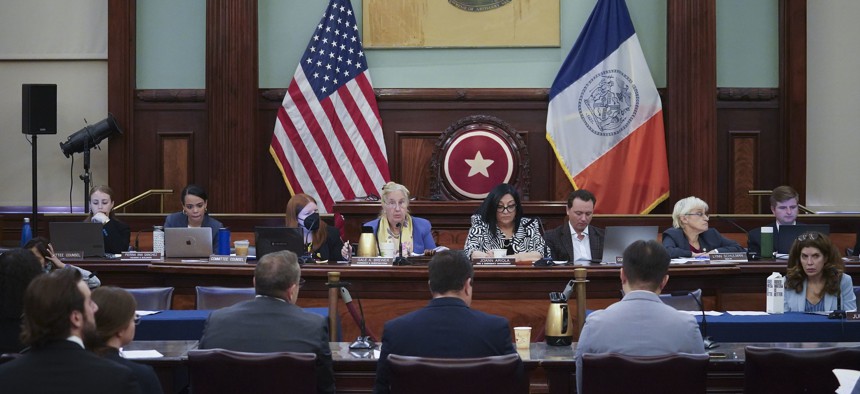 Not even a City Council oversight hearing highlighting aspects of health and safety inspections revealed in the most recent Mayor's Management Report passed without mention of the migrant humanitarian crisis. 
Pointing to the upcoming opening of Floyd Bennett Field as a shelter for migrants, Republican New York City Council Member Joann Ariola criticized the city for not doing more in advance to ensure the site is equipped to handle a potential fire. Ariola is among a group of several lawmakers involved in a lawsuit attempting to block the Adams administration from moving forward with the site. 
John Esposito, FDNY chief of fire operations, said the fire department only learned the details this week about the exact location on Floyd Bennett Field that the city will build the emergency shelter, but all the local fire companies will work with the National Park Service to familiarize themselves with the site and ensure fire hydrants are operational.
Ariola said it's troublesome that the fire department was only looped in this past week given that the City Council has been calling for such an inspection for months. 
"We will have our units down there to see the location," Esposito said when asked whether the location will be safe for people to move in as early as Sunday. "The pre-incident guide and the interagency drills will not be conducted by then."
The New York City Fire Department began vacating migrants from several shelters with fire-code violations last week after launching a new round of fire safety inspections following reports of potential fire safety code violations. For shelters operating without fire alarms or other fire code violations, the city had deployed mitigating strategies like former police and firefighters as "fire guards" to monitor onsite conditions.
"What I don't want to see is what we've seen throughout the city," Ariola said. "We cannot just be taking people from one place to another and putting them in unsafe conditions where agencies as important as the fire department have not even taken a look at the property more than 48 hours before an intended moving date has been established." 
Mayor Eric Adams has acknowledged that the situation is not ideal but said that ultimately the city is out of room, and out of options. Other council members have expressed similar sentiments. 
"I'm not comfortable for people to be at Floyd Bennett Field and neither are so many of us, but we are dealing with a crisis and we have to figure it out," Council Member Mercedes Narcisse said Thursday. "Instead of having people on the streets, we rather have people in a place where we can manage and do the best we can as a city."
Only two of the 50 houses of worship involved in a faith-based shelter program rolled out in June are currently sheltering migrants, the Daily News recently reported yesterday. What's to blame for the glacial pace? Many of the faith institutions have been told they can't legally open their doors unless they install costly fire sprinkler systems.
Pointing to the decrease in fire inspections between fiscal year 2019 and 2023, New York City Council Member Gale Brewer said she wants to see more houses of worship being able to house migrants. 
"I feel that this has to have a different approach for these faith-based institutions," she said. "I want you to know that in all of the inspections, you're definitely going in the wrong direction at this time."