Health Care
City & State event focuses on transparency to combat predatory hospital pricing
Lawmakers and industry professionals gathered at the 32BJ Health Fund's headquarters in Manhattan for discussions on how to bring costs down for hospitalized New Yorkers.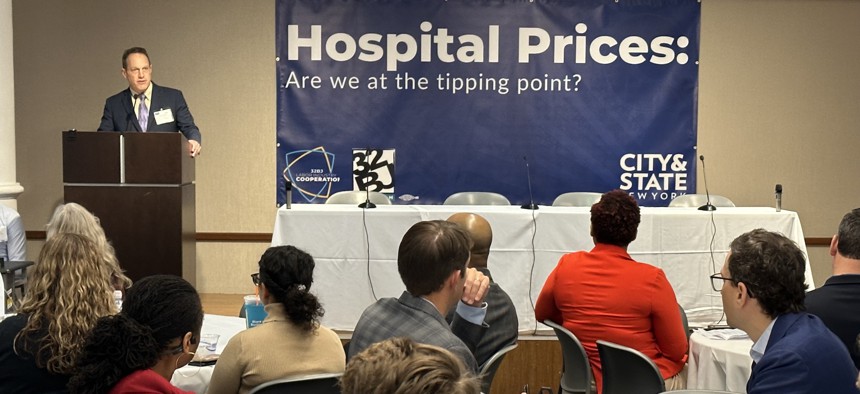 As lawmakers, union leaders and hospital executives gathered at the 32BJ Health Fund for an event discussing how to combat rampant hospital pricing, central to the issue was a lack of transparency in pricing practices. 
"It will not come as a surprise to anyone in this room, that rising healthcare costs continue to have enormous impacts on workers across the country, and we at 32BJ are no stranger to that," Manny Pastreich, president of SEIU 32BJ  and chair of the Labor Industry Cooperation Fund told attendees at City & State's "Hospital Prices: Are we at the tipping point?" event Thursday. "As the cost of healthcare has gone up, our members' wages are squeezed with other benefits as well. When [we dove] into the cause of this, we discovered that hospital prices were the number one driver of healthcare costs."
Yet, despite hospital prices being the biggest cost driver, 32BJ found little correlation between higher quality care and prices – with many patients being charged widely different rates for similar procedures. Pastreich also highlighted 32BJ's collaborative efforts with New Jersey lawmakers to curb rising hospital prices and share data across state lines. 
Pastreich made his comments during a welcome speech at the event, which drew lawmakers and  industry professionals, among others.  Ingrid Lewis-Martin, chief advisor to New York City Mayor Eric Adams,  who also spoke at the event, noted the administration's commitment to ease hospital prices for everyday New Yorkers.
 "We are going to work hand in hand with you to help drive hospital costs down. New York City and New York state, if we work in partnership with 32 BJ, DC-37 and hopefully some other unions, we plan to meet with hospitals and let them know that we are all in this together," Lewis-Martin said.  "Hospital rates have to be set at an affordable rate so that everyday common New Yorkers can afford [them]. I commit to you on behalf of the mayor and the city of New York that you have an ally and a partner in Mayor Adams and the Adams administration."
Keynote speaker Elisabeth Rosenthal, senior contributing editor at KFF Health News, pointed to a cultural shift in hospitals toward prioritizing business incentives, as insurance companies and executives increasingly coach healthcare workers to maximize profits – thus recruiting doctors into predatory pricing. 
"And [hospitals] are going to give [doctors] an incentive payment, where if you bill more – you will get a bonus from the hospital. Now, what does that mean? It incentivizes doctors to do more, to order more tests, maybe more efficient in the business sense, but certainly less patient-centered and patient committed," said Rosenthal. 
Rosenthal also observed disturbing "beautification" trends, as hospitals increasingly resemble fully serviced hotels – removing the focus further away from patient care to justify exorbitant price hikes. In order to combat rising hospital prices, Rosenthal stressed the importance of prioritizing patients' informed consent and price transparency. 
Transparency in hospital pricing remained key to New York City Council member Julie Menin, who has lead the city's Office of Healthcare Accountability following the passage of the Healthcare Accountability & Consumer Protection Act last June. 
Menin in her remarks to attendees highlighted severe discrepancies in pricing information, as only 14% of city hospitals currently comply with federal Centers for Medicare & Medicaid Services rules that mandate hospitals to disclose data, with others submitting data in inaccessible formats. 
"It's fundamentally a consumer protection issue. I previously served as commissioner of the Department of Consumer Affairs in New York City, and I really believe this is a consumer protection issue. There is simply no other industry, where you as a consumer are procuring the service, albeit at your most vulnerable time and you have no idea what they're going to charge you," stated Menin. 
With New York City being the number two purchaser of healthcare in New York state, Menin urged that collecting accurate data on hospital pricing will help the city make better use of its funding. 
"But this is not only a consumer protection issue, it's a fiscal issue as well. Currently, we are spending approximately 10% of our budget, close to $11 billion on the public sector, employee retiree and dependent health care. Now, that number five years ago was $6 billion— so it's almost doubled in five years. So we have an unsustainable, skyrocketing, exploding price issue for New York City," Menin continued.
Starting next year, the Office of Healthcare Accountability intends to publish the cost of all medical procedures in New York City hospitals, in addition to data on hospital tax exemptions (currently amounting to $1.5 billion). State Sen. Andrew Gounardes, expressed his endorsement of the bill following the HEAL Act, which prohibits certain provisions in insurance contracts, such as most favored clauses. 
"The state would be required to analyze claims data from inpatient, outpatient and emergency room services, the price per service and gross spending on the top 20 medical procedures," Gounardes said at the event. "They would then need to compare this spending to the price for similar services reimbursed under Medicare, the gold standard in Medicaid reimbursement rates, and established trends in total expenditures over a rolling five-year period."
Some providers, namely the Greater New York Hospital Association and 1199 SEIU, claim that rising hospital pricing is largely due to underpayments from government programs like Medicare and Medicaid, as well as abusive practices by national, for-profit health insurance companies.
State Sen. Liz Krueger, chair of the New York State Senate Finance Committee, questioned the validity of these claims as hospitals have yet to disclose information on the proportion of Medicaid/Medicare holders among patients.  
"Yes, Medicaid reimbursements are lower than many of the private insurance plans, but we don't even know exactly how much, because we don't have transparency on what hospitals are collecting, or how they're billing. But that is also extremely variable, because there are many hospitals that don't actually use that much Medicaid funding at all, because they're not really serving low-income people. So you can't make that a universal analysis, or an excuse for high hospital costs,"  she said at the event. 
Krueger added that thanks to better technological  tools, robust analysis of pricing factors can become readily available, but only with widespread support. 
"Union funds and other commercial purchasers are approaching a tipping point in our ability to pay the prices and absorb the prices that hospitals are charging […] Because the healthcare market has failed," Pastreich said.  It's time for policymakers and regulators to step up to the plate. It's time for purchasers to stand together and demand better pricing."