Energy & Environment
City & State's Clean Energy Summit showcases Hochul's historic renewable energy project
City leaders discussed challenges to widespread renewable energy implementation in New York.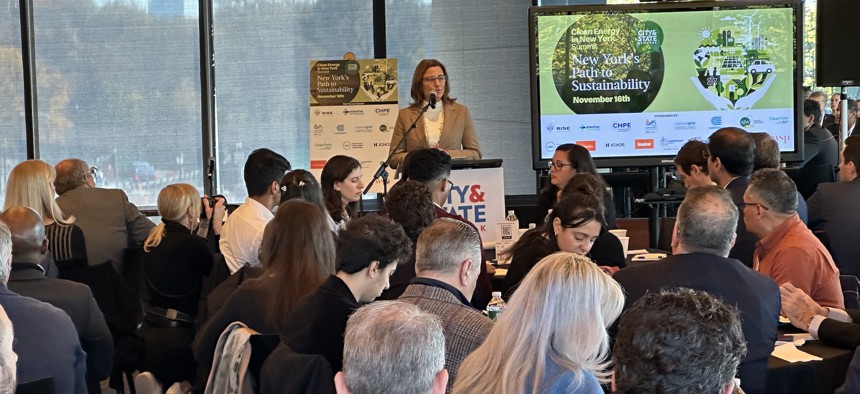 City leaders and industry professionals gathered at the Museum of Jewish Heritage in Manhattan on Thursday to discuss New York City's transition towards renewable energy at City & State's Clean Energy Summit. Following the state's enactment of the Climate Leadership and Community Protection Act in TK, New York currently leads the nation in renewable energy efforts. 
Clint Plummer, the CEO of Rise Light & Power, led off the discussion on the city's clean energy transition efforts by addressing Gov. Kathy Hochul's 10-point action plan to tackle inflationary pressures on project implementation. "The administration of Gov. Kathy Hochul implemented a 10-point plan in which they are delivering on New York's transition with major new clean energy projects and investments in the supply chain," he said. "So we not only are able to deliver projects today, but we do it with jobs that are based right here in New York state. And we do it in a way that mitigates against the volatility of the global supply chain." 
Keynote Speaker Doreen Harris, the president and CEO of the New York State Energy Research and Development Authority, unveiled details on the state's upcoming renewable energy projects. "We have already delivered on a number of milestones within that 10-point plan that I reference, one being 22 land based renewable energy projects, and three offshore wind projects, totaling 12% of New York's consumption in that award group alone," she said. "Talk about a major commitment to clean energy that was made at a moment in which we need to demonstrate that commitment to action." 
With investments in renewable infrastructure rising, Harris also addressed concerns over existing contracts. "The elephant in the room is what is going to happen with the existing contracts that we have," she said. "I want you to know, very soon, you will see some next steps we'll be taking to address the ultimate challenges that they face. The Public Service Commission's denial of the industry petitions is one that we obviously reacted very quickly to, knowing that we need these projects to move forward, not only in an affordable way, but in a competitive way."
"So we issued two requests for information, we've taken in over 60 sets of feedback comments on those (requests for information)," Harris continued. "And very, very soon, we will make a statement as to our plans to respond to the feedback that we received."
Panelist John O'Leary, Deputy Secretary for Energy & Environment at the Office of the Governor of New York, spoke about some of the biggest opportunities to be anticipated by the state's renewable energy shift, including the governor's announcement of 171,000 new jobs in the clean energy field. 
"One of the biggest components of that 171,000 clean energy jobs is in the building space, its energy efficiency, its solar installations, weatherization – that's a critical area and to reach the governor's goal of 2 million electrified and electrification ready homes by 2030, we're going to dramatically scale up that work. When I think about power generation, we've had 10s of billions of dollars of large-scale renewables projects under contract," O'Leary said. "There's been a lot of headwinds in that space and the governor has moved decisively to keep that infrastructure agenda on track with new awards and with an accelerated procurement process […] And the clean transportation space as well […] With respect to offer when we're trying to launch an entirely new industry in that area," defended O'Leary. 
Panelist Will Hazelip, President of NGV, US Northeast, National Grid Ventures, the partner to the Hochul administration's Community Offshore Wind project, spoke of the importance of ensuring that community needs are prioritized when meeting climate goals. 
"The first thing is a recognition that we have no right to build any particular project unless the community wants us to do that. Our purpose is not just to bring new clean energy into New York, but to bring a lot more than that and help communities. From day one, we've been taking feedback and thinking about how we responsibly design but also, what else can we do with this opportunity?" said Hazelip. 
With major investments in renewable energy to come, some wonder if these developments will benefit marginalized communities, particularly communities of color who face affordability challenges. 
"We legally mandated, with a minimum of investment benefits coming to disadvantaged communities statewide. And that requirement is then incorporated into all of the programs designed for all the various programs and policies that the state implements," said O'Leary. "There's been tremendous work done and progress made by the Environmental Justice Working Group in mapping disadvantaged communities and by the state agencies in designing programs to help get those resources into the communities and have folks benefit in tangible ways from projects, and most critically reduce the pollution and the environmental burdens that has been disproportionately borne in those communities." 
Assembly Member Carrie Woerner echoed this sentiment, stressing the importance of renewable energy as key to improving the quality of life in disadvantaged communities.
"If you could reduce the particulate emissions in the in the truck that's idling in the residential neighborhood by replacing that diesel with a renewable diesel today, I think that would do more for our (economic justice) communities and for our communities that have been so disadvantaged for so long with respect to air emissions than anything else we can do. […] I think that there is a real benefit immediately from replacing fossil fuel, diesel with renewable diesel or biodiesel. And that would show phenomenal impact in terms of health conditions," Woerner said.