Policy
Unsexy but important: What are New York's two 2023 ballot proposals?
Voters will consider more borrowing allowance for schools and sewers.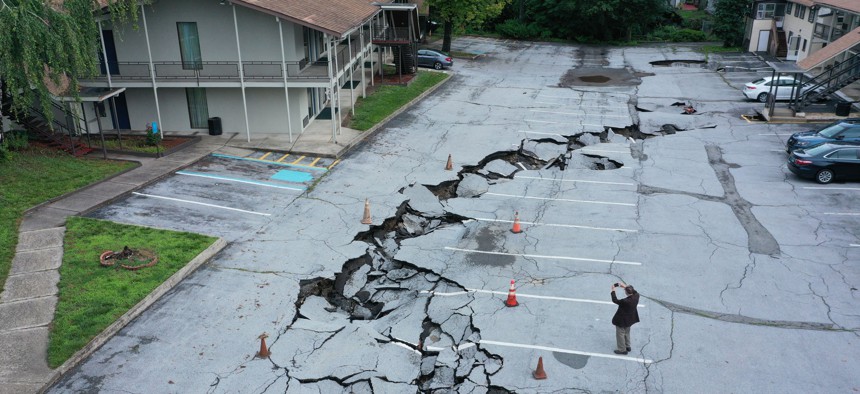 Off-year elections usually don't get a lot of attention, but this year's ballot includes two proposals that allow municipalities to have more control of their debt going forward. On Nov. 7 voters will be asked if small school districts should be allowed to increase their debt limits and if municipalities can continue to exceed their debt limits to make sewer upgrades. 
While not the sexiest topics in New York politics, biblical flooding and regular calls to reduce education disparities mean these proposals will affect New Yorker's lives.
Eliminating the school debt limit
In New York's constitution, small school districts, those that include a city with less than 125,000 people, are only able to incur debt worth 5% of the taxable real estate in the district. This ballot proposal could change that.
Small school districts could raise their debt limits and increase funding by getting approval from a few sources. 
If the state comptroller and the State University of New York regents consent and 60% or more school district voters approve a debt increase in a general or special election, the district could exceed the 5% threshold. 
Not all small districts are facing funding shortfalls, but a Citizens Budget Commission map shows that several less populated regions of the state have below-average spending on students. 
In October New York State United Teachers President Melinda Person and Charles Dedrick, executive director of the New York State Council of School Superintendents, released a joint statement along with other educational leaders advocating for the amendment. 
"Small city school districts cannot accomplish construction in the same way and are instead forced to stagger projects, often resulting in more significant delays, even higher costs and more prolonged learning disruptions for students," they wrote.
"This hurdle has delayed improvements and placed a higher financial burden on small city schools and the communities they serve. In many instances, projects have been needlessly piecemealed to the detriment of students' abilities to grow and succeed compared to peers in neighboring districts."
The proposal also has support in Albany. 
"The effort is to make the rules about borrowing consistent between small city school districts and non-small city school districts," said state Sen. Shelley Mayer in a YouTube video Monday.
Extending sewer repair exceptions
Proposition Two on this month's ballot asks New Yorkers if municipalities can continue to exceed their constitutional debt limits to construct sewer facilities. Without an exception, municipalities will be capped at 7% of taxable real estate property.
There is already an exception allowing municipalities to incur extra debt for sewage treatment and disposal projects. It went into effect in 1963 but must be renewed every 10 years, the current exception expiring on Jan. 1, 2024. 
An Albany Law School description of the proposition said, "Local governments may have relied on the continuation of the exclusion in their long-range budget planning. Localities could have their current spending plans upended if the amendment does not pass."
While it allows for the continued increase of municipal debt, New Yorkers have seen the importance of sewer health due to extreme weather conditions this year. 
In July, upstate New York was hit with intense flash floods that left one woman dead. State authorities estimated the floods caused $35 million in damage. In August, flooding was so severe in New York City that a 127-year-old water main broke under Times Square.
The New York State Conservative Party is against the exception.
"Since indebtedness is left to the legislature, taxpayers have little to no control or knowledge as to the indebtedness they are incurring," it said in a statement. "There is no cap on the costs or what would need to be covered."