New York State Senate
Lawmakers follow Cuomo's clean energy charge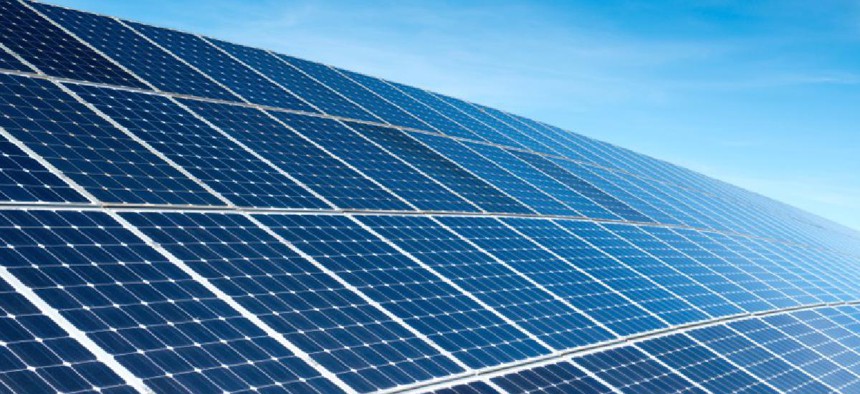 As the 2016 legislative session gets underway, the leaders of the state Legislature's energy committees remain focused primarily on monitoring the rollout of the Cuomo administration's ambitious clean energy plan. 
Cuomo formally announced his 2016 agenda and executive budget proposal last month, which targets upstate infrastructure and re-emphasizes his commitment to shifting the state's energy grid to renewable sources. 
But for Assemblywoman Amy Paulin and state Sen. Joseph Griffo, who chair the Legislature's energy committees, few of Cuomo's energy policy proposals will require formal approval or debate. 
"Most of energy is off-budget," Paulin said "There's so much going on in energy at the executive level, and that's where we're going to be involved; not so much in the budget." 
A great deal of the state's energy policy is controlled administratively, largely by the three-member Public Service Commission.
Paulin said she will be focused on Cuomo's Reforming the Energy Vision initiative, which was initially rolled out in 2014 and approved by the PSC early last year. The plan calls for sharp emissions reductions and a 50 percent reliance on clean energy sources by 2030.
"I think that a lot of what the committees are likely to do is we are going to be involved in the REV proceedings," Paulin said. "That potentially could be a big shift to the way we produce renewables in this state, as we renew the large scale renewable program. Just restructuring it could be a huge change." 
Griffo agreed, saying the state Senate Energy and Telecommunications Committee will have "a lot of work to do this session." Cuomo's letter to the Department of Public Service in December ordered the agency to codify a Clean Energy Standard to assist in converting the state's energy to clean sources, Griffo noted. The PSC will create the standard by July, which will then be used as a timetable for the state's continued transition to new energy sources. 
"The Energy Committee will be focused on getting the Clean Energy Standard established so there is a level playing field for a diverse array of clean energy electricity-generating facilities, both existing and new," Griffo said in an email detailing his plans for the 2016 session. "This will help keep existing clean energy operations up and running, while also encouraging private investment in new clean energy generation and infrastructure."
As part of his budget and State of the State address, Cuomo said the state will close or repower its two remaining coal plants by the end of the year.
Paulin said one particular concern with the REV process has to do with the ongoing push by utilities to be allowed to produce energy in addition to distributing it. Since a regulatory change in the 1990s, utilities have not been allowed to produce and sell their own power, leaving generation to the private sector. Utilities maintain they could produce energy more cheaply for ratepayers.
"I think I have a lot of nervousness about changing the market," Paulin said. "Having said that, utilities do have deep pockets, so you want to capture their deep pockets." 
For example, one upstate utility, Central Hudson Gas & Electric Corporation, had proposed ownership of a solar farm, but the move prompted sharp criticism from the private energy production industry, which claimed it was trespassing on their market territory. Central Hudson has since filed paperwork with the PSC to withdraw its application for the right to own the solar installation.
Griffo, an upstate Republican, said he also plans to target workforce development initiatives for the emerging clean energy sector.
"There's also a big interest in facilitating more job training and retraining opportunities for energy-related jobs, including forestry work that fuels the energy sector through logging, because there is a need for this type of workforce development in both the Southern Tier and in the North Country," Griffo said.
He also mentioned he would devote some time to encouraging further buildout and improvement of the state's broadband infrastructure, which Cuomo has repeatedly promised to drastically improve by 2018.
Demonstrating its ability to independently implement state energy policy, the PSC also recently approved a $5.3 billion Clean Energy Fund proposed by Cuomo, which Paulin lauded.
The fund, to be administered by the New York State Energy Research and Development Authority, designates roughly $1 billion for spending on the NY-Sun solar incentive program, with another $700 million set aside for clean energy research. State Senate Republicans opposed the fund at the last minute, but their call for requiring legislative approval of the fund before its implementation was dismissed by the PSC.
Cuomo's 2016 agenda allocates additional energy funds as well. A $15 million "Clean Energy Opportunity Training Program" would help State University of New York students learn how to work with and install solar energy infrastructure. Another $8 million, to be doled out $1 million at a time, would go to eight community microgrid projects to encourage renewable energy projects at a local level. 
The governor called for $150 million this year "for a solicitation to support the construction of large scale renewable projects such as solar, wind, hydro and fuel cells." The projects are intended to add 300 wind turbines with up to 600 megawatts of power.
"Now, upstate New York must remain an economic priority," Cuomo said during his address last month. "The cold truth is that this state government shortchanged upstate New York for many years. And that was shortsighted. Not only are we one New York family, but we are one New York balance sheet and upstate growth means a stronger economy for all."
Paulin expressed cautious approval of the state's focus on clean energy production and sustainability, but emphasized that she wants the state to carefully consider its options moving forward.
"We are doing extraordinarily well in New York State in producing and using renewables," Paulin said. "We just want to be sure we continue on that path."