Norman Seabrook, powerful correction officers union chief, arrested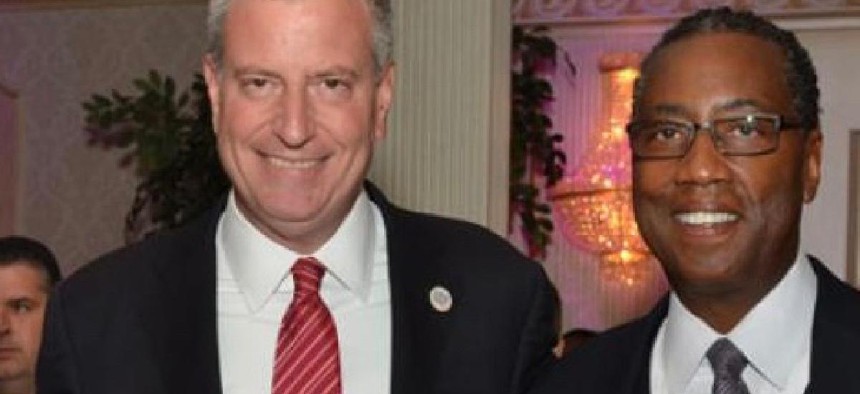 Norman Seabrook, 56, the controversial president of New York City's correction officers union, was arrested at his Bronx home this morning on federal corruption charges. In court papers, federal prosecutors allege that Seabrook took tens of thousands of dollars in kickbacks in exchange for placing $20 million with a hedge fund.
Also charged was Murray Huberfeld, a Manhattan financier, who ran Platinum Partners, the hedge fund where Seabrook placed the Correction Officers' Benevolent Association investments.
Seabrook's arrest is just the latest development in a sprawling corruption probe into Mayor Bill de Blasio's fundraising practices and reports that several top NYPD officers provided special treatment to two de Blasio donors in exchange for trips and diamonds.
No officers have been charged in the case yet, but several have been relieved of their commands and, in a few instances, ordered to surrender their badge and gun. Some have chosen to retire.
In April, New York City Police Commissioner William Bratton said in a statement that the department's Internal Affairs Bureau had started the probe in late 2013 and in early 2014 joined forces with the FBI and federal prosecutors, who had their own investigation underway.
In the federal court documents filed with Seabrook's arrest, prosecutors tie their allegations to disclosures made by an individual who is only identified as a cooperating witness. That individual, described only as CW 1, was a go-between for Seabrook and Huberfeld, according to the documents, and was introduced to Seabrook by an unidentified NYPD officer. 
In November of 2013, prosecutors say, Seabrook and "CW 1" went with the NYPD officer to the Dominican Republic with "CW 1" paying the airfare for the entire party.
The Times identified the cooperating witness as Jona Rechnitz, a major de Blasio donor who has also been under scrutiny. 
In multiple press reports on the roiling scandal, Seabrook has been linked with former NYPD Chief of Department Philip Banks, who abruptly retired in 2014 after being offered a promotion by Bratton.
Before Seabrook's arrest, Banks' lawyer Ben Brafman told City & State in an email that Banks has not been notified he is the subject of any criminal investigation.
Seabrook has steadfastly maintained his innocence.
In one detail in the federal complaint, it is alleged that on one occasion Seabrook received a $60,000 cash bribe in a luxury Ferragamo bag that retails for $800.
Last month, a state judge dismissed a lawsuit brought by a correction officer hoping to challenge Seabrook for the union's top spot, leaving Seabrook unopposed for another term.