Politics
With an estimated 3,100 ballots yet to be counted in NY-13, Wright fights on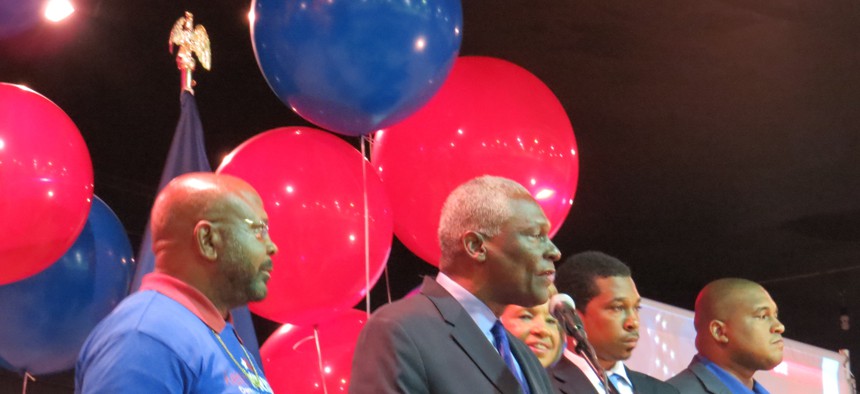 The New York City Board of Elections has about 3,100 ballots to count in the nine-way Democratic primary for the 13th Congressional District, which an advisor for Assemblyman Keith Wright's campaign said shows Wright still has a shot at surmounting state Sen. Adriano Espaillat's roughly 1,200-vote lead.
With nearly 99 percent of precincts reporting, preliminary tallies by the state Board of Elections show Espaillat has 15,735 votes – 1,236 more than Wright's 14,499.
Seizing on this, Espaillat claimed victory Tuesday night and proclaimed the election historic for helping make a self-described country boy from Santiago, Dominican Republic, the first Dominican-American member of Congress.
Wright, however, said no candidate could declare victory. He said every ballot must be counted and every election irregularity investigated before the election concludes.
Upon learning there are about 3,100 affidavit and absentee ballots to be factored into the race, Wright campaign advisor Charlie King said the campaign stood by its assessment. King also said the campaign is seeking as quick of a conclusion to the election as possible that also avoids tearing the community apart.
"We're going to let every vote be counted and see where the votes are at that point," said King. "Mathematically there's clearly a chance, and realistically, he also has a chance."
Espaillat said in a statement that he was confident he would wind up the winner, but he also understood and respected the importance of counting every ballot. He struck a conciliatory tone, urging his supporters to conduct themselves respectfully and pledging to "work my heart out" to represent those who backed his opponents.
"As the only candidate in this race who has ran in the last three primaries, and who in the last two campaigns lost by as few as 1,000 votes, I have a real understanding of how crucial it is that every single voter's constitutional right be upheld and that every vote is counted," his statement read. "I am confident that when all the votes are counted I will be the Democratic nominee."
The nine-way showdown to replace retiring U.S. Rep. Charles Rangel underscored some tensions between African-American, Dominican and other candidates. The district, which currently runs from Harlem up through Washington Heights and Inwood and into parts of the northwest Bronx, propelled the first African-American from New York to congress. Its reputation as a bastion of black power continued during Rangel's roughly 45 years in Congress. Gentrification, immigration shifts and other changes have reshaped the demographics of the area.
After the seat's boundaries were expanded into the Bronx, Espaillat unsuccessfully sought to unseat Rangel in 2012 and 2014.
With Rangel slated to retire, Espaillat competed with three others who have represented part of the congressional district in Albany: fellow Dominican Assemblyman Guillermo Linares, Wright, who received Rangel's endorsement, and former Assemblyman Adam Clayton Powell IV, whose father became the first African-American Congressman from New York when he won the 13th Congressional District decades ago.