Policy
Inside HPD: An analysis by the Citizens Budget Commission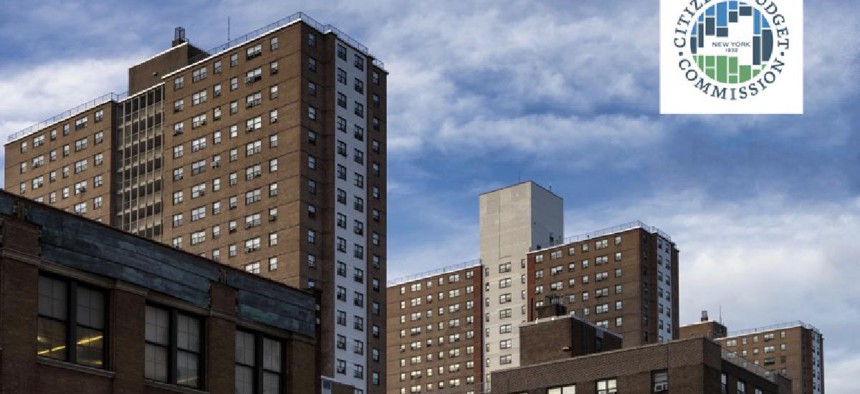 The New York City Department of Housing Preservation and Development is the nation's largest municipal housing agency: Its current fiscal year operating budget is $1.3 billion and its capital budget is $1.1 billion. HPD is responsible for managing affordable housing, enforcing the maintenance code, and administering federal subsidies for low-income housing. More importantly, the agency is spearheading the implementation of one of Mayor Bill de Blasio's signature policies: an affordable housing program to create or preserve 200,000 units over 10 years.
Budget Basics
Unlike most city agencies, HPD's funding comes predominantly from the federal government. In the current fiscal year, only 15 percent of HPD's $1.3 billion operating budget comes from city sources; state funds account for less than 1 percent. The bulk of funding, 83 percent, comes from federal sources: $563 million from community development grants and $491 million in other funds, mostly for the Section 8 program. Section 8 is a federal program providing rent subsidies to low-income households; the amount paid toward rent is capped at 30 percent of household income and the federal government subsidizes the balance through a private voucher.
HPD's operating budget has increased 84 percent since de Blasio took office in fiscal year 2014 and the number of personnel has grown 25 percent to 2,486 full-time equivalent positions. City funds increased to $212 million in fiscal year 2017 from $75 million. Most of the growth, however, is due to a sharp increase in federal community development grants from $134 million to $563 million. The city is receiving disaster recovery grants related to damages sustained during Superstorm Sandy in fiscal years 2016 and 2017.
Section 8 is HPD's largest program and makes up 38 percent of its expenses in fiscal year 2017. While the New York City Housing Authority administers most of the city's Section 8 vouchers, more than 38,000 households were assisted by HPD Section 8 vouchers in fiscal year 2016. After Section 8, the second-largest expense is development, at $445 million and 35 percent of the total. This encompasses the range of activities related to constructing and preserving housing, including project finance, zoning, and design and construction support.
Preservation programs are the next-largest expense, at $125 million or 10 percent of the total. More than 1,000 HPD employees staff these programs, which include anti-abandonment initiatives for properties in disrepair, code enforcement, emergency repairs, and lead paint remediation. In fiscal year 2015, HPD received 553,000 housing maintenance complaints and closed 548,000 complaints. It took an average of 13.3 days to close an emergency complaint, and 27.9 days for non-emergency complaints; these response times have increased as the volume of complaints has grown. Similarly, housing code violations by private landlords rose to almost 409,000; the majority (53 percent) were corrected by the owner, but HPD made the correction in 12 percent of cases. HPD has initiated more housing court cases as well; of the 6,365 initiated in fiscal year 2015, 4,827 were settled and 721 resulted in judgments.
The remainder of HPD's expense budget is devoted to administration (13 percent) and other operations (5 percent), including emergency shelter for distressed households and management and disposition of city-owned properties and land. HPD manages 4,600 buildings with 103,000 units.
Implementing the Affordable Housing Program
HPD is one of the few municipal agencies with explicit goals for its capital program: The mayor has set a goal to preserve 120,000 affordable units and create 80,000 new ones. De Blasio's plan requires $8.2 billion in city investment, $6.7 billion of which will be from city capital. In terms of priorities in the capital plan, housing ranks fourth after schools, the water and sewer system, and roads and bridges.
The mayor's housing plan focuses on low-income households: 78 percent of units will be geared toward households earning up to 80 percent of area median income, which equates to $67,100 for a family of four. This emphasis is appropriate; ananalysis by the Citizens Budget Commission last year revealed 42 percent of New York City households are rent-burdened (when taking into account out-of-pocket rent paid and other supplemental income), with 22 percent severely rent-burdened, meaning these households pay more than 50 percent of income toward rent. Of the approximately 456,400 severely rent-burdened households, 93 percent are low-income.
Between fiscal years 2014 and 2016, HPD committed $1.8 billion in city capital funds, started work on about 47,000 units and completed 29,000 units under the plan (although some of the completed units were launched under the prior administration). This puts the administration slightly behind schedule; all eyes will be on HPD to meet its target.
The Citizens Budget Commission is a nonpartisan, nonprofit civic organization whose mission is to achieve constructive change in the finances and services of New York City and New York State government.