Politics
The essential guide for New Yorkers going to the Democratic National Convention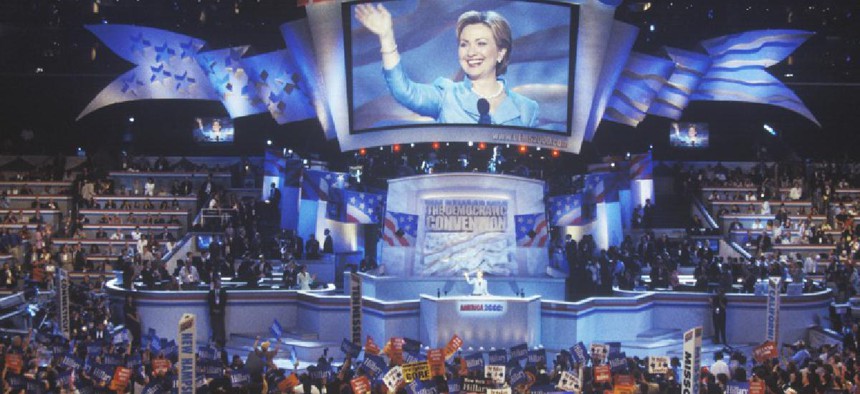 In case you've been living under a rock for the last year or so: The Democratic National Convention is about to take over Philadelphia, including some 50,000 delegates, elected officials, reporters and political junkies. On many levels, it will be awesome. On many others, it's going to be a nightmarish circus of humanity and thorny logistics.
Let's acknowledge the donkey in the room right off the bat: You're not ready for what awaits you – but that's OK, neither are some of the elected officials we talked to. Let City & State be your guide for who to meet, which yacht party to board and, of course, how to creatively make your way into the DNC.
Getting around
Visitors touching down in PHL have the convenient option of taking commuter trains downtown for just $8 – or at least they did until recently, when a manufacturer's defect took one-third of SEPTA's train cars out of commission. The transit authority says it will have 125 buses on hand to accommodate the crush. 
Delegates should have the option of private shuttle buses to their hotels, but the average Bernie Sanders supporter might be stuck with the slowest, most crowded form of socialist public transportation available. Monied lobbyists flying in to give Clinton their regards can at least expense a ride via Uber or Lyft, which was legalized in Philadelphia just before the DNC. (Uber had long been technically illegal in Philadelphia.)
Ride-sharing isn't the only activity to get a pass during the convention: drinking after the normal 2 a.m. last call will also be allowed, as will certain minor crimes frequently slapped on protesters, like disorderly conduct and public drunkenness – although the latter might be designed to avoid uncomfortable police encounters with a sloshed congressman or George Clooney.
So, don't let anyone tell you Philly doesn't roll out the red carpet when enormously powerful out-of-town guests – and the city itself – are under intense public scrutiny.
With the DNC split between day events at the downtown Convention Center and delegate nights at South Philadelphia's Wells Fargo Center, organizers have arranged shuttle bus service. But with hundreds of other events at smaller venues across the city, many delegates expect to be hoofing it on the city's walkable, colonial street grid.
Or try Philadelphia's bike-share program. For members of the media who are covering the chaos, you can rent a bike for a month-long unlimited membership for $12 instead of the usual $15 using the promo code DNCMedia. That may be more cost-efficient in the long run compared with the citywide $1 discount on walk-up rides for the convention, which is a one-time 30-minute trip for $4.
Where to stay
Virtually all of the city's more than 15,000 hotel rooms are booked. Convention organizers have been suggesting latecomers resort to AirBnB to find a place to stay.
What to do? 
First off: Don't worry about being bored. There is a barrage of nearly 300 publicly advertised events spanning all four days, from policy discussions to partying. 
City & State will put on a Tuesday event at the Union League called "Cheesesteak vs. Cheesecake: a New York-Philly Food Fight," co-hosted by Reps. Brendan Boyle (of Pennsylvania) and Carolyn Maloney (of New York), with samplings of New York City's and Philadelphia's most celebrated dishes.
Pennsylvania Rep. Bob Brady will host a rager (invites provocatively list the event time as "9pm to ???"), in true Philadelphia blue collar fashion, at the Sheet Metal Workers Union Hall. Mayor Jim Kenney will host a $500-a-head fundraiser at Popi's Restaurant in South Philly. Philadelphia City Councilman Kenyatta Johnson will host a yacht party on the Delaware River. Vice President Joe Biden is rumored to be planning a VIP dinner downtown at the swanky French restaurant Parc.
Then there's celebrity-watching. Snoop Dogg, a Clinton supporter, is hosting a Democratic unity concert, as are Lady Gaga, Ben Vereen and Alicia Keyes. And there are a string of events and speeches on the convention floor, but attending these events is no sure thing.
What to see

There will be plenty going on at the convention each night, but really, in terms of capacity, there will be about the same number of people in the arena as at your average Flyers game. And while all eyes will be on the Wells Fargo Center, plenty of opportunities outside the convention arena await the intrepid.
For example, those who enjoy sculpture al fresco may notice that Ben Franklin, Rocky and other hometown hero statues have some new company. Fifty-seven Fiberglas donkeys will be dispersed around the city, each painted to represent a different convention delegation. They're only here until Labor Day, so try to find all of them with the themed scavenger hunt app Scavify.
Even the city skyline will be doused in patriotic spirit: Boathouse Row and Avenue of the Arts will be decorated in America's colors during the convention, and several buildings will turn blue each night, including the Benjamin Franklin Bridge, Cira Centre, FMC Tower, the Kimmel Center for the Performing Arts, Macy's and Three Logan Square.
For an interactive experience with the democratic process that doesn't involve getting credentials, check out PoliticalFest. This nonpartisan festival, which runs from July 22-27, effectively combines American history, government and politics just outside the DNC gatherings. Tickets are $15 for adults, $5 for children 18 and under, college students with a valid student ID and seniors 65 and up, and free for veterans and credentialed convention attendees.
One ticket gets you access to all six days of the festival, which includes interactive displays, historical spectacles and special guest appearances (no spoilers) at seven different locations: the National Constitution Center, the Pennsylvania Convention Center, the National Liberty Museum, the Philadelphia History Museum, the Library Company of Philadelphia, the Historical Society of Pennsylvania and the Heritage Center of the Union League.
The art of the deals
What better way to endorse a candidate arguing for tax reform than by enjoying discounts on some of our favorite comestibles? Venues are adding a dash of red, white and, in some cases, bleu (cheese) to their menus during the convention through a clever promotion called DNC Deals, which consumers can follow along on social media with the hashtags #DNCDontMissThis or #DNCDeals.
Partaking in the $20.16 meal deals are places like The Olde Bar's lump crab BLT, a crab salad comprised of hickory bacon, iceberg lettuce, tomatoes, Dijon mustard and Old Bay potato chips. The Old City restaurant will also have drink specials for each night of the DNC, featuring a themed political cocktail, such as a coffee cocktail or a sherry cobbler – supposedly one of Thomas Jefferson's favorites. 
At Tinto in Rittenhouse Square, the $20.16 special includes five happy hour bar snacks all night long throughout the week, along with colonial-era beverages like sherry and madeira.
McGillin's Olde Ale House in Center City will feature a red, white and bleu burger – topped with roasted red peppers, caramelized onions and crumbled bleu cheese – accompanied by some patriotic drinks. The Dublin Donkey, for instance, is a mix of ginger beer and a shot of Jameson, while the Red, White and Blue cocktail combines a strawberry daiquiri, a piña colada, Blue Curaçao and rum.
To really get in the DNC spirit, the DNC Passyunk Passeggiata Street Festival will also stay open until 1 a.m. on July 27 to extend the South Philadelphia-meets-Italian market experience, with street food, outdoor bars, vendors, live music and, of course, the farmers' market.
Avoiding Uber 
But while the city may be taking a soft line on ridesharing, Philadelphia's Unified Taxi Workers Alliance says real Democrats shouldn't take that Uber.
"We've had a couple meetings with the DNC organizing committee," said Ron Blount, president of the TWA. "They'll be giving them taxicab vouchers to get around the city." 
Blount's group wants ride-sharing barred in Philadelphia until their contract workers are reclassified as full-time employees, and is actively working to get delegates to add that plank to the Democratic platform.
"You may get an Uber ride for $4 or $5, and I'm sure the consumer and investors will be happy. but that poor driver is going to be taking the only thing he owns and making less than minimum wage," he said. "I think it's cruel."
Blount added that, under another agreement worked out with organizers, volunteers from the city's construction unions would be assigned to shuttle delegates around as another alternative to ride-sharing services.