Politics
DiNapoli: New York needs to confront the rising student debt burden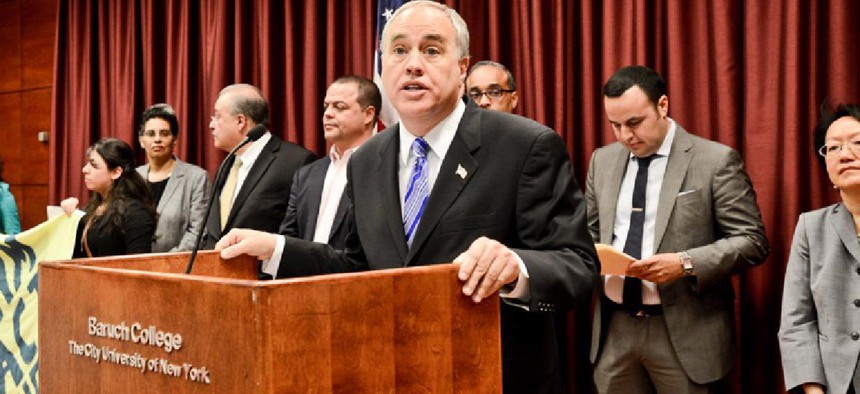 Average student loan debt for New Yorkers has grown by more than $10,000 in the past decade, according to a new report by state Comptroller Tom DiNapoli. While it's well-known that higher education ultimately leads to lower unemployment and higher salaries, this report details how it is increasingly difficult for students and young professionals to afford and ultimately pay off their student loan debt.
According to the report, which is scheduled to be released later today, New York student loan debt per borrower rose from about $22,000 in 2006 to $32,200 in 2015. Student loan debt also rose sharply as a proportion of all consumer debt. DiNapoli is concerned that the rising debt burden could have a negative impact on the economy as a whole.
"It's a challenge day-to-day (for student borrowers), but the need to focus on dealing with this debt takes away the opportunity to do other kinds of investments or purchases that would actually benefit everyone in the economy," said DiNapoli. "What I'm hoping this report will do is to document what piece of that over $1 trillion debt burden nationally is born in New York and suggest that this does need to continue to be a priority."
DiNapoli warned that the need for borrowers to focus on paying off their student debt is forcing many to put off fully participating in the economy, such as buying a home or putting money aside for retirement.
The news isn't all bad, though: Delinquency rates for student loan borrowers have fallen recently after increasing steadily for several years. Delinquency rates peaked at 14 percent in 2012 but decreased to 12.5 percent in 2015.
DiNapoli attributed the decrease in part to the overall improved economy in recent years, but again warned that if the economy slows down, those numbers could begin to grow again.
Both the state and federal government in recent years have made an effort to ease the student debt burden. Most recently, the U.S. Department of Educationissued a final regulation establishing a new income-driven repayment plan. The new plan caps monthly student loan payment amounts at 10 percent of the borrower's discretionary income.
In 2015, the New York state Legislature passed a new "Get On Your Feet" loan forgiveness plan. Eligible borrowers receive a maximum of 24 student loan payments, or two years, paid on their behalf.
Not only do borrowers face a rising amount student debt, that debt often comes with higher-than-normal interest rates at a time when interest rates are very low.
"It seems so out-of-sync, from what I've seen," DiNapoli said. "I know (U.S.) Sen. (Kirsten) Gillibrand had a proposal and others have proposed ways in which to (allow) refinancing at a different interest rate. I think that's something that is more of a federal issue, than a state issue, but certainly is something worth looking at."
While the student debt burden is largely a federal issue, DiNapoli said the state can do more to make its public higher education system more affordable. Earlier this year, Gov. Andrew Cuomo appointed a "management consultant" to look into ways to cut costs for the CUNY and SUNY systems.
"There's always the debate on the public side of tuition and what is the appropriate level. There's obviously a clear tug there. You don't want to burden tuition – it has gone up in the public side pretty significantly – but you don't want to shortchange the system and compromise quality," DiNapoli said. "That becomes a political football, as far as the budget and the (state) Legislature every year."
DiNapoli also said the political focus in Albany tends to focus on K-12 education and not higher education.
"The challenge is that no one has the silver bullet to make it all go away," DiNapoli said. "So, everybody is coming up with somewhat imperfect responses to this problem – one that we probably should have looked at little sooner to figure out how to make it not get out of hand."