Politics
Election surprises shake up the 2017 state legislative session – with more shocks to come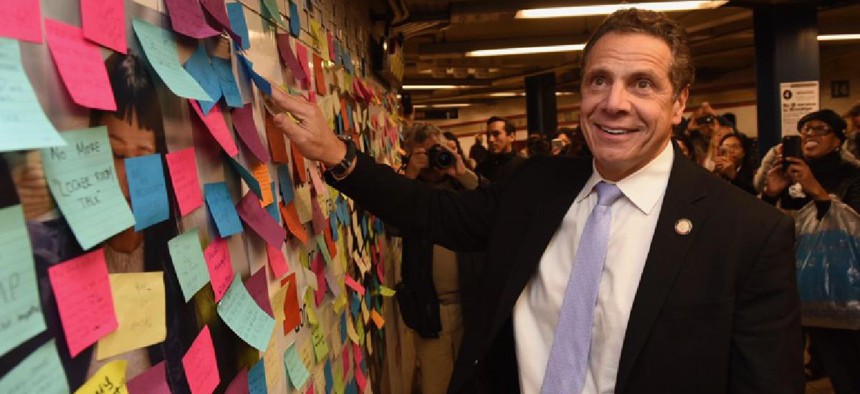 In the spring of 2014, Donald Trump travelled to Albany to join a rally against the SAFE Act, Gov. Andrew Cuomo's landmark gun control law. Trump, who was being floated as a potential challenger to Cuomo at the time, tore into the governor's record on energy policy, job creation and combating government corruption. "Obviously, we know our country's not doing so well, our country's in trouble, but our state, likewise, is doing very, very poorly," Trump told the cheering crowd. "So I just wanted to be here to support you."
Two and a half years later, Trump is instead heading to the White House, where he'll arguably pose an even greater threat to Cuomo and his agenda. As president, Trump will have far more power and influence in Washington, D.C., as well as in Albany and in state capitals all across the country. On the campaign trail, Trump promised the reversal of dozens of policies, laws or regulations, most of them Democratic priorities, that would reverberate around the nation. 
The incoming Trump administration will find success on many fronts thanks to the Republican majorities in both houses of Congress. House Speaker Paul Ryan has proposed budgets that would dramatically scale back federal spending on Medicaid, food stamps, education and other areas. Mitch McConnell, the Republican Senate majority leader, has fought the Obama administration's efforts on climate change, and joins Trump and Ryan in opposition to the Affordable Care Act. 
Such major federal legislation or regulatory shifts will eventually filter down to New York. If Obamacare is eliminated, will state lawmakers scrounge up the funds needed to make up the shortfall in funding and maintain the expansion of Medicaid and subsidized health insurance coverage? If the U.S. Environmental Protection Agency is gutted, will the state have the resources to pick up the slack in protecting the environment? If federal abortion rights are eroded or overturned, will state legislators respond? Will the state obstruct federal efforts to round up immigrants and transport them back across the border? 
How New York officials confront these questions, at least legislatively, depends on the statewide balance of power – and for now, that balance is up in the air. While Democrats hold the governorship and the state Assembly, Senate Republicans are banking on an extra-inning victory by state Sen. Michael Venditto – who was down by just 33 votes in an unexpectedly close Long Island race – to secure an absolute majority. If Venditto loses after a full count of the ballots, the GOP would be forced to rely on state Sen. Simcha Felder, a Democrat who has caucused with Republicans since taking office in 2013, or state Sen. Jeff Klein and his seven-member IDC, which has kept the GOP in power before. Klein has been lying low since the election, while Felder has declined to publicly commit to a party. On some bills Democrats may push in reaction to Trump and his policies – like the immigrant-friendly DREAM Act or a revived effort to codify Roe v. Wade in state law – it wouldn't even matter where Felder lands, since he is opposed to the measures.
If Senate Republicans do ultimately retain power, some observers expect them to be more energized and aggressive this session. Abandoned by Cuomo during the elections and empowered by Trump, Senate Republican Leader John Flanagan may be less inclined to compromise as he has in the past on issues like the SAFE Act and a higher minimum wage.   
"Assuming Republicans hold the (Venditto seat), I think you will find a reinvigorated Senate majority that had feared it was going to lose control and it did better than it expected to, and in a lot of districts, Trump himself was a positive where a lot of people felt he would be a negative," said Lawrence Levy, the executive dean of Hofstra University's National Center for Suburban Studies. "So how they use the power in light of having a president of their own party is too soon to say, but they have to be prepared for the possibility of deep cuts in federal spending."  
Another critical element going into the 2017 state legislative session is the chameleon-like Cuomo, who has been a fiscal hawk one moment and a liberal lion the next. Thrust back into the national conversation as a potential presidential challenger in 2020, Cuomo has pledged to stand up for core progressive values while at the same time suggesting that Trump is someone he could work with. One obvious area of shared interests is infrastructure investment, with Trump pledging a new influx of funding and Cuomo staking his second term on an ambitious slate of projects, including new bridges, tunnels and rail lines and overhauls at LaGuardia Airport and Penn Station. Will Cuomo revert to his role as a pragmatic centrist who closed a $10 billion budget gap, spearheaded a property tax cap and instituted spending limits on his own state agencies, or will he attempt to build on his reputation as a champion of same-sex marriage, paid family leave and a $15 minimum wage? 
Of course, Trump is the biggest wild card. Many experts assert that he is less an ideologue than a dealmaker. Others say he may be sympathetic to the needs and wishes of officials in his home state. As a candidate he said he would repeal Obamacare, but he has already suggested keeping certain elements in place. He insisted he would build a wall along the Mexican border and deport undocumented immigrants, but recently said he would target only those with criminal records while allowing that a "fence" might be appropriate in certain places along the border. He has stood by his pledge to install U.S. Supreme Court justices who would overturn abortion rights, but in the next breath he cited Supreme Court precedent to argue that same-sex marriage was settled.  
Taken altogether, the uncertainty has Albany bracing for what could be the most wildly unpredictable state legislative session in years.