Politics
Success Academy audit turns up 'irregularities,' New York City comptroller says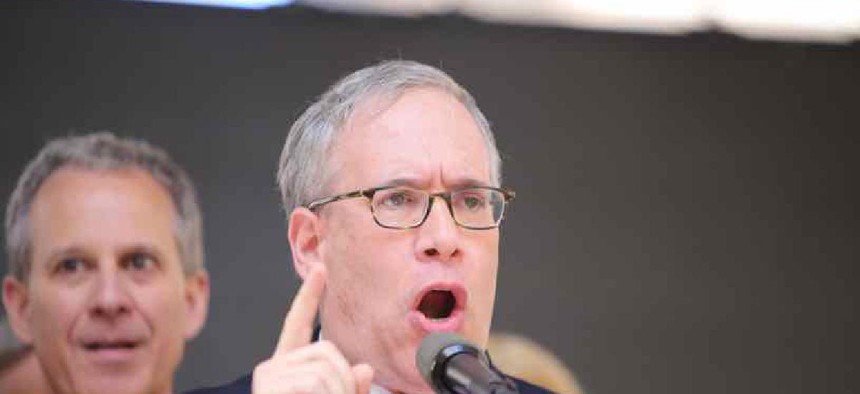 The New York City comptroller on Monday released an audit that raises "serious concerns" about the operations of Success Academy, the city's largest and highest-profile charter network.
The audit claims the network collected more than $600,000 in "duplicative and questionable" fees for its services to schools, and argues that Success understated its management costs, an estimated $18.3 million last year.
The audit, which spans fiscal years 2013 to 2015, also calls on Success to reimburse the city for special education services it could not prove were provided.
"Any entity receiving taxpayer dollars must operate efficiently and follow the rules. We found irregularities in this audit of Success Academy that raise serious concerns," Comptroller Scott Stringer said in a statement.
But Success Academy disputed the report, which spokeswoman Nicole Sizemore called "political grandstanding."
"The comptroller's office spent two years preparing this report, but couldn't unearth anything of substance. To prevent Success from disproving its claims and correcting its misunderstandings, which would have been simple, Mr. Stringer ambushed us — providing less than three days to respond," she wrote in an email.
The report is the fourth in a series of charter school audits Stringer announced in 2014, and focuses on Success Academy Harlem 3.
Stringer has long been a political rival of Success Academy CEO Eva Moskowitz; the two faced off in a race for Manhattan borough president in 2005. She lost, and helped launched Success shortly after.
Success Academy schools regularly post some of the highest test scores in the city, but the chain has also been accused of pushing out students — especially those with special needs.
Among the report's other findings: The comptroller could not find written agreements for almost $3 million in loans that were passed through the network to its schools, and proper inventory controls for equipment such as computers and cameras were not in place.
Additionally, background checks for employees at one school took up to four years to complete.
In its response to the audit, Success said the comptroller's office has misinterpreted its management contract and that the report "reflects a profound misunderstanding of special education invoicing."
The rebuttal also notes that Success' own auditors and charter authorizer, State University of New York, have "consistently given Success Academy a clean bill of health with respect to its financial practices."
This article was first published on Chalkbeat New York on December 19.
Powered By
NEXT STORY: Bronx Borough 50