Midsummer madness: "Julius Caesar" isn't the only way to politicize the Bard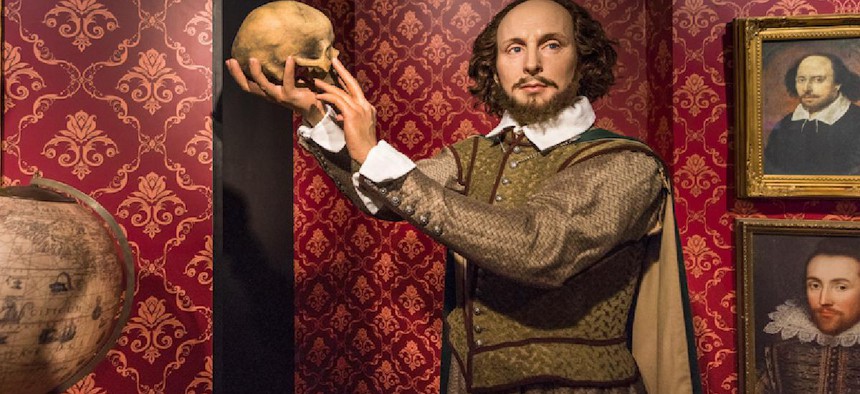 A few weeks ago the the Public Theater made national headlines with its controversial production of "Julius Caesar," part of the New York City staple Shakespeare in Park series. The adaption of the play featured a Donald Trump look-alike as Caesar, who near the end of the play is violently stabbed to death by his countrymen and former friends. Some on the right were outraged, arguing that the depiction would incite violence. Others claim it was just politically inspired art, protected by the First Amendment. On Tuesday, the Public Theater's "A Midsummer Night's Dream" premieres in Central Park. Sure, the comedy may not be as overtly political as "Julius Caesar," but here's a look at how it and other Shakespeare favorites could attract a good protest – with a little imagination.
"A Midsummer Night's Dream"
The Public Theater could give this famous comedy an Albany makeover. Oberon is an overbearing fairy king obsessed with taking down his enemies, his devious underlings carrying out his every wish. At one point, Oberon literally turns one of his foes, the foolish Bottom, into a donkey – which feels familiar to anyone familiar with Gov. Andrew Cuomo's feud with New York City Mayor Bill de Blasio.
"Richard III"
Richard III is an unpleasant yet fascinating man who out of nowhere maneuvers his way into the highest office in the land. Sound familiar? With all the buzz surrounding the "Caesar" production, there's little doubt that a Trump-Richard III portrayal would cause a veritable winter of discontent among his allies and supporters. But imagine the scene: Richard III wandering the halls of the White House unable to sleep, haunted by the curses (or tweets) of his enemies. That might be just too good to pass up.
"Hamlet"
In this famous tragedy, a prince tries to live up to the memory of his famous father, but ends up making a mess of some things along the way. On the other hand, Hamlet never got a bridge named after his father. The role of Horatio, Hamlet's friend, could be played by a Joe Lhota lookalike. Horatio works hard to help the prince, but he's the one who has to clean up the mess when Hamlet shifts the blame.
"Macbeth"
Some disgruntled New Yorkers might suggest that de Blasio has something in common with the Scottish play's infamous tyrant. If the Public Theater wanted to cast someone very tall who wears cargo shorts to the gym, audiences would recognize the parallels while watching Macbeth ascend to power and then squander it all through a combination of ambition and some really poor decision-making. Could a Nicole Malliotakis-type figure be the Macduff who eventually takes Macbeth down?