Ranking the New York City Council based on bills introduced and enacted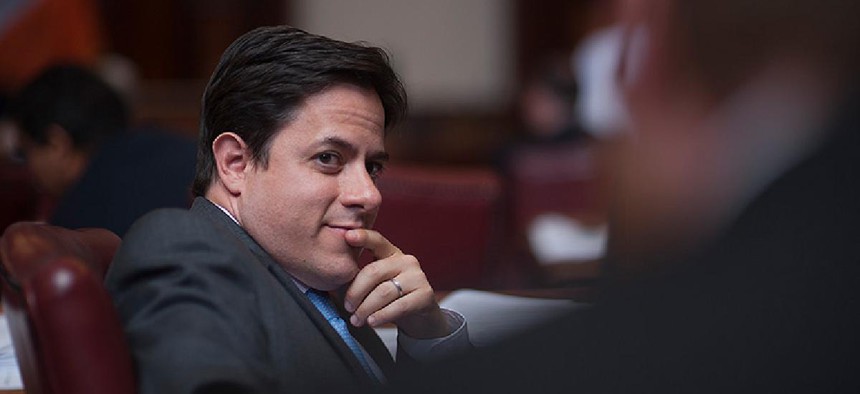 There's a reason they're called lawmakers.
As we continue our breakdown of the best and worst New York City Council members, one of the most obvious factors in assessing each lawmaker's performance is the number of bills they've had signed into law.
To measure this, we tallied bill introductions but left out resolutions, which have little real weight. Only a lawmaker who was the prime sponsor of a bill qualified in this analysis. To reward effort, one criterion was the number of bills introduced. And to reward effectiveness, the other legislative criterion was the number of bills signed into law. For these criteria, we used data from calendar year 2016.
RELATED: The best New York City Council members
RELATED: The worst New York City Council members
Leading the way was New York City Council Speaker Melissa Mark-Viverito, with 22 bills introduced and 20 signed into law in 2016.
Similar to her ranking on attendance, this was not a surprise, given the influence and institutional resources of her office. As leader of the City Council, she drives much of the legislative body's agenda and has considerable sway over which bills advance. In her annual State of the City addresses, she has laid out her own ambitious agenda emphasizing criminal justice reforms and protections for immigrants.
Following Mark-Viverito in the ranking of bills enacted is City Councilman Jumaane Williams, with 15 bills signed into law, and City Councilwoman Julissa Ferreras-Copeland with 11.
In terms of bills introduced, City Councilman Ritchie Torres was second behind Mark-Viverito with 20, followed by Williams with 19 and City Councilman Jimmy Van Bramer with 18.
Of course, simply tallying bills has its drawbacks. Taking into account the significance of each bill likely would have improved our analysis, although it would have also injected more subjectivity into the results.
One council member also took issue with the premise that more legislation is better.
"Regarding legislation: I am a firm believer that quantity does not equal quality, and overregulation does not equate to effective government," New York City Councilman Peter Koo said. "There are far too many dead bills clogging up committees that never go anywhere. While I am perfectly able to similarly waste taxpayers' money, I'd rather focus on issues close to home. Also, the legislation I passed in 2016 went through multiple hearings and revisions and ultimately emerged as the first significant good government reform to the 50-year-old landmarks law."
Below is the ranking of the New York City Council members – excluding Bill Perkins, who took office too recently to be included in our rankings, and including Ruben Wills, who has since been expelled from the City Council – based on bills introduced, with the ranking based on bills enacted listed beside them.
RELATED: Ranking all of the New York City Council Members
| Name | Bills intro'd | Bills enacted |
| --- | --- | --- |
| Melissa Mark-Viverito | 1 | 1 |
| Ritchie Torres | 2 | 18 (tie) |
| Jumaane Williams | 3 | 2 |
| Jimmy Van Bramer | 4 | 18 (tie) |
| Ben Kallos | 5 | 4 (tie) |
| Daniel Garodnick | 6 | 4 (tie) |
| David Greenfield | 7 | 7 (tie) |
| Ydanis Rodriguez | 8 (tie) | 11 (tie) |
| Rafael Espinal Jr. | 8 (tie) | 23 (tie) |
| | | |
| --- | --- | --- |
| Julissa Ferreras-Copeland | 10 (tie) | 3 |
| Donovan Richards | 10 (tie) | 23 (tie) |
| Laurie Cumbo | 10 (tie) | 4 (tie) |
| Corey Johnson | 13 | 11 (tie) |
| Elizabeth Crowley | 14 | 11 (tie) |
| James Vacca | 15 (tie) | 18 (tie) |
| Costa Constantinides | 15 (tie) | 7 (tie) |
| Andrew Cohen | 17 (tie) | 29 (tie) |
| Rory Lancman | 17 (tie) | 18 (tie) |
| Daniel Dromm | 17 (tie) | 11 (tie) |
| Stephen Levin | 17 (tie) | 7 (tie) |
| Robert Cornegy Jr. | 17 (tie) | 18 (tie) |
| Helen Rosenthal | 22 (tie) | 11 (tie) |
| Rafael Salamanca Jr. | 22 (tie) | 23 (tie) |
| Mark Treyger | 22 (tie) | 23 (tie) |
| Steven Matteo | 22 (tie) | 29 (tie) |
| Margaret Chin | 26 (tie) | 23 (tie) |
| Mark Levine | 26 (tie) | 11 (tie) |
| Fernando Cabrera | 26 (tie) | 23 (tie) |
| Brad Lander | 26 (tie) | 7 (tie) |
| Vincent Gentile | 26 (tie) | Last (tie) |
| Carlos Menchaca | 31 (tie) | Last (tie) |
| Chaim Deutsch | 31 (tie) | 34 (tie) |
| Vanessa Gibson | 33 (tie) | 11 (tie) |
| Alan Maisel | 33 (tie) | 34 (tie) |
| Rosie Mendez | 35 (tie) | 29 (tie) |
| Mathieu Eugene | 35 (tie) | 34 (tie) |
| Joseph Borelli | 35 (tie) | Last (tie) |
| Paul Vallone | 38 (tie) | Last (tie) |
| Barry Grodenchik | 38 (tie) | Last (tie) |
| Antonio Reynoso | 38 (tie) | 34 (tie) |
| Inez Barron | 38 (tie) | 34 (tie) |
| Andy King | 42 (tie) | 29 (tie) |
| Annabel Palma | 42 (tie) | 34 (tie) |
| Karen Koslowitz | 42 (tie) | Last (tie) |
| Deborah Rose | 42 (tie) | 29 (tie) |
| Peter Koo | Last (tie) | 34 (tie) |
| I. Daneek Miller | Last (tie) | 34 (tie) |
| Ruben Wills* | Last (tie) | 34 (tie) |
| Eric Ulrich | Last (tie) | Last (tie) |
| Darlene Mealy | Last (tie) | 34 (tie) |