Eric Gonzalez
New York City's 2017 primary election results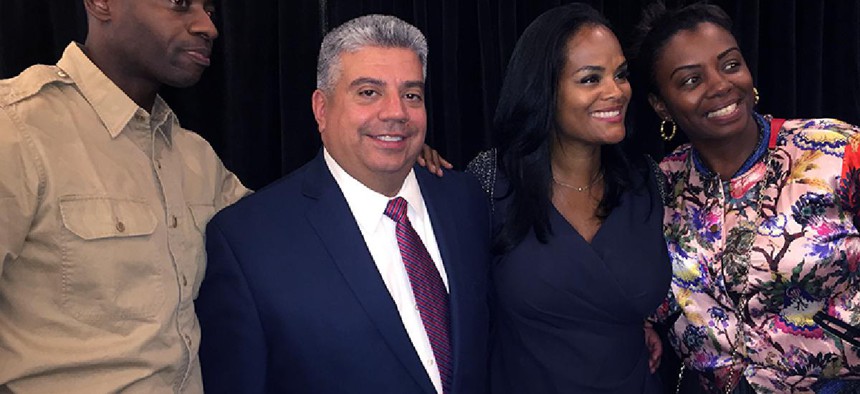 New York City Mayor Bill de Blasio beat a weak primary field and is widely expected to win re-election in November. Acting Brooklyn District Attorney Eric Gonzalez is on track to win a full term after dispatching five rivals in his first Democratic primary. And Assemblyman Francisco Moya of Queens and Assemblyman Mark Gjonaj and state Sen. Ruben Diaz Sr. of the Bronx fended off strong rivals to win primaries for open seats in the New York City Council, while Brooklyn Assemblyman Felix Ortiz's challenge of Councilman Carlos Menchaca fell short.
Moya emerged victorious in one of the most closely watched races as he ended a comeback bid by Hiram Monserrate, a former city councilman and state lawmaker who had a history of legal problems, including assaulting his girlfriend and stealing taxpayer funds.
New York City Councilwoman Margaret Chin found herself in a surprisingly close race in her lower Manhattan district, which had yet to be called as of midnight In term-limited Council Speaker Melissa Mark-Viverito's district, Assemblyman Robert Rodriguez was trailing Diana Ayala, Mark-Viverito's deputy chief of staff, by fewer than 200 votes.
Other New York City incumbents won with large majorities, including Public Advocate Letitia James, Bronx Borough President Ruben Diaz Jr. and City Council members Ben Kallos, Mark Levine, Ydanis Rodriguez, Andy King, Rafael Salamanca, Barry Grodenchik, Rory Lancman, I. Daneek Miller, Inez Barron, Jumaane Williams and Chaim Deutsch.
RELATED: Upstate New York and Long Island primary results
For the more competitive New York City races, here's a closer look at the latest results posted by the New York City Board of Elections between 11 p.m. and midnight – and what to look forward to in the November general election.
New York City Mayor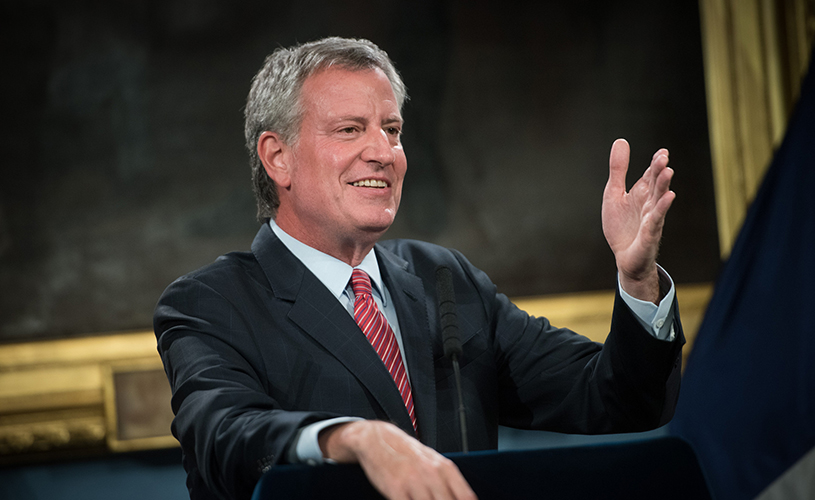 Bill de Blasio: 74.0%
Sal Albanese: 15.3%
Michael Tolkin: 4.7%
Robert Gangi: 3.1%
Richard Bashner: 2.4%
New York City Mayor Bill de Blasio is well on his way to a second term after beating former New York City Councilman Sal Albanese and three other Democratic contenders on Tuesday. De Blasio won 74 percent of the vote with 95.65 percent of the results reported, a mark far higher than the 40 percent he won in the 2013 primary.
Albanese, who has run for mayor twice before, emerged as de Blasio's chief primary opponent after more prominent Democrats like New York City Comptroller Scott Stringer, Bronx Borough President Ruben Diaz Jr. and Rep. Hakeem Jeffries opted not to run. But he only garnered 15 percent, while three other Democrats fared even worse.
De Blasio is heavily favored in the general election, when he'll face Republican Assemblywoman Nicole Malliotakis and Bo Dietl, a private investigator who's running as an independent. Additionally, Albanese may continue his bid on the Reform Party line and Michael Tolkin announced that he would continue his mayoral candidacy on a new Smart Cities ballot line.
Brooklyn District Attorney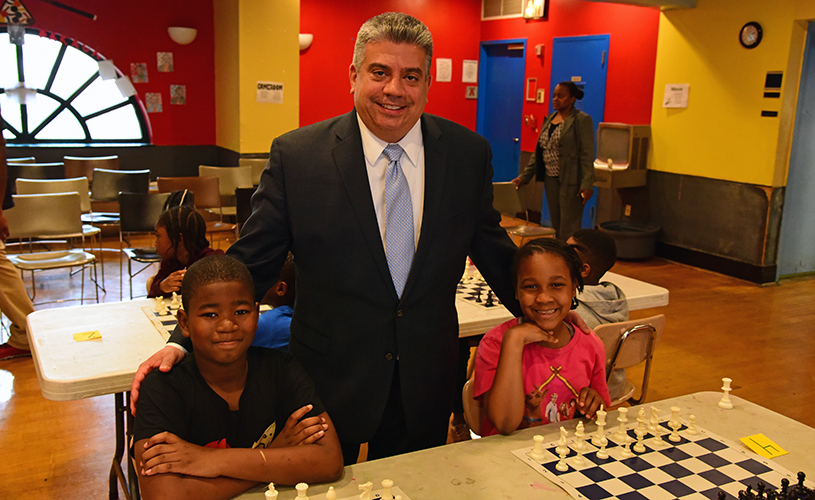 Eric Gonzalez: 52.9%
Anne Swern: 11.5%
Marc Fliedner: 10.3%
Vincent Gentile: 8.7%
Patricia Gatling: 9.2%
Ama Dwimoh: 7.2%
It was a crowded field, but acting Brooklyn District Attorney Eric Gonzalez rode his huge slate of endorsements to victory, earning his first full term as district attorney of the city's largest borough after serving in an interim capacity for a year. Gonzalez was the handpicked successor of the late District Attorney Ken Thompson, who died of cancer last year, and vowed to continue Thompson's progressive reforms. Gonzalez will not have a challenger in November.
NEW YORK CITY COUNCIL
MANHATTAN
District 1
Margaret Chin: 45.8%
Christopher Marte: 44.0%
Aaron Foldenauer: 6.1%
Dashia Imperiale: 3.9%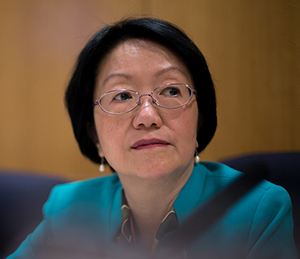 Shortly before midnight on Tuesday, New York City Councilwoman Margaret Chin had just a 200-vote lead over Christopher Marte, a member of the Coalition to Protect Chinatown and Lower East Side, according to preliminary figures posted by the New York City Board of Elections with nearly 99 percent of the votes submitted. The preliminary results showed Chin with 5,220 votes and Marte with 5,020, which could result in a call for a recount. WNYC, which has already called the winners in almost every other race, had yet to identify a victor in the surprisingly close contest as of 11:30 p.m.
District 2
Carlina Rivera: 60.8%
Mary Silver: 16.4%
Ronnie Cho: 8.5%
Jorge Vasquez: 7.6%
Jasmin Sanchez: 4.6%
Erin Hussein: 1.9%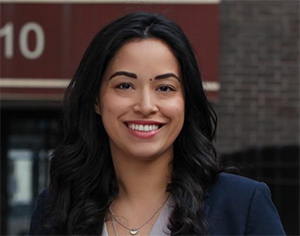 Carlina Rivera dominated the Democratic competition in the race for the seat of New York City Councilwoman Rosie Mendez, who is term-limited. Rivera, Mendez's former legislative director, won support from several high-profile city and state officials and major labor unions and much of the city's progressive establishment. Mary Silver, who won the Daily News' endorsement, fell short, as did Ronnie Cho, an Obama administration veteran, despite spending more than $200,000.
District 4
Keith Powers: 41.2%
Marti Speranza: 22.8%
Rachel Honig: 8.6%
Bessie Schacter: 8.3%
Vanessa Aronson: 6.7%
Maria Castro: 4.7%
Jeffrey Mailman: 4.3%
Barry Shapiro: 2.1%
Alec Hartman: 1.0%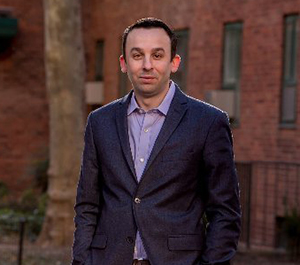 Keith Powers is poised to replace New York City Councilman Dan Garodnick after pulling away in a crowded Democratic primary. The former lobbyist and past chief of staff to former Assemblyman Jonathan Bing outpaced the field with $119,885 raised this cycle, and gained momentum with endorsements from The New York Times and the Daily News. Marti Speranza, president of the Gramercy Stuyvesant Independent Democrats and a member of Manhattan Community Board 5, came in at a distant second. In November, Powers will face Rebecca Harary, an entrepreneur who unsuccessfully challenged Assemblyman Dan Quart on the Stop de Blasio line in 2016.
District 6
Helen Rosenthal: 64.8%
Mel Wymore: 30.7%
Cary Goodman: 4.2%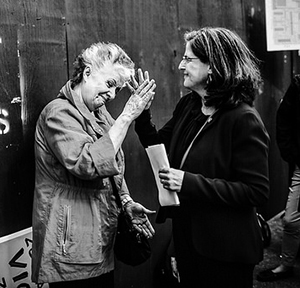 New York City Councilwoman Helen Rosenthal dominated fundraising, and won the ever-important New York Times endorsement to cruise to re-election against transgender rights activist Mel Wymore, who would've been the first transgender member of the council. Rosenthal, who is in her first term, does not face a challenger in the general election.


MANHATTAN/BRONX
District 8
Diana Ayala: 43.6%
Robert Rodriguez: 42.2%
Tamika Mapp: 9.6%
Israel Martinez: 4.4%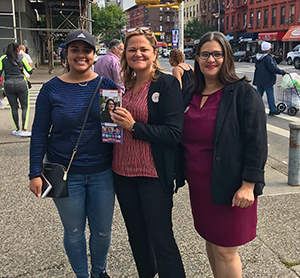 Diana Ayala, New York City Council Speaker Melissa Mark-Viverito's deputy chief of staff, ended the night in the lead as she seeks to succeed her boss, but the outcome was unclear with just a 122-vote margin for Ayala over Assemblyman Robert Rodriguez.
According to preliminary results updated by the New York City Board of Elections around midnight, Ayala had 3,705 votes, while Rodriguez had 3,583, with nearly 98 percent of the results in. The narrow margin could result in a recount.
Nonetheless, Ayala issued a statement just before midnight declaring victory.
"I believe we have triumphed tonight and look forward to continuing as the Democratic nominee for the 8th District's City Council seat," Ayala said. "This was a hard-fought campaign built around a diverse group of community supporters and I am proud of what we have accomplished. However, I truly believe that it is incumbent upon all of us to ensure that each and every vote is counted and every individual's voice is heard. I look forward to protecting the right of all individuals to vote and promise to serve as a vanguard in protection of our democratic process."
But Rodriguez issued a statement insisting that it was too early to name a winner.
"This race is far too close to call right now, and it is premature for anyone to declare a victory," he said. "There are still ballots left to be counted, and we want to make sure each voter has their voice heard."
The two had split major endorsements – Ayala is backed by New York City Mayor Bill de Blasio, Mark-Viverito, Rep. Adriano Espaillat, Bronx Borough President Rubén Díaz Jr., the Working Families Party, the Progressive Caucus Alliance and several City Council members, while Rodriguez has the support of the Bronx Democratic County Committee as well as Gov. Andrew Cuomo, City Comptroller Scott Stringer and about a dozen city and state lawmakers.
The Democratic nominee will face off against Republican Daby Carreras in November.
MANHATTAN
District 9
Bill Perkins: 49.3%
Marvin Holland: 20.1%
Corell Cleare: 17.3%
Tyson-Lord Gray: 8.6%
Marvin Spruill: 2.4%
Julius Tajiddin: 2.0%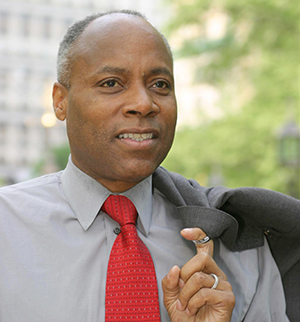 New York City Councilman Bill Perkins is set to serve a full four-year term after winning a rematch against Marvin Holland, political director of Transport Workers Union Local 100. Holland had come in second behind Perkins, a former state senator, in a February special election, and the union leader failed to gain ground this time around. 
BRONX
District 13
Mark Gjonaj: 38.6%
Marjorie Velazquez: 34.4%
John Doyle: 19.1%
Victor Ortiz: 4.8%
Egidio Sementilli: 3.0%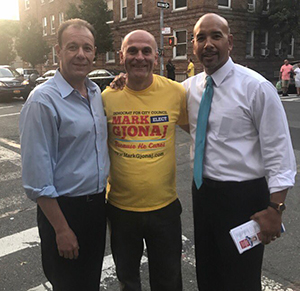 Assemblyman Mark Gjonaj was seeking a new job in the City Council, and he got one big step closer by coming out ahead in the crowded field to replace the term-limited City Councilman Jimmy Vacca. Gjonaj raised the most out of any City Council candidate in the entire city and earned Cuomo's endorsement, as well as the Bronx Democratic Party. Marjorie Velazquez, a district leader who had the support of Vacca and Mark-Viverito, may get a second, more difficult shot in November on the Working Families Party line. John Cerini, owner of Bronx Tax Man accounting, who was unopposed for the Republican line, will also run in the general.
District 14
Fernando Cabrera: 54.7%
Randy Abreu: 35.0%
Felix Perdomo: 10.2%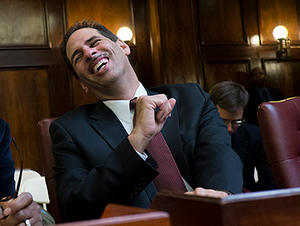 New York City Councilman Fernando Cabrera, a Democrat who is known for his socially conservative views, won his primary with more than 50 percent of the vote against two challengers: Randy Abreu, who worked in the U.S. Department of Energy during the Obama administration, and Felix Perdomo, a Dominican-American teacher. Rumor has it that Cabrera, a pastor, may join forces with state Sen. Ruben Diaz Sr., who won his New York City Council primary, in a conservative caucus.
District 18
Ruben Diaz Sr.: 41.9%
Amanda Farias: 20.9%
Elvin Garcia: 15.0%
Michael Beltzer: 13.6%
William Moore: 8.5%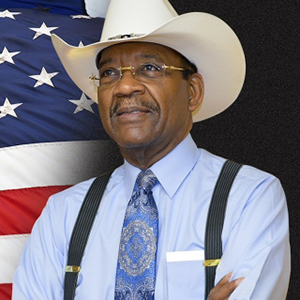 Despite his socially conservative views, state Sen. Rubén Díaz Sr. easily won the Democratic primary in term-limited City Councilwoman Annabel Palma's Bronx district. With the backing of the Bronx Democratic Party, Diaz dispatched Amanda Farias, a City Council staffer, Elvin Garcia, who was Bronx borough director for Mayor Bill de Blasio's Community Affairs Unit, and two other Democratic challengers.


QUEENS
District 19
Paul Vallone: 54.1%
Paul Graziano: 45.6%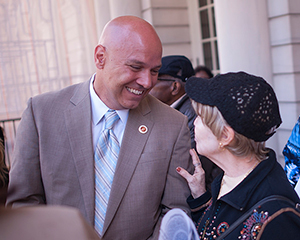 New York City Councilman Paul Vallone survived a scare in his contentious rematch with urban planner Paul Graziano, a fellow Democrat who also ran against Vallone in 2013. Vallone won an endorsement from Gov. Andrew Cuomo and capitalized on a strong fundraising advantage over Graziano.


District 20
Peter Koo: 57.9%
Alison Tan: 41.7%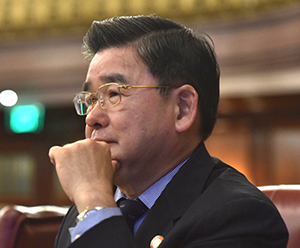 New York City Councilman Peter Koo held off a primary challenge from Alison Tan, a member of Queens Community Board 7 and managing director at an institutional real estate capital advisory firm. Tan, the wife of Assemblyman Ron Kim, highlighted the socially conservative positions of Koo, a former Republican. Koo was endorsed by Cuomo, who has been at odds with Kim over regulating nail salons.  
District 21
Francisco Moya: 55.2%
Hiram Monserrate: 44.1%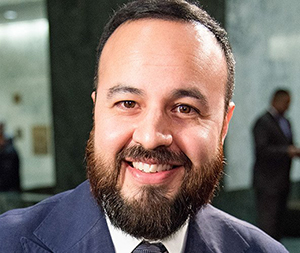 Assemblyman Francisco Moya's victory over Hiram Monserrate, a former legislator in the New York City Council and in Albany, was a relief for much of the political establishment. Monserrate was seeking a comeback after a history of threatening to switch parties, an expulsion from the state Senate and a conviction on federal corruption charges, and he retained enough support among his former constituents to make this a competitive race. However, Moya garnered the bulk of the endorsements, including backing from both de Blasio and Cuomo.
District 28
Adrienne Adams: 38.3%
Richard David: 32.1%
Hettie Powell: 28.9%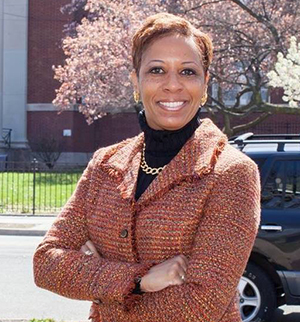 In a race more notable for its former occupant – Ruben Wills, who was expelled after being convicted of fraud and grand larceny – than its potential successors, Adrienne Adams entered late but emerged as the Democratic primary winner. The chairwoman of Queens Community Board 12, was endorsed by Rep. Joe Crowley and Cuomo, and beat two other Democrats. She will face Republican accountant Ivan Mossop, who was endorsed by the Queens County Republican Party but has only raised a few hundred dollars.
District 30
Elizabeth Crowley: 63.6%
Robert Holden: 36.1%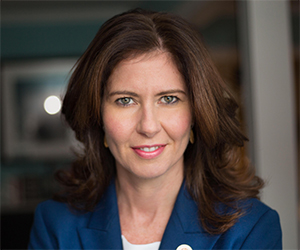 New York City Councilwoman Elizabeth Crowley had more trouble than expected beating Robert Holden, the Juniper Park Civic Association president, in her Queens district. Crowley, one of a handful of candidates endorsed by Cuomo, raised 10 times as much in campaign funds as her rival.


District 32
Mike Scala: 43.7%
Helal Sheikh: 30.6%
William Ruiz: 24.3%
Mike Scala, an attorney, beat two other Democrats for the chance to take on New York City Councilman Eric Ulrich, one of the few Republicans in the council.
BROOKLYN
District 34
Antonio Reynoso: 64.5%
Tommy Torres: 35.3%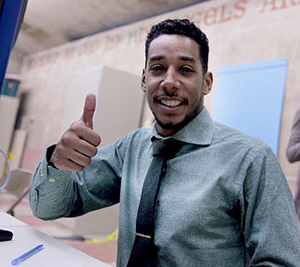 The incumbent Councilman Antonio Reynoso funded off a well-funded primary challenge from Brooklyn Democratic Party district leader and educator Tommy Torres. This is another win for de Blasio, who endorsed Reynoso, who is finishing up his first term.
District 35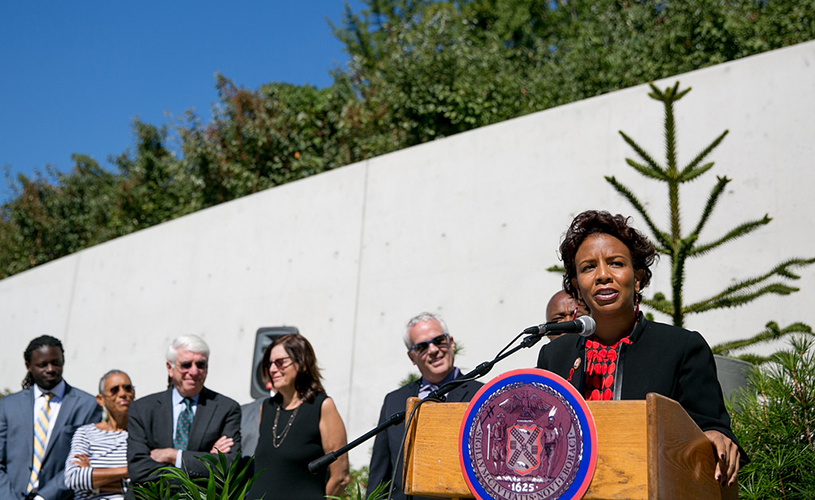 Laurie Cumbo: 57.5%
Ede Fox: 41.5%
It was one of the fiercest battles of the 2017 primaries, but first-term incumbent City Councilwoman Laurie Cumbo staved off a challenge from Ede Fox, a former City Council aide who had criticized Cumbo on development issues. In the heavily Democratic district, Cumbo will face Republican Christine Parker and Green Party candidate Jabari Brisport in November.
District 38
Carlos Menchaca: 48.5%
Felix Ortiz: 32.9%
Chris Miao: 9.0%
Sara Gonzalez: 6.0%
Delvis Valdes: 3.4%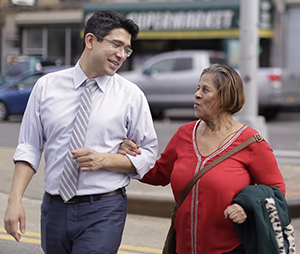 Assemblyman Felix Ortiz has won 24 straight elections for his state legislative seat, but that record wasn't enough for him to overcome the Democratic incumbent Councilman Carlos Menchaca, who earned far more endorsements and raised slightly more money. Menchaca, who is finishing his first term, will face Green Party candidate Carmen Hulbert in the general.
District 40:
Mathieu Eugene: 41.0%
Brian-Christopher Cunningham: 30.2%
Pia Raymond: 22.4%
Jennifer Berkley: 6.2%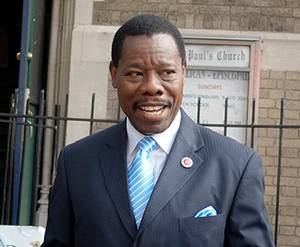 New York City Councilman Mathieu Eugene, who has represented Central Brooklyn since winning a special election in 2007, faced possibly his toughest primary this year against some well-funded challengers. But Eugene won de Blasio's endorsement, and the seat in the four-way race, and will be unopposed in the general.
District 41
Alicka Ampry-Samuel: 31.4%
Henry Butler: 21.9%
Cory Provost: 11.3%
Moreen King: 8.7%
Deidre Olivera 8.0%
Royston Antoine: 5.7%
Victor Jordan: 5.2%
David Miller: 4.8%
Leopold Cox: 2.9%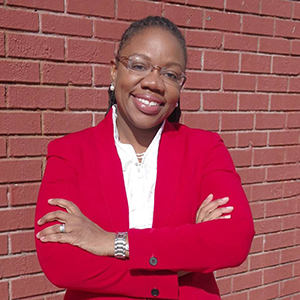 With nine candidates in the primary, Alicka Ampry-Samuel, who previously worked as chief of staff for Assemblywoman Latrice Walker, won with an impressive margin of victory, besting even Henry Butler, who won a number of endorsements from local elected officials. Ampry-Samuel will be unopposed in the general election to replace term-limited City Councilwoman Darlene Mealy.


District 43 – Democratic primary
Justin Brannan: 38.7%
Khader El-Yateem: 31.2%
Nancy Tong: 15.8%
Vincent Chirico: 7.7%
Kevin Carroll: 6.3%
District 43 – Republican primary
John Quaglione: 48.7%
Liam McCabe: 31.4%
Bob Capano: 14.8%
Lucretia Regina-Potter: 4.4%

In the Democratic primary, longtime political operative (and former hardcore rocker) Justin Brannan (left) pulled out a win over the Rev. Khader El-Yateem, a Lutheran pastor and proud Democratic socialist. On the Republican side, John Quaglione (right), a staffer for state Sen. Martin Golden, outraised his challengers and earned an authoritative win. Brannan will face Quaglione in November to replace the term-limited Councilman Vincent Gentile.
STATEN ISLAND
District 49
Debi Rose: 69.4%
Kamillah Hanks: 30.1%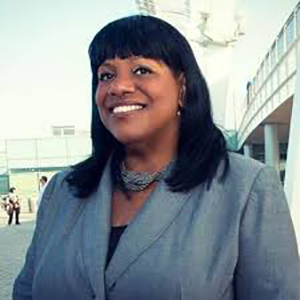 Councilwoman Debi Rose faced a capable challenger in Kamillah Payne-Hanks, the president and CEO of the Historic Tappen Park Community Partnership, but the incumbent pulled off an easy win with help from endorsements from both Cuomo and de Blasio. She'll face Republican Michael Penrose in the November general election.