Bill de Blasio
Five things to watch in New York's 2017 general election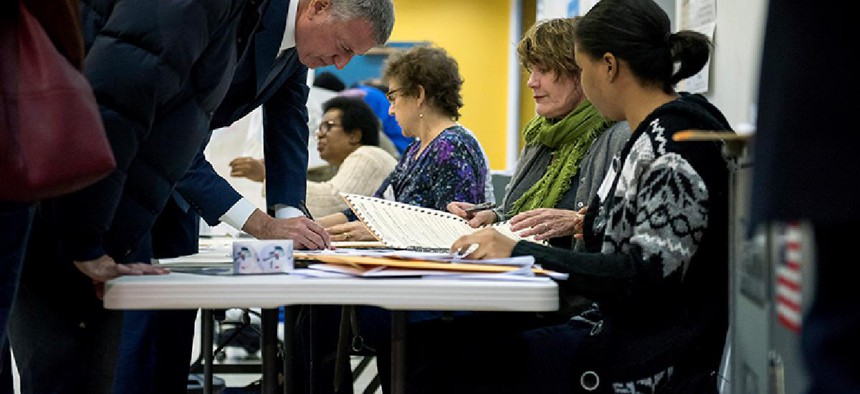 With the polls opening on Tuesday, the 2017 campaign season is finally coming to an end. The outcome of some races are all but preordained, but that doesn't mean there won't be any surprises. Here are five things that City & State will be watching on Election Day.
Turning out or tuning out
New York City Mayor Bill de Blasio is expected to win reelection by a large margin on Tuesday night, with a recent NY1/Baruch College showing him 33 points ahead of his closest rival, Republican Assemblywoman Nicole Malliotakis. Thus, his total share of the vote will be a number to watch, as well as the total number of votes cast. Voter turnout in New York City has been trending down, down, down over decades, reaching a low of 26 percent of registered New York City voters showing up in 2013.
Can the incumbent inspire New Yorkers to get out to the polls in what is widely viewed as a lackluster race? Can his challengers inspire supporters to wait in line for what seems like a lost cause? Complicating factors include the labor-led push to vote "no" on a state constitutional convention and a possible Trump bump of political interest, but another year of low voter turnout could undercut de Blasio's narrative of a mandate.
RELATED: Key 2017 New York election races to watch
Changing of the guard
In 2013, Republican Westchester County Executive Rob Astorino won his reelection bid by 12 percentage points, but this year a recent Journal News poll shows him neck-and-neck with his Democratic challenger, state Sen. George Latimer. Latimer, who is ahead of Astorino by 3 percentage points but within the margin of error, could eke out a win in Westchester, one of a few counties where a change in party control is possible.
In the Rensselaer County executive race, a victory by Democrat Andrea Smyth over Republican Assemblyman Steve McLaughlin would also be a shift after four terms of GOP leadership. Similarly, a victory by Democrat Laura Curran over Republican Jack Martins for Nassau County executive – another tight race – would mark a change from the leadership of GOP County Executive Ed Mangano.
In Syracuse, independent mayoral candidate Ben Walsh leads Democrat Juanita Perez Williams by 2 points in a poll, which is within its margin of error. A strong showing by either major party in these races could set expectations for the 2018 elections.
Albany impact
If Astorino is knocked out of office in Westchester County, the outcome would reverberate across the state. That's because he has long been the Republican Party's best hope at beating Gov. Andrew Cuomo, especially after Astorino won a relatively strong 41 percent of the vote against the governor in the 2014 general election. Cuomo, who's seen as a potential presidential contender in 2020, would see his national hopes improved with a commanding victory as he seeks a third term as governor in 2018 – and having Astorino out of the picture would likely help.
Latimer, meanwhile, could join a number of state lawmakers leaving vacant seats in Albany, and his Hudson Valley district could potentially be a toss-up. Other state lawmakers – including Democratic state Sen. Ruben Diaz Sr. and Assembly members Francisco Moya and Mark Gjonaj – are all but guaranteed to win seats in the New York City Council, while Republican Assembly members – including McLaughlin and Chad Lupinacci, who's running for Huntington town supervisor – could leave additional vacancies to be filled in 2018.
RELATED: The pros and cons of a constitutional convention
Serious proposals
Perhaps the biggest impact in Albany, of course, is whether voters decide to have a constitutional convention. The question – "Shall there be a convention to revise the constitution and amend the same?" – is asked every 20 years, giving citizens the chance to open up the document to revisions and updates, if not a complete overhaul. It has divided New Yorkers – and the editorial boards – with labor unions in particular claiming that it could weaken cherished protections and reformers countering that it's the best way to truly clean up Albany. It has also spurred hundreds of thousands of dollars in campaign spending, largely by opponents, who have capitalized on their advantages to shift voter sentiment against a convention.
There are two other ballot proposals, both of which would amend the state constitution: One would "allow a court to reduce or revoke the public pension of a public officer who is convicted of a felony" tied to his or her duties, and the other would "create a land account with up to 250 acres of forest preserve land eligible for use by towns, villages, and counties that have no viable alternative to using forest preserve land to address specific public health and safety concerns."
Third party bids
While the two major parties – Democrats in particular – dominate the vast majority of public offices in New York City, third party candidates can be a useful bellwether of where the political winds are blowing. In the mayor's race, the latest polls show de Blasio is set to win an overwhelming 61 percent of the vote, but how much of his lead Malliotakis and the third party candidates (Albanese, Browder, Commey, Dietl and Tolkin) can siphon away on Election Day could indicate the impact the latest pay-to-play allegations from Jona Rechnitz.
In the District 1 city council race, insurgent challenger Christopher Marte is back on the Independence Party line trying to avenge a razor-thin, 222-vote Democratic primary loss to incumbent Margaret Chin, with a little help from Friends of Elizabeth Street Garden. A couple more New York City Council candidates – notably Our Neighborhood's Yoni Hikind and the Reform Party's Brian Cunningham – have also garnered attention.
Manhattan District Attorney Cyrus Vance, under fire for taking campaign contributions from lawyers with clients under his office's scrutiny, is running unopposed, but it will be interesting to see whether there's any meaningful support for the write-in movement that sprung up to support former Brooklyn District Attorney candidate Marc Fliedner. 
And don't write off third party candidates as potential winners – remember that Letitia James won a City Council seat on the Working Families Party line before becoming "the litigator" in the public advocate's office. Perhaps the strongest candidate not running on a major party line this year is Syracuse mayoral candidate Ben Walsh, who was narrowly leading Democrat Juanita Perez Williams in a recent poll.