Bill de Blasio
This Week's Headlines: Dropping crime, dropping off tax prepayments and NYCHA still dropping the ball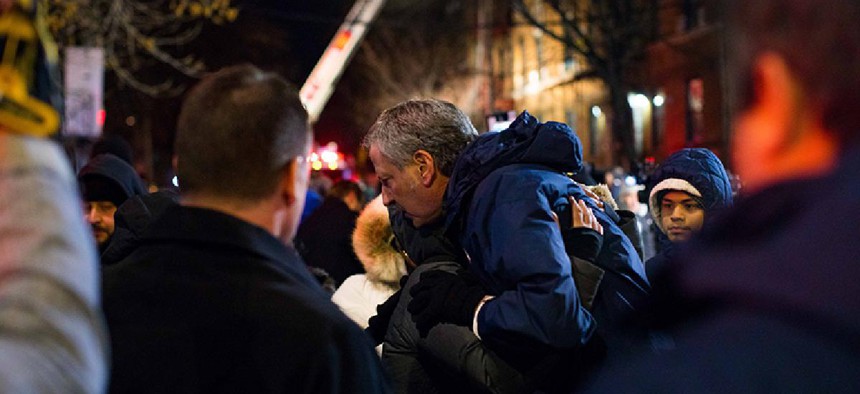 The week between Christmas and New Year's is usually slow, as many people take a break from the daily grind to celebrate the holidays with family. The frigid weather adds another excuse to stay indoors with a hot beverage and do nothing. But even when the news slows, it never stops. The post-Christmas sluggishness certainly didn't prevent journalists from hopping on to newly released emails from New York City Mayor Bill de Blasio. Here are the headlines from the past week.
RELATED: GOP tax plan could exacerbate NY's stagnant population growth
Prepaying property taxes
People across the state were prepaying their property taxes this week before the new federal tax reform plan kicks in on Jan. 1, aided by Gov. Andrew Cuomo's executive order authorizing local governments to issue tax warrants early. The hope was to file in time so they could still get the most out of the state and local deductions, which the new bill caps at $10,000. Westchester County residents were out of luck and weren't allowed to file early, while Long Islanders turned out in droves at tax receiver offices. But in another twist in an already complicated process, the IRS warned that paying taxes early may be for naught, depending on whether a property is assessed in 2017.
Not-so-harmless lead paint
The Daily News reported this week that despite what New York City officials have claimed, previously undisclosed lead paint in New York City Housing Authority apartments may have caused permanent damage. Interviews with residents indicated a correlation between living in a lead-tainted environment and impaired mental development in children. And in a move that inspires little confidence, de Blasio was set to meet with public housing tenant leaders on Wednesday – but didn't say where and when exactly the meeting was happening, and didn't allow reporters to attend.
RELATED: New York political predictions for 2018
As crime drops, so does the jail pop
In a double dose of good news, crime rates in New York City declined to levels unseen since the 1950s, and the monthly average population at the Rikers Island jail complex is on track to dip below 9,000 for the first time in 35 years. Crime in the five boroughs has been dropping for years, while the NYPD attempts to reforge relationships with the communities it polices. And the news on Rikers is one more step toward the target population of 5,000 inmates before the city will close it.
A deadly Bronx blaze
A five-alarm apartment fire in the Belmont section of the Bronx on Thursday night left at least 12 dead, including four children, making it New York City's deadliest fire in decades. Four other people sustained serious injuries. The fire, which investigators believe was caused by a child playing with a stove, started in a first-floor apartment, then quickly traveled upward, aided by the gusty winds that night.