Andrew Cuomo
Letitia James doesn't want to be attorney general … yet
Why Letitia James and the biggest names opted out of the state legislative selection process.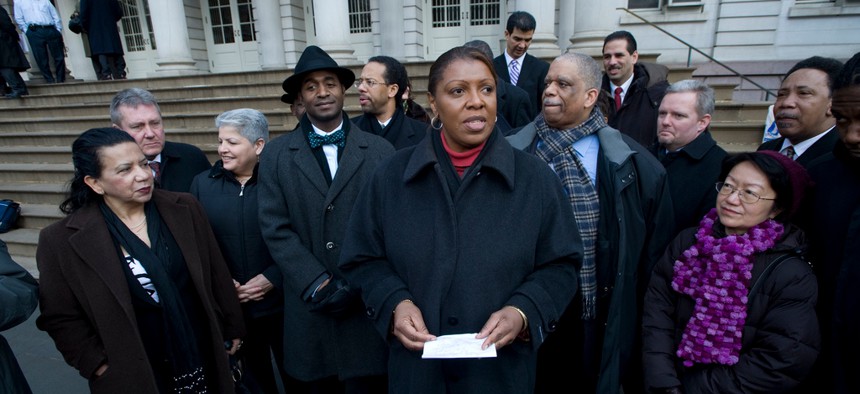 At 2 p.m. on Tuesday, the state Legislature will begin interviewing candidates to be the next New York attorney general – but not a single one of the major players who have the best chance to actually get elected to the post this fall will be there.
Not New York City Public Advocate Letitia James, who as recently as Thursday looked like she had the job locked up. Not Reps. Kathleen Rice or Sean Patrick Maloney, experienced Democrats who have run for the seat before. Not state Sen. Michael Gianaris, with his deep ties in both houses of the state Legislature. Not former U.S. Attorney General Preet Bharara, who is eminently qualified with a national profile. And not Alphonso David, counsel to Gov. Andrew Cuomo, who could run with the support of the state's most powerful politician.
Why doesn't anybody want to be appointed attorney general?
They all have their own reasons, but the simplest answer is that none of them are in the mix on Tuesday since they're looking ahead to a different date: the Sept. 13 statewide Democratic primary.
The state Legislature – led by Assembly Speaker Carl Heastie thanks his near-majority of 104 seats out of the combined 213 seats in both houses – have the constitutional duty to replace former Attorney General Eric Schneiderman. It's being led for now by acting Attorney General Barbara Underwood, who has served as number two in the office for more than a decade as solicitor general. It seems increasingly likely that Heastie and the Legislature will choose Underwood – and not any of the other 12 candidates – to lead the office until a new attorney general can be chosen by the voters in the regularly scheduled November elections (Underwood has said she will not run). And the rest of the potential candidates have reasons for opting out of the process.
James surprised many on Friday by declining to take part in the Legislature's screening process. A former assistant attorney general with years of political experience who would bring gender and racial diversity as a black woman, James seemed like many to be a perfect candidate. But where there was excitement in some camps over reports that she had the  job all but locked up, there was fear in others. Major newspapers' editorial boards argued against a legislative appointment other than Underwood, and good government groups and the governor agreed. The Times made the message clear: "No Back-Room Deal to Replace Schneiderman" over a photo of James. Meanwhile, a quiet opposition campaign began, including the typical political game of hunting for and placing stories of dubious validity. Internally, James' team feared that her inauguration was being ruined. Being appointed attorney general by the Legislature would give the benefit of incumbency to a run later this year, but by Friday afternoon consensus in the political world seemed to be that an appointment would leave James tainted by backroom dealmaking.
Said one Albany Democrat who asked to remain anonymous, "At a certain point, Tish just sort of decided that she was hurting herself in the September primary."
James' decision may also have been helped along by a number of other prominent, potential candidates declining to participate in the screening process. Bharara, knowing he didn't have a chance among the lawmakers he once terrorized as U.S. attorney, said he wouldn't submit to the screening process, while keeping the door open to running in November. State Sen. Michael Gianaris also declined to join the screening process. If he were picked, Democrats would have lost a seat in the hotly contested state Senate. A source familiar with his thinking told City & State that while the Queens Democrat is still considering a run, he wasn't quite ready to commit.
"If it was a longer time frame, he might have been in a different position, but in the time frame that existed he wasn't in position to do it," the source said.
Reps. Kathleen Rice and Sean Patrick Maloney both have political complexities to sort out. As reported by Newsday, Rice is already the nominee for reelection in her Long Island congressional seat, and election law prohibits a candidate from being nominated for two offices at once. A source familiar with Rice's thinking told City & State that she and her team were still finding out if an attorney general run would be legal.
"We didn't have a definitive answer to those questions by Friday, so she couldn't put herself into the mix for that process without knowing how the legal questions are going to sort of shake out," the source said.
Maloney's office did not respond to a request for comment, but the Hudson Valley Democrat would run into the same issue regarding his congressional seat. Maloney had actually submitted his name for consideration by the state Legislature on Friday before announcing Monday that he would drop out of the process. He is still considering running in the Democratic primary.
Other possible contenders seemed to decline for similar reasons. Former Democratic gubernatorial candidate Zephyr Teachout would have an easier time gathering grassroots support as a staunch progressive than she would winning over legislators. David would have also had a tough time being picked by the Legislature thanks to his close ties with Cuomo, and may have an easier time at the Democratic state convention starting May 23. There, candidates will fight to earn the necessary 25 percent support necessary to get on the September ballot. Candidates who don't get on at the convention can still submit petitions to earn a spot.
Republicans are now looking for strong candidates to run for the open attorney general seat as well. No prominent Republicans applied to the Legislature's screening process. Though state Senate Majority Leader John Flanagan said that his conference will participate in the screening process, the joint session is dominated by Democrats.