Eric Schneiderman
Who needs Eric Schneiderman anyways?
Why Democrats shouldn't worry about Eric Schneiderman's unceremonious exit.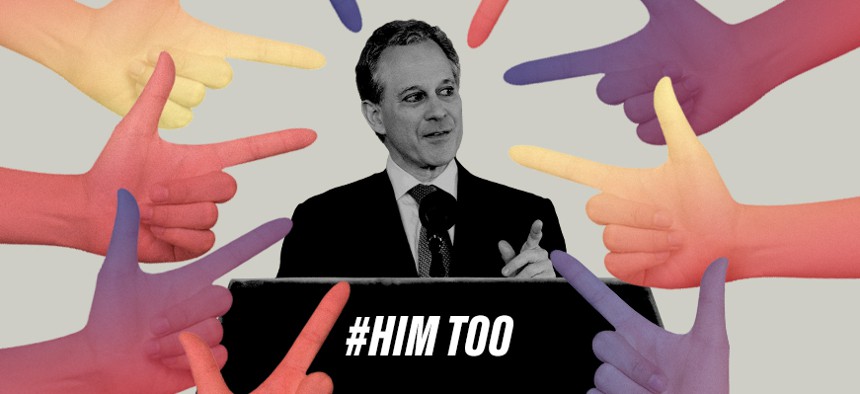 One woman who dated then-state Attorney General Eric Schneiderman said he used to slap her, choke her and spit on her, while pressuring her to drink heavily and encouraging her to find another woman for a threesome. But several friends told her to "keep the story to herself," according a bombshell report in The New Yorker, since "Schneiderman was too valuable a politician for the Democrats to lose."
Another woman, identified as "an accomplished Ivy League-educated lawyer with government experience," said he slapped her forcefully in the face when the two were making out one night after a party. "A lot of women like it," Schneiderman told her, according to the report. The woman knew what he did was wrong, but she told herself it was a one-time incident, and that he was "a good attorney general" who was "doing good things" and she "didn't want to jeopardize that."
Schneiderman claimed his innocence, chalking up these and other alleged acts of physical and verbal abuse to "role-playing" and "consensual sexual activity." But a few hours after the story was posted last Monday evening, with startlingly similar accounts from four women, he announced his resignation. Now that a host of politicians are scrambling for a chance to succeed him, the question remains: Does it make any difference that he's gone?
In many ways, it doesn't.
A darling of the progressive movement, Schneiderman was supported in his first attorney general bid as a counterweight to the more centrist Andrew Cuomo, went on to build a national reputation by prodding the Obama administration to take a harder line against Wall Street after the financial crisis, and spearheaded a lawsuit against Trump University that set the stage for a legal onslaught against the White House once Donald Trump became president. It's sadly ironic now, but Schneiderman successfully positioned himself as a champion of the #MeToo movement, suing the disgraced film producer Harvey Weinstein and speaking at the Women's March on New York City last year.
But given the political realities in New York, his exit won't change much. And given the nature of the attorney general's office, there's little reason to think the man mattered more than the office.
"I would think that Trump should not be breathing any easier today." – James Tierney, former Maine attorney general
"With this particular New York resignation, it makes very little difference," said James Tierney, a former Maine attorney general who led Columbia University Law School's National State Attorneys General Program. "There's a terrific staff that predates Schneiderman. They've been doing this a long time; there's a lot of talent. I could not imagine that the Legislature would replace him, or the voters would replace him with someone who had a dramatically different view of politics or government. Specifically, I would think that Trump should not be breathing any easier today. I don't think there will be any change – if anything, it will be more aggressive."
The office is being led for now by Barbara Underwood, who previously served as the state's solicitor general and has a wealth of legal experience, including graduating first in her law school class at Georgetown University, clerking for U.S. Supreme Court Justice Thurgood Marshall and serving as the first female U.S. solicitor general. Cases filed by Schneiderman against Trump's policies on immigration, the environment and health care are ongoing. While Schneiderman's downfall is a blow to morale, more than 650 assistant attorneys general and over 1,700 employees will keep developing new cases to pursue, as they've always done. The biggest short-term shift may be a more apolitical approach under Underwood, who's not a media-hungry politician like Schneiderman.
While the attorney general sets the agenda and identifies priorities, there are also "tremendous leaders at every level," said Kristen Clarke, who ran the Civil Rights Bureau under Schneiderman and now is president and executive director of the Lawyers' Committee for Civil Rights Under Law. "The Civil Rights Bureau that I led during my tenure is filled with hard-working, smart, dedicated civil rights attorneys who have really been at the forefront of some of the most visible work of the office over the past year, whether you're talking about the office's work on sexual harassment claims, work on DACA, work on the census," Clarke said. "My hope and expectation will be that many of these attorneys who truly make up the backbone of the office will remain and provide a strong foundation for Eric Schneiderman's successor to continue building on the successes of the office."
Schneiderman was also just one member of a sizeable coalition of Democratic attorneys general from states like California and Massachusetts who partnered on a slew of lawsuits, such as the 17-state effort to keep the Obama-era Clean Power Plan in place. Even if other attorneys general get less press than New York's, they have taken the lead on other key cases, most notably the lawsuit against a ban on travel from several predominantly Muslim countries.
While Schneiderman's downfall is a blow to morale, more than 650 assistant attorneys general and 1,700-plus employees will keep developing new cases to pursue.
"Sometimes New York is left out on purpose," Tierney said. "A great example was the fight on the travel ban, which was led by Washington and Hawaii. I didn't mean that the New York AG Schneiderman believed any less than the other AGs on that particular issue, but as a strategic decision they felt that it would be better to bring that case in 9th Circuit as opposed to the 2nd Circuit. These kinds of decisions are made all the time."
In the coming weeks, the state Legislature could name Schneiderman's replacement, who would serve at least until voters make their own pick in the fall. Since the 150 members of the Assembly and the 63 members of the state Senate vote together, the Democrats – who hold 104 seats in the Assembly alone – can pick one of their own. The Assembly requested applications last week and will interview candidates this week, and will work with fellow Democrats in the state Senate and consider input from the governor. But in the end, Assembly Speaker Carl Heastie will have immense sway over the selection.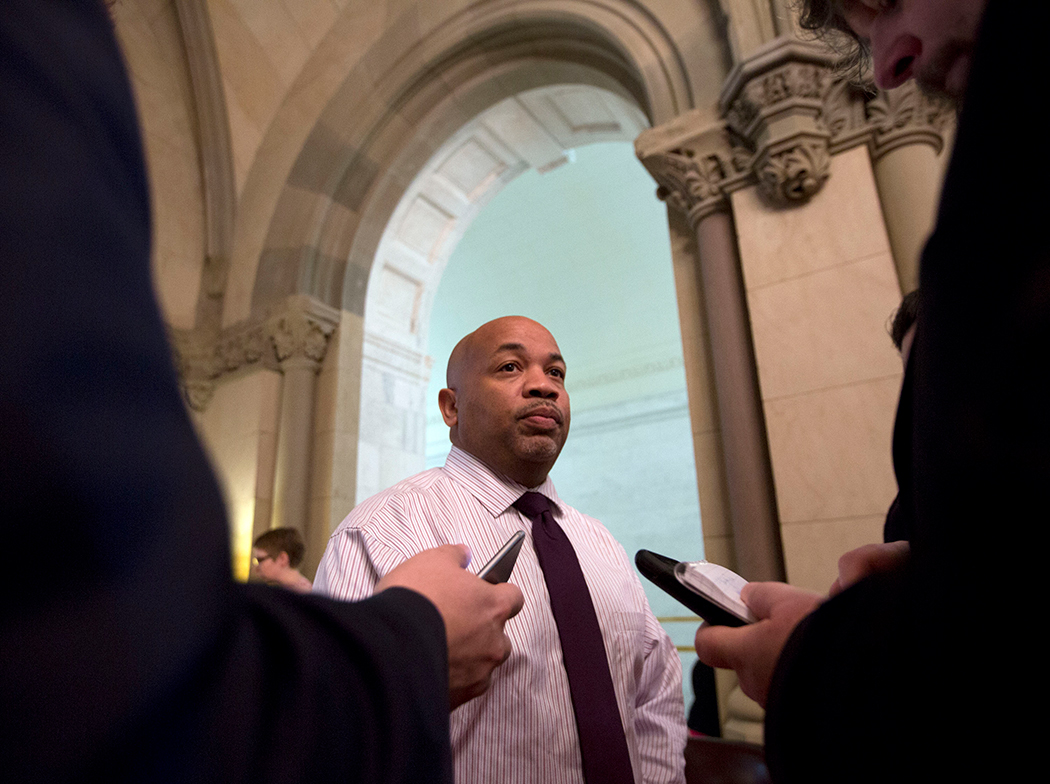 Some are calling for Underwood to serve as caretaker until the November elections, to allow the office to focus solely on its legal work while avoiding giving any candidate a leg up in the fall. Cuomo and others are calling for a woman be appointed, given the shocking allegations that forced Schneiderman out and the fact that, before Underwood, the office had only been occupied by white men. Heastie said diversity is an important factor, and current and former officials in the office have said it's equally important that a serious candidate with relevant experience and a strong legal mind fill the job to maintain the credibility of the office.
Looking ahead to the fall, voters are also likely to install a Democrat, presumably one who will run the office in a similar manner as Schneiderman. Republicans haven't won a statewide seat since George Pataki was re-elected as governor in 2002. The closest the party has come since then was in 2010, when Harry Wilson came within 5 percentage points of beating state Comptroller Thomas DiNapoli, who had been appointed by lawmakers to fill a vacancy. Schneiderman won by larger margins in 2010, when the office was vacated by Cuomo, and in his re-election bid in 2014.
Still, some Republicans asserted that Schneiderman's exit creates an opportunity for them. But in an election year in which Democrats are energized and eager to punish Trump, it's unlikely a Democrat will lose – especially if the eventual Republican nominee is seen as linked to the president. In a Quinnipiac University poll published earlier this month, less than a third of New York voters approved of Trump.
Assuming a Democrat wins, he or she will immediately land on the shortlist of candidates for governor. Starting with Spitzer and continuing with Cuomo, the office has been a steppingstone to the state's highest office. Schneiderman was seen as a likely candidate for governor when the time came. Apart from serving and protecting New Yorkers, that pathway is ample incentive for the officeholder to pursue high-profile cases that resonate with progressive primary voters – especially in a blue state like New York.
In a solidly blue state, there's plenty to be gained politically by bringing cases against the White House.
Attorneys general do vary in how aggressive they pursue bad actors, though Schneiderman and his two immediate predecessors – both Democrats – have followed a pattern of running a proactive office. Robert Abrams, another Democrat who served as attorney general from 1979 to 1993, built the foundation of the office that exists today. Eliot Spitzer picked up where Abrams left off, wielding the state's Martin Act to subpoena witnesses and seize documents while targeting financial firms and corporations. When Spitzer was elected governor, Cuomo picked up where he left off, investigating kickback schemes and unscrupulous student loan providers, although perhaps with less of Spitzer's crusading zeal. When Cuomo was elected governor, Schneiderman took over and quickly made a name for himself by taking on Wall Street.
But it wasn't just that they were Democrats. Most of their tenures were also shaped by what was going on in Washington. Abrams filled a enforcement vacuum left under President Ronald Reagan. Spitzer took up consumer protection issues and battled financial companies that had more of a free rein under President George W. Bush. Trump's presidency – and the myriad unpredictable moves that have come with it – began on Schneiderman's watch.
Even before Trump ran for president, his dealings were in Schneiderman's crosshairs for the obvious reason that he was a New York resident. In 2013, Schneiderman sued Trump University in a lawsuit the president settled before taking office. Trump's real estate and other business dealings are natural targets, as are his and his family's foundations, which have been scrutinized by the office's Charities Bureau.
Additionally, the Trump administration has taken actions that have frustrated many New Yorkers: blocking immigrants and refugees from entering the country, rescinding DACA, scaling back transgender rights, withdrawing from the Paris climate agreement, opening up offshore drilling in the Atlantic. And in a solidly blue state with a diverse population and strong support for progressive policies, there's plenty to be gained politically by bringing cases against the White House, especially when attorneys general in New York are always looking to raise their profile.
"Let me speak for myself: I would intend to be very aggressive against the Trump policies coming out of Washington that I believe are hurting New Yorkers, and they are plentiful," said state Sen. Michael Gianaris, a potential candidate, echoing the views of countless others angling for the post. "We're talking about immigration or health care or any other ways that Washington is doing things harmful to New Yorkers. So I would intend to continue a very aggressive approach."