Andrew Cuomo
Separated children, end of session and changes to marijuana policy
Separated migrant children, end of New York legislative session and changes to marijuana policy top this week's news.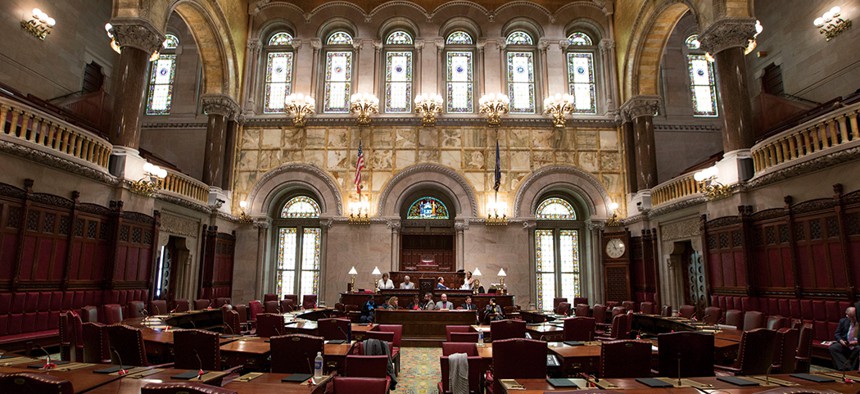 "Stand clear of the falling ceiling, please." An announcement like that might have actually been helpful for straphangers waiting for a No. 4 or 5 train at Borough Hall in Brooklyn. A chunk of the subway station ceiling collapsed onto the platform, leaving one man with minor injuries. As if long delays aren't bad enough, riders may need to add a helmet to their daily wardrobe just to navigate the subway system safely. More news below in this week's headlines.
 
From Texas to New York
New York, though thousands of miles away from the U.S.-Mexico border, became embroiled in the outrage over the separation of migrant children from their parents when it was discovered that as many as 700 of those children are being housed in New York. Gov. Andrew Cuomo said he would sue the federal government over the policy and New York City Mayor Bill de Blasio went to one of the Texas facilities where the children are being held. Protestors also arrived at LaGuardia Airport late Wednesday night when word spread that more unaccompanied minors were being flown in.
 
Not with a bang, but a whimper
The state legislative session quietly came to a close last week without taking any action on high-profile issues, including teacher evaluations, sports betting and speed cameras near New York City schools. The state Legislature did pass some bills, such as creating an oversight commission for prosecutors. However, most of the legislation that did pass were local measures. It may have been a largely unproductive end to a largely unproductive legislative year, but at least the Assembly members got ice cream before leaving the Capitol.
High time for change
New York City Mayor Bill de Blasio announced that the New York City Police Department will stop arresting most people for smoking marijuana in public and instead issue tickets. The change in policy came as the result of a 30-day evaluation by the NYPD of its policy and is meant to help address the racial disparities in marijuana arrests. However, critics immediately assailed the plan, saying minorities will still be more likely to be punished.
 
Mining for support
After months of speculation and rumors, Stephanie Miner announced she's entering the governor's race. But she's not running in the Democratic primary. Rather, she's running as an independent under the banner of the Serve America Movement. Miner said public corruption will be the focus of her campaign. Miner enters an already crowded race and makes it a potentially seven-way election if Gov. Andrew Cuomo wins the Democratic line and Cynthia Nixon remains on the Working Families Party line.
 
Teachers get a break
For the first time, New York City teachers will get paid parental leave after having a child. Under the current policy, teachers need to accrue enough sick days to try and piece together their own leave, something that would take years. Starting in 2019, city teachers will get six weeks of parental leave. The decision came after pressure from the city's teachers union, the United Federation of Teachers.
Powered By
NEXT STORY: Session wraps up after standoff over speed camera reauthorization