Chris Collins
Collins' arrest creates an opening for Democrat Nate McMurray
The chance of flipping NY-27 goes from nothing to something.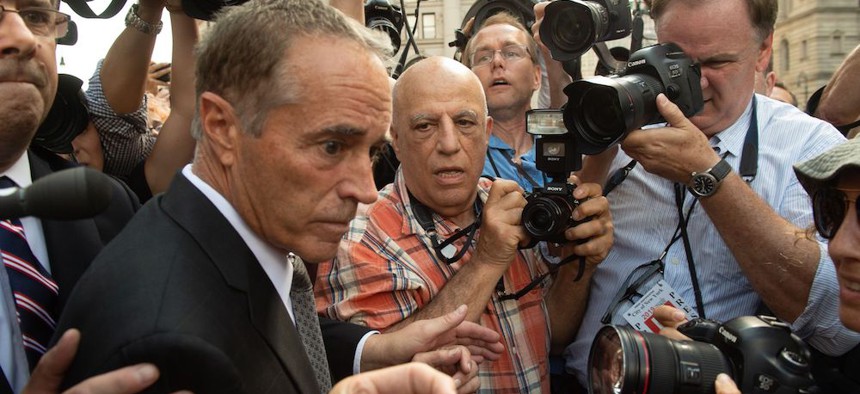 Two days ago, Rep. Chris Collins seemed a lock for re-election. The Western New York Republican had nearly 20 times more money that his Democratic opponent in a district that Donald Trump carried by 24 percent in 2016. Then, on Wednesday, Collins got charged with securities fraud and his seat became the newest opportunity in the national Democratic effort to take control of the House of Representatives.
But whether Democratic nominee Nate McMurray, the town supervisor of Grand Island, can raise enough money, secure enough outside support and win over enough right-leaning voters to win in November, remain open questions. For now, McMurray has basked in the newfound attention to a campaign that has run on a shoestring budget up to this point — Niagara Gazette reported he had about $80,000 on hand last month.
As of yet, he has not spoken to state party leaders about rallying additional support behind his candidacy, McMurray said at a press conference in Hamburg, N.Y., which was livestreamed on social media. "We're feeling more and more confident every minute," he said. "They still have more money than we'll ever have (but) if this wouldn't have come out, he would've coasted in."
Collins turned himself over to federal authorities on Aug. 8 following the release of an indictment filed in federal court in Manhattan. The indictment alleges that in the summer of 2017 he became aware that the stock price of an Australia-based drug company he invested in was about to tank because of a failed drug trial. He then told his son Cameron about it. Cameron allegedly alerted others, allowing a group of investors to sell their stocks before the news became public and avoid more than $768,000 in losses.
Rep. Collins is also accused of giving false statements and wire fraud, according to the indictment. He could face up to 20 years in prison if convicted of insider trading, according to the U.S. Attorney's Office for the Southern District of New York.
Collins pleaded not guilty to the charges at an arraignment in Manhattan and vowed to stay in the race for a fourth term in an email to supporters later that day, State of Politics reports. He added that he would discuss the charges outside court moving forward.
The Cook Political Report has changed its assessment of the race from "solid Republican" to "lean Republican." Nate Silver, editor-in-chief of the data-crunching website FiveThirtyEight, said in a Twitter post that the scandal gives McMurray a shot — considering that a scandal of Collins' severity historically "costs a House candidate on the order of 10-12 percentage points" in an election, Silver said.
But McMurray may need more than 10-12 points. The district in the Buffalo suburbs is very Republican. In 2014 and 2016 Collins defeated his Democratic opponents by about 40 points and 35 points, respectively. "It's a deep red suburban ring surrounding a blue urban area," said Jacob Neiheisel, an assistant professor of political science at the University of Buffalo, of the 27th Congressional District. But Collins' first election to Congress was a much closer race, when the former Erie County executive defeated now-Lt. Gov. Kathy Hochul 51 to 49 percent.
In the past two years, Collins has emerged as one of the most high-profile supporters of Donald Trump. He was the first Republican in Congress to endorse Trump during the 2016 Republican primary and was a part of the transition after the election. He has remained a vocal supporter of the president, echoing Trump's talking points on taxes, immigration and other issues.
Historical averages of how much ethical scandals cost candidates may be misleading in such a polarized partisan environment. The recent Senate race in Alabama shows how deep partisanship allegiances run even when a candidate is accused of serious misconduct, according to Neiheisel.
More money will pour into McMurray's account from out of state, as it did for Doug Jones in Alabama, Neiheisel said in a telephone interview. But that boost comes with the risk that Collins supporters will label McMurray as a puppet of outside interests, Neiheisel said. It also could galvanize grassroots conservative support for Collins. Indeed, Republicans generally have stood by President Trump, despite close associates such as his former campaign chairman Paul Manafort being accused of serious white-collar crimes. "No doubt it's going to be a much tighter race going forward," he added. "I still wouldn't put money on the Democrat pulling it out."
In some ways, McMurray is downplaying his Democratic affiliation, focusing on his local roots and everyman persona. He didn't grow up with photos of J.F.K. on his wall, he said at the press conference. Instead he posted Larry Bird's photo on the wall growing up, and Ronald Reagan was one of his idols, he added.
Despite his efforts to represent the political center in the race, McMurray has not escaped the notice of the Democratic Congressional Campaign Committee. It's unclear at this point what additional resources might be allocated to support McMurray, but the race was already on the organization's "target list" of congressional races because the allegations had been public knowledge for months.
The indictment and arrest of Chris Collins has shaken up the race and substantiates the image of him as an out-of-touch support in the pockets of donors and the rich, according to Meredith Kelly, a DCCC spokeswoman. "The chickens have come home to roost," She said in a statement. "With Collins' arrest for corruption, unprecedented grassroots energy, and the strong candidacy of Nate McMurray, this seat is firmly in play for Democrats."
House Speaker Paul Ryan announced after the release of the indictment that Collins will not be serving on the Energy and Commerce Committee while the House Ethics Committee investigates. A spokesman for Collins did not respond to a request for comment by publication time, but a press conference was scheduled in Buffalo for Wednesday evening.