New York City
Health care groups place their bets on James for attorney general
Tish James has received more than $100,000 from the health care sector.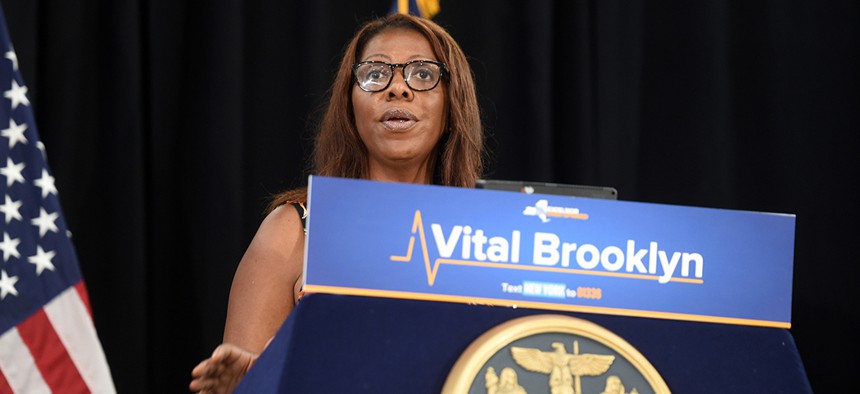 Powerful health care groups are rallying behind New York City Public Advocate Letitia James' campaign for state attorney general, according to recent campaign financial disclosures.
James's campaign has received more than $100,000 from a combination of for-profit nursing homes, rehabilitation centers, health care unions and industry political action committees since the beginning of June, more from such sources than any other candidate in the Democratic primary.
Rep. Sean Patrick Maloney, the attorney general candidate who raised the most in the last reporting period, received a $10,000 donation from the drug company Pfizer's political action committee. Rivals Zephyr Teachout and Leecia Eve have not received any money from the health care sector.
PACs play a big role in the funding that James has received from the health care industry, with four PACs accounting for about three-quarters of her fundraising from the sector. The top donors were the labor-affiliated 1199 SEIU PAC ($21,000) and the New York State Nurses Association PAC ($10,000), Empire Dental PAC ($20,000), which represents dentists, and Medical Liability Mutual Insurance Company PAC ($20,000), which is associated with a medical malpractice insurance company. These totals do not include donations from employees who of the related organizations or individual dentists, nurses and so forth.
James' work on a non-health care issue played into at least one of the large donations.
"Our members are enthusiastically in support of Leticia James (sic) for attorney general," Gabby Seay, political director for the 1199 SEIU, said in an email. "As the public advocate, Tish has stood up for 1199 members and workers in New York City including the fight for a $15 minimum wage and keeping healthcare accessible and affordable."
A handful of James' donations come from a group of controversial nursing homes that have contributed at least $4,000 to her campaign. This includes a donation made in the name of one Buffalo-area facility, Safire Rehabilitation of Southtowns, that came under media scrutiny earlier this year for a reported lack of quality that drove resident Barbara Kent to call a local news outlet for help. "Nobody should have to live like this," she told WKBW. Another facility in the Goshen area gained notoriety for slashing staff in its effort to turn a profit from what was previously a nonprofit nursing home, resulting in a state-ordered plan to redress issues there.
A spokesperson for James did not comment on the donations from the nursing homes, even as she receives from organized labor. In an email sent to City & State, the campaign emphasized its labor support.
"Our campaign has a broad and diverse base of grassroots support, and we are especially proud our brothers and sisters in organized labor have endorsed Tish James for attorney general," Jack Sterne, the James spokesperson, said in the email. "Throughout her career, Tish has defended healthcare workers and fought for patients' rights – and she will continue that important work as attorney general."
The high volume of support from health care organizations is noteworthy because James would have enforcement powers over much of the health care industry if elected in November. The state attorney general also has the power to bring suits at the federal level, lending the position a national voice on health care issues, antitrust regulations and patients' rights.
For example, former state Attorney General Eric Schneiderman reached a $6.4 million settlement with a Brooklyn home health care provider for false Medicaid billing.
James' fundraising advantage from health care-related organizations contrasts with the real estate industry, which has split its support roughly evenly between James and Maloney both of whom have received upwards of $150,000 from the industry, City & State reported previously. James is leading in fundraising overall, with about $1.2 million on hand to Maloney's $795,000, Eve's $160,000 and Teachout's $474,000. Teachout is the only candidate in the race who has stated that she will not accept any donations from corporations or limited liability corporations.
Despite the range in fundraising hauls, the race still appears wide open with just about a month to go until the Sept. 13 primary. Two recent polls from Quinnipiac University and Siena College have James in the lead with support from about 25 percent of voters. Maloney is about 10 percentage points behind, but about two out of five voters remain undecided.
With reporting by Jeff Coltin
Powered By
NEXT STORY: Dems backing IDC challengers are not violating the truce