New York State
Maloney and Teachout share an obscure alma mater
Sean Patrick Maloney and Zephyr Teachout went to the same small New Hampshire high school.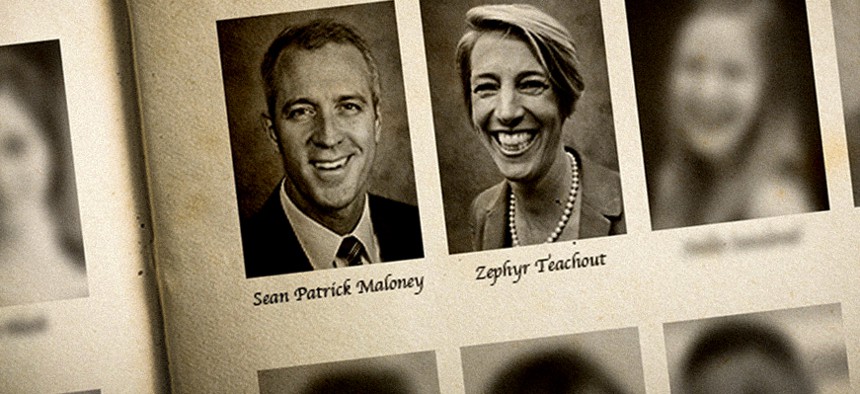 Dartmouth College, the Ivy League university in Hanover, New Hampshire, has many illustrious graduates, from U.S. Sen. Kirsten Gillibrand to former New York Gov. Nelson Rockefeller. The Wikipedia page for its famous alumni is more than 600 names long.
But there's another school in town with impressive alumni, two of whom are currently locked in an electoral battle that's both statistically unlikely and entirely expected from those who know the school best.
Zephyr Teachout, class of 1989, and Sean Patrick Maloney, 1984, both graduated from Hanover High School and both are now Democratic candidates for attorney general of New York.
The intramural faceoff was first reported by Hayden Smith in the Hanover High School Broadside, the student newspaper, and was subsequently picked up the Valley News, a daily paper covering the Upper Connecticut River Valley, but the candidates' shared roots seem to have gone unreported in New York.
Graduating five years apart, the two never attended Hanover at the same time. But both started their political careers on the Council, the student-led governing body of the high school. Made up of about 30 students and 10 adult faculty and community members, the Council governs all aspects of student life. Recent actions include regulatory minutiae like increasing the passing time between class periods from three to five minutes, and progressive triumphs like revamping the school's disciplinary code to include restorative justice practices.
Students taking an active role in the school's governance is part of Hanover's longstanding democratic philosophy, HHS principal Justin Campbell told City & State. "The theory being that our school should be a democratic school because the citizens we produce have to go on and live in a democratic society," Campbell explained.
Teachout was a member of the Council during her time in school, and Maloney once ran those meetings as moderator, a position akin to the Council's president.
Being moderator is serious work, Campbell said, that "puts students in a true leadership position early in their life and might lead them to think about future leadership roles they might hold."
Neither Campbell nor Dean of Students Julie Stevenson knew either of the candidates during their time in school, but they weren't surprised that Council members would be running for office.
"That's the plan!" Stevenson said with a laugh. "It's wonderful! That's what we hoped would happen."
Neither candidate responded to a request for comment. Unusually for people who attended the same public high school, they grew up in different states. Maloney was the son of a lumberjack and grew up in Hanover. Teachout was raised in Norwich, Vermont, on the other side of the Connecticut River. Her mother was a judge and her father was a law professor. She was a star cross country runner in high school, a New England champion in 1985 and a state champion in 1986 and 1987. A local legend among runners, Teachout's "natural talent" and "toughness" was singled out in a 2012 New Hampshire Union Leader article commemorating her coach's retirement, even before she ever ran for public office.
Hanover High School is part of one of the few bi-state school districts in the country. Local legend has it that the bill creating the district was one of the last President John F. Kennedy signed before he was assassinated.
Like most residents of Hanover, population 11,400, and Norwich, population 3,400, Maloney and Teachout used to get along. Back in 2016, Maloney, a congressman representing New York's 18th district since 2013, endorsed Teachout, a Fordham University law professor then running for Congress in the adjoining district, NY-19. "Zephyr means a light breeze, but this person is a category five hurricane," Maloney said at the time, referring to the little-known definition of the Greek-derived word "zephyr."
Teachout lost, while Maloney was reelected to Congress. But both are now running for attorney general, after the seat opened up following former state Attorney General Eric Schneiderman's resignation in May. The four candidates in the race – including New York City Public Advocate Letitia James and Verizon lobbyist Leecia Eve – have preferred attacking President Donald Trump on the campaign trail to attacking each other. But Teachout did single out her fellow Hanover alumnus last month, highlighting Maloney's past support of Republican state Sen. Bill Larkin, an abortion opponent.
The improbability of Hanover High, educator of about 700 students a year, producing two candidates for New York's top prosecutor isn't lost on the school's graduates, like Jennie Frishtick, class of 2012, who now works at the lobbying firm Kasirer in New York City. "Statistically, yes, I am very surprised. That's incredible," she told City & State. "But it is definitely a politically engaged school and it makes sense that students go on to do politically engaged work. But it's still – I think this is a little crazy."