New York City
There are many Julia Salazars. Which one is running for state Senate?
Julia Salazar is under fire for misleading claims about her personal history.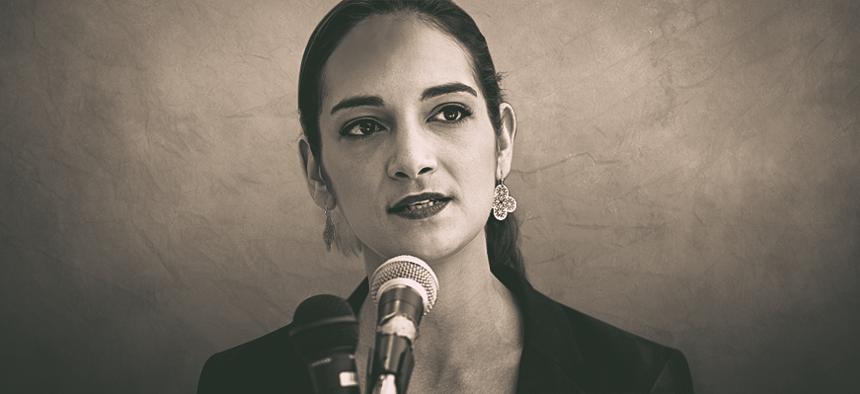 Just a few weeks ago, 27-year-old Julia Salazar was a candidate on the rise. She was the subject of flattering magazine profiles and optimistic projections that her insurgent candidacy could unseat incumbent state Sen. Martin Dilan in the upcoming Democratic primary. But the recent surge in media attention has become a liability as well as an asset, bringing increased scrutiny of the story she tells on the campaign trail.
The version put forth by Salazar presents her as the Jewish daughter of a Colombian immigrant family who worked her way through Columbia University by toiling as a domestic worker, which in turn inspired her to become a community organizer. But a string of recent stories brought up uncomfortable details from her past as a Republican, a pro-life activist, and a leader of a campus Christian group, who didn't pay taxes for years. Most potentially damaging of all, especially in a heavily Latino district, Salazar claimed in the past to be an immigrant but has also admitted to having been born a U.S. citizen in Florida.
Salazar has responded to some of the revelations by saying that she has not lied about her past, but she and her campaign staff could have been more careful in how it was presented and in monitoring articles that may have characterized it inaccurately. Critics charge that she has created an image of herself that strays at times dramatically from the facts.
To unpack it all, here are the biggest controversies over Salazar's self-reported biography and how it diverges from other accounts and whether Salazar lied about the subject.
"A proud immigrant myself"
Salazar was born in Miami, Florida, to a Colombian father and Italian-American mother, but that's not always the impression that she has left others with. This video shows her telling one audience that "I immigrated to this country when I was little." She also reportedly told the Intercept the same thing, among other publications. Her campaign website previously quoted her as saying that "as a proud immigrant myself, I know how important it is to protect the rights of immigrants and ensure that everyone can fully participate in the life of New York state. Her campaign has since changed the language to "as a proud daughter of an immigrant father myself." A New York magazine profile of her still describes her as a naturalized citizen, as does this article from the Daily News.
Salazar said in an Aug. 24 statement that she should have been more vigilant in briefing campaign staff on where she came from. "The fact that my parents traveled with me between Colombia and the U.S. as a small child produced confusion for some people about where I was born. One member of my staff was even unknowingly unclear on this, and as a result they incorrectly told some reporters that I had been born in Colombia and was therefore a naturalized citizen." A spokesman for the campaign told City & State that she went "back and forth" as a child between the two countries, though he could not provide details on the frequencies or durations of such trips by publication time.
Salazar has blamed staffers for some mischaracterizations of her birthplace and citizenship status. Nonetheless, some of her own statements have left the same impression that she was a naturalized citizen, originally from Colombia.
Bottom line: In some instances, Salazar has stated clearly that she was born in the U.S., which made her a citizen automatically, and that her mother was American. She never explicitly said she was born in Colombia. But some of her statements about being an immigrant were false, as she is not an immigrant. 
"Fighting for social justice in her community"
It appears that Salazar did not become a registered Democrat until 2017. The Daily News reports that she registered as a Republican at age 18 in December 2008 while living in Florida. At Columbia University she found a home among right-leaning students, according to Gothamist. She became a leader of a pro-life group and became involved in a pro-Israel circle, even appearing on a TV show hosted by right-wing conspiracy theorist Glenn Beck. She describes herself as a community organizer with a "decade of experience," which – since she is only 27 years old – would only be true if one were to include her conservative activism at Columbia.
Salazar's explanation is that she was raised to be a conservative Republican and her politics evolved while she was in college, but that she registered as an independent rather than a Democrat for several years. "Julia's involvement with the pro-life movement is something she regrets, and her views on both Israel and abortion changed dramatically in college as she learned more about those issues from advocates. However, her commitment to tenants' rights – a commitment she built while organizing her building to address repair and heating issues in college – is one she stands by, and it informs her pro-tenant platform to this day," a spokesman said in an email.
Bottom line: Salazar isn't lying about spending a decade in activism, but she is perhaps misleading those who would assume that it was always for progressive, rather than conservative, groups and causes.
A "working class" background
Salazar has credited her time working as a nanny during college as inspiring her to become involved in social justice. But she did not pay taxes for four years in which her campaign told City & State she was working 20-30 hours per week. A spokesman said that she made so little money that she did not need to file taxes, though he could not provide a definitive total for how much she earned. People under age 65 who make less than $10,400 do not have to file taxes, according to the IRS. Salazar said in her testimony in an unsuccessful legal challenge to her residency eligibility mounted by Dilan that she thinks she made $15/hour as a nanny. At 20 hours per week, that would be $300/week which would exceed the threshold at which one is supposed to file a tax return if she worked year-round. It's possible that she only worked during the school year or somesuch. Regardless, it does raise the question, which the campaign could not answer by press time, as to how she could afford to live in New York City.
Her spokesman speculated that she had scholarships or financial aid from Columbia University. To the extent that the years she did not file a tax return overlap with her undergraduate education, that is quite possible. But it would be very implausible as an explanation for the years beyond. While her campaign confirmed that she did not file a tax return for four years, it had not, at press time, responded to a follow-up question about whether it was the same four years that she was in college.
On a questionnaire for the grass-roots Brooklyn reformer group New Kings Democrats, Salazar describes herself as "a daughter of working class immigrants." Some would dispute whether her father's occupation – reported alternately as a commercial airline pilot or cargo pilot, both of which are relatively well-paid positions requiring extensive training – qualifies as working class. She also is not the daughter of immigrants, plural, as her mother was born and raised in New Jersey.
Bottom line: Class is in the eye of the beholder and one can easily imagine her feeling economically marginalized when she had to work part-time while attending an Ivy League school after her father died. She has not necessarily lied about anything except the number of her parents who are immigrants. But she has aggressively played up her supposed economic struggles to a point that some might find unwarranted by her actual experience.
A self-created identity
Salazar's Jewishness came under scrutiny as "an identity that is no less convincing for having been largely self-created," in an Aug. 23 article in Tablet Magazine. The article states that she was a founder of the Christians United for Israel chapter at Columbia and was interviewed on Beck's show while attending the Student Advocacy Leadership Training in San Antonio, Texas. She reportedly would reference biblical passages on social media at that time – and was known to insert "praise Jesus" into conversations, according to Tablet. "There was nobody in our immediate family who was Jewish," Alex Salazar, the candidate's older brother, told Tablet. "My father was not Jewish, we were not raised Jewish." The article notes that her mother has attended services at an evangelical church and that her father had a Catholic funeral. Her given middle name is Christine, though she goes by the middle name of Carmel.
Salazar has said that her father was descended from Sephardic Jews from Spain, that she was brought up with spiritual influences from both Christianity and Judaism and that she converted to Judaism under the guidance of a rabbi at Columbia Barnard Hillel, the Jewish student activity group on campus. Following her father's death when she was 18, she became interested in Judaism and has said that she attended Jewish religious classes at Hillel. "I essentially took a course and learned how to read Torah and had the option of going through a b'nai mitzvah ceremony (along with two other women who studied with me) but declined to do it," she said in one interview. A spokesman could not provide the name of the rabbi by press time.
Salazar has said that she has not sought to use her Jewish identity to win votes. "I'm not running for Chief Rabbi here; I've never sought to use my Jewishness for political gain, especially because frankly it is not politically advantageous for me at all," she told the Forward.
But her self-identity as a Jew came in handy in her online writing and social media posts, when opposing Israeli policies. "Like most American Jews, I was raised with the delusion that Israel was a safe haven for me," she wrote in a 2014 post in the anti-Israel website Mondoweiss under the name Julia Carmel. That assertion is nonsensical, as she was not raised Jewish, culturally or religiously.
She has also challenged the role that non-Jewish people can have in discussing how the Israeli-Palestinian conflict plays out in Jewish activist circles. One Twitter post revealed by Tablet had her responding to pro-Israel activist Chloe Valdary by asking whether it is "anti-Semitic for a non-Jewish student to publicly impose opinion of whose voice is permitted in our Jewish communities?" She then told Valdary to "please leave my Jewish community alone."
Overall, Salazar seems to have a penchant for using even tenuous claims to belonging to several historically oppressed groups for maximum political leverage.
Her pushback against the Tablet article followed this playbook, using the fact that she is half-Latina to imply that the article is racist: "The piece attacks my identity as a Jewish person of color," read part of her Aug. 24 statement. "There's a long history of bigoted policing of the identity of Jewish people of color, particularly people with patrilineal Jewish heritage or Jews who converted. I'm sad to see that brought into my campaign."
She also reiterated that her father was "of Sephardic Jewish heritage," although she has not provided any proof that this is the case and her own brother's comments contradict it.
Bottom Line: If she converted to Judaism, then she's Jewish. If she did not convert, she is not Jewish by any widely accepted rabbinic standard.
By Orthodox or Conservative Jewish law, her mother would have to be Jewish. In Reform Judaism, she would be considered Jewish if her father was Jewish and she was raised Jewish. But her father was not Jewish and she was not raised Jewish. Jews do not have Catholic funerals, for instance, nor do they join groups called "Christians United for Israel."
Salazar talks about her father's Jewish "heritage," or "ancestry." Besides the fact that she has furnished no proof that her father had Jewish ancestors and her own brother was apparently unaware of their existence, it's not clear if she's even claiming that all of her father's ancestors were Jewish. (It would seem unlikely that her paternal grandparents were Jewish, given that none of her aunts and uncles are.) The overwhelming majority of people in Latin America with traces of pre-Inquisition Jewish ancestry have mostly non-Jewish lineage. 
So her claims about her family's religion are a bit misleading and her claims about her own faith might be considered misleading by some Jews if she did not actually convert to Judaism. 
Arguably, however, it does not matter. She has chosen to identify as Jewish, as many people with only partially Jewish families do. She has engaged in the Jewish community and learned about the religion. Some liberal-minded secular, Reform or Reconstructionist Jews would say that's all that matters. 
Moreover, her district is not predominantly Jewish. For all the attention it's gotten, her exact religious background is less relevant to her campaign than some of the other issues in question.
Update: This story was updated to reflect the fact that Salazar testified that she made $15/hour as a nanny. 
Powered By
NEXT STORY: No longer 'defiant,' James stumps for 'respect'