New York State
Times endorsement gives Zephyr Teachout needed momentum in AG race
The New York Times endorsement gives Zephyr Teachout needed momentum in AG race, but Letitia James still has the edge as campaign enters its final weeks.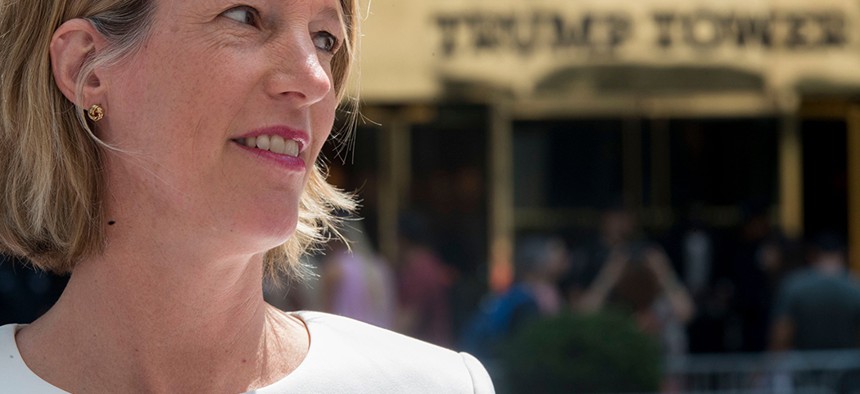 On a Saturday morning eight years ago, a New York Times endorsement shook up state politics.
Sean Coffey, a trial lawyer, was hoping for the newspaper's endorsement in his primary battle against state Sen. Eric Schneiderman. Democratic political consultant Bruce Gyory, who was working for the Coffey campaign, was left breathless after he picked up the paper in the driveway of his home in the Albany suburbs and saw that Schneiderman – who would win election that November – had received the support of the paper's editorial board.
"It felt like a solar plexus punch," Gyory said in a telephone interview. "It was a real blow to our campaign."
Campaign staffers on the campaigns of Rep. Sean Patrick Maloney and Leecia Eve might be feeling the same type of pain this week following the Times' endorsement of Zephyr Teachout for attorney general. The endorsement could affect crucial swing voters in the suburbs and Manhattan alike as Teachout makes a move to overtake Maloney as the candidate best positioned to confront frontrunner Letitia James in the final weeks of the campaign before the Sept. 13 primary election.
"An endorsement like this will clearly be a shot of adrenaline to the Teachout campaign," said Gyory, who is not affiliated with any of the campaigns for attorney general this cycle.
A flurry of Tweets from the Teachout campaign on Sunday underscored the value her campaign attached to the endorsement, which followed an endorsement from The Nation magazine a few days before.
I just dropped my phone when I opened the news!!! The New York Times just endorsed us saying it is "the most important choice facing New York voters this fall." https://t.co/eh8VgdLK0i

— Zephyr Teachout (@ZephyrTeachout) August 19, 2018
⚡️ephyr's honest reaction to the @nytimes endorsement: pic.twitter.com/2LIYJu6HdL

— Aly Johnson-Kurts (@AlyJohnsonKurts) August 20, 2018
The Times editorial presents Teachout as New Yorkers' best chance to counter the excesses of the Trump administration while also confronting a culture of corruption at the state level. It could also help Teachout in her competition with Maloney for votes in the "Hudson north" region, a crucial area for either of them to challenge James' frontrunner status, according to Gyory.
James' campaign, though, could see the endorsement as a wakeup call to pay more attention to voters in Manhattan, according Democratic consultant Hank Sheinkopf. Times readers in the Upper West Side and Upper East Side often depend on the paper's endorsement in deciding votes in low-visibility elections such as judicial races, he said. This year's contentious gubernatorial primary has drawn attention away from the four-way race to face Republican Kevin Wofford in the general election, potentially increasing the effect of the Times' endorsement on Teachout's chances.
"This (attorney general) election has certainly not been a high information election," Sheinkopf said in a telephone interview. "It could have a disproportionate impact in this election."
Times endorsements over the past two decades have mostly gone to Democratic candidates in the general election, with the notable exception of the paper's support of Gov. George Pataki's reelection in 2002. Whether or not the paper's endorsement affects the Democratic primary in the attorney general race this year, the paper has backed the winning candidate in a number of statewide elections.
This is what happened in 2010, when the Times' endorsement helped push Schneiderman over the top in a five-way primary race for attorney general. But the 2006 endorsement of former New York City Public Advocate Mark Green – who went on to lose – instead of Andrew Cuomo shows that a campaign with an emphasis on public interest issues and political reform can attract support from the state's largest newspaper – especially when Cuomo is involved in a Democratic primary.
The paper also declined to make an endorsement in the 2014 Democratic primary for governor, costing Teachout a much-needed boost in her longshot bid for an upset over Cuomo. However, James' increasingly close relationship with Cuomo might have cost her a chance to use a Times endorsement to increase her lead over her rivals in this year's primary.
"She has embraced political contributions from donors to Mr. Cuomo, who held a fundraiser for her earlier this summer," reads the Times editorial. "Such political contributions could become a conflict of interest for any candidate."
Teachout still faces significant hurdles in the weeks ahead to not only challenge James but also surpass Maloney as her most viable rival. Maloney raised the most money of any candidate in the latest fundraising disclosures – though James had more cash on hand – with Teachout in a distant third.
Two polls from last month placed James in the lead with the support of about a quarter of voters, well ahead of Maloney and Teachout, who each had about 15 and 12 percent of support, respectively, of voters in both the July 31 Siena College and the July 18 Quinnipiac University polls. The leader in both polls was "undecided" at 42 percent of voters, leaving an opening for James opponents in the final three weeks before the Sept. 13 primary election.
Teachout will need to catch a second wave of support between now and then if she wants to stand a chance at pulling off the upset, because the Times endorsement has not changed the fundamentals of the race, even if she's just received a jolt of momentum moving forward, according to Gyory.
"At this point the basic math of the race still remains," he said. "James is ahead."
Powered By
NEXT STORY: Battleground: New York