Campaigns & Elections
IDC and other New York legislative 2018 primary results
Tracking the former Independent Democratic Conference members – and other key New York Senate and Assembly primaries.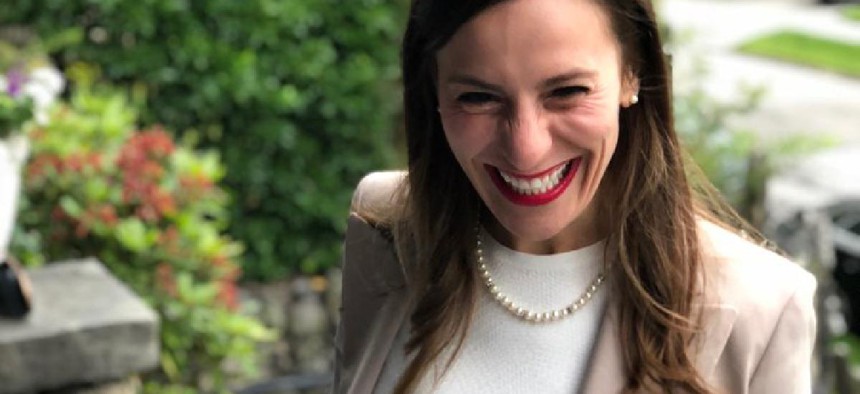 Four years ago, a pair of Democratic challengers sought to knock out two state senators who were members of the Independent Democratic Conference to punish them for partnering with state Senate Republicans. The IDC incumbents, state Sen. Jeff Klein of the Bronx and state Sen. Tony Avella of Queens, prevailed.
This year, it's a different story. All eight state senators who had joined the now-defunct IDC faced primary challenges this year – and six of them have lost their primary bids, including their founder and leader, Klein, who lost to Alessandra Biaggi. Additionally, Zellnor Myrie beat state Sen. Jesse Hamilton in Brooklyn, Jessica Ramos ousted state Sen. Jose Peralta in Queens and Robert Jackson trounced state Sen. Marisol Alcantara in Manhattan. Among the former IDC members from New York City, only state Sen. Diane Savino of Staten Island was able to hold on.
Of the two upstate lawmakers who had been part of the IDC, state Sen. David Carlucci held on, while state Sen. David Valesky lost his re-election bid. 
Although the breakaway group rejoined mainline Democrats in April, it did little to temper the newly awakened political engagement in the wake of the 2016 presidential election and anger towards the Democrats who shared power with Republicans.
Another challenger, Blake Morris, fell short against state Sen. Simcha Felder, who is not a member of the IDC but has caucused with Republicans since he was first elected and gives them their one seat majority. But in another insurgent campaign, Julia Salazar navigated a host of controversies to knock out veteran state Sen. Martin Dilan in Brooklyn.
Additionally, there are several Assembly elections of note, including several vacants seats that need filling. 
RELATED: New York's 2018 statewide primary results  
 
STATE SENATE

District 11, Democratic Primary
John Liu: 50.68% ​​​
Tony Avella: 45.31%
With 224 out of 224 election districts reporting.
 
In a rematch of their 2014 race, former New York City Comptroller John Liu declared victory over state Sen. and ex-IDC member Toney Avella in one of the closest contests in the IDC challenges. In that first matchup, Democrats wanted to get rid of Avella because of his decision to join the breakaway conference. However, the IDC promised to return to the fold after the election. Whether or not that ultimately impacted the 2014 election would be hard to prove, but Liu lost that contest by six points. The IDC did not keep their promise. This year proved to be different for Liu thanks to shifting political attitudes since the election of President Donald Trump and increased political engagement. The knowledge of and desire to defeat the IDC proved to be stronger this year than in 2014, which was what Democrats were banking on when they recruited Liu late in the game.
 
District 13, Democratic Primary
Jessica Ramos: 50.73%
Jose Peralta: 41.74%
With 159 out of 159 election districts reporting.
 
First-time candidate and former New York City Mayor Bill de Blasio aide Jessica Ramos has defeated ex-IDC member state Sen. Jose Peralta. Peralta had the shortest stint with the IDC, having joined in January 2017, but faced perhaps the most backlash for the decision when members of the his community held an angry town hall in February to express their displeasure with his decision. Ramos was one of the people at the February town hall and appears to have been able to capitalize on the new political engagement to defeat Peralta. The district also overlaps with the congressional district that Alexandria Ocasio-Cortez won when she defeated the powerful Queens kingmaker Rep. Joseph Crowley in an upset victory. While the two races are not exactly alike, Ocasio-Cortez's win may have helped to bolster Ramos' efforts.
 
District 17, Democratic Primary
Simcha Felder: 63.25%
Blake Morris: 32.69%
With 196 out of 196 election districts reporting.
 
In an expected result, state Sen. Simcha Felder defeated challenger Blake Morris easily. Although Morris sought to win support from the Orthodox Jewish community that has long been Felder's base, there was no upset this year. Felder has caucused with Republicans for his entire tenure in the state Senate and currently provides the GOP their one-vote majority. However, his position of power may change if Democrats win just one more seat in November. Felder will appear on both the Democratic and Republican lines in November and faces no general election challenge.
District 18, Democratic Primary
Julia Salazar: 54.09%
Martin Dilan: 38.37%
With 244 out of 244 election districts reporting.
 
Democratic socialist Julia Salazar, dubbed by some as "the next Alexandria Ocasio-Cortez," has emerged victorious against longtime incumbent state Sen. Martin Dilan in what turned out to be an unexpectedly high-profile state Senate race. Salazar ran on a platform of universal rent control and single-payer health care, but she made national headlines when media reports challenged the working class, immigrant, Jewish image Salazar presented on the campaign trail. As more reports came out disputing aspects of Salazar's past, Dilan's ties to real estate also got attention, albeit without the sensational headlines. Evidently, reports about Salazar's misleading statements about her past did not sway voters to vote against her – she won by a sizeable margin. Salazar is now expected to win the general election handily.
Tonight's victory is not about me.

Tonight's victory is about New Yorkers coming together and choosing to fight against rising rents and homelessness in our communities.

Together, we will build a better New York.#NY4TheMany pic.twitter.com/Qi3lyjNdoz

— Julia Salazar for State Senate (@SalazarSenate18) September 14, 2018
District 20, Democratic Primary
Zellnor Myrie: 51.30%
Jesse Hamilton: 43.44%
With 213 out of 213 election districts reporting.
 
Lawyer, activist and first time candidate Zellnor Myrie has defeated two-term incumbent and former IDC member state Sen. Jesse Hamilton. Myrie gained significant support during his campaign, gaining the endorsement of the entire Brooklyn congressional delegation, including Brooklyn political powerhouse Rep. Hakeem Jeffries. Myrie also got the backing of all the other local lawmakers in and around the district, a favorable editorial in The New York Times and support from several powerful unions. Hamilton joined the IDC shortly before the general election in 2016. The race was a contentious one, ending with emails alleging that Myrie is anti-black apparently funded by a nonprofit with ties to Hamilton. The state senator denied any involvement. Myrie campaigned heavily on addressing the district's housing crisis and attacked Hamilton for his ties to real estate.
 
District 22, Democratic Primary
Andrew Gounardes: 51.75%
Ross Barkan: 37.64%
With 202 out of 202 election districts reporting.
 
Andrew Gounardes, counsel to Brooklyn Borough President Eric Adams, tried in 2012 to knock out state Sen. Marty Golden, one of the few downstate Republicans who has represented southern Brooklyn for 16 years despite a nearly 2-1 voter enrollment advantage for Democrats. After beating journalist Ross Barkan in Thursday's primary, Gounardes will have another shot at Golden, who won by over 15 points in their last race. Gounardes has a long history of community engagement and government experience that he is running on, and Democrats hope he will be able to ride a blue wave in November to replace Golden.
 
District 23, Democratic Primary
Diane Savino: 60.05%
Jasmine Robinson: 18.34%
Brandon Stradford: 11.01 %
With 210 out of 221 election districts reporting.
 
Despite strong showings from many other challengers to ex-IDC members, Jasmine Robinson did not share their success. State Sen. Diane Savino is one of just two former conference members who managed to keep their seat. Robinson's campaign was not as strong other candidates who had run and at one point asked to be taken off the ballot when she learned some of her petition signatures were fraudulent before quickly changed her mind.
 
District 31, Democratic Primary
Robert Jackson: 52.88%
Marisol Alcantara: 36.39%
Tirso Pina: 3.78%
Thomas Leon: 1.39%
With 264 out of 264 election districts reporting.
 
It looks like the third time's the charm. Former New York City Councilman Robert Jackson, in his third attempt to win this state Senate seat, has finally emerged victorious in his rematch against former IDC member state Sen. Marisol Alcantara. The freshman legislator won the Democratic primary in 2016, in a four-way race that included Jackson. That primary split very closely three ways – Alcantara took 32.7 percent to win, Upper West Side lawyer Micah Lasher received 31.57 percent and Jackson came in third with 30.65 percent. This year's primary was a four-way contest once again, but did not include Lasher, who endorsed Jackson early in his campaign. With his support, it would appear Jackson won a large chunk of the Upper West Side votes previously won by Lasher, propelling him to victory.
 
District 34, Democratic Primary
Alessandra Biaggi: 53.11%
Jeff Klein: 44.48%
With 270 out 274 election districts reporting.
 
In the biggest upset of the night, insurgent Alessandra Biaggi unseated state Sen. Jeff Klein, who is not only a former IDC member, but is the man who formed it in 2011, continued to lead it for years and shared a leadership in the state Senate with the Republican majority leader. Although there was no public polling in the race, Klein rightly appeared to take the race seriously – he spent a mind-boggling $2.4 million dollars according to state financial disclosures. By comparison, Biaggi spent less than $300,000. Klein had the support of many major unions, including 1199SEIU, RWDSU and TWU. Meanwhile, Biaggi had been endorsed by 32BJ SEIU, as well as U.S. Sen. Kirsten Gillibrand, New York City Comptroller Scott Stringer, New York City Council Speaker Corey Johnson, The New York Times and congressional candidate and progressive darling Alexandria Ocasio-Cortez. The support of 32BJ SEIU may have played an important role in her victory. Klein earlier this year had also been accused of sexual misconduct by a former staffer.
 
District 38, Democratic Primary
David Carlucci: 53.23%
Julie Goldberg: 42.51%
With 252 out of 265 election districts reporting.
 
Former IDC member state Sen. David Carlucci is one of the only two from the disbanded conference who survived his re-election, successfully fending off a surprisingly strong showing from challenger from Julie Goldberg, a librarian. Goldberg was part of the broader slate of anti-IDC candidates, though her campaign did not appear as strong as some of the others seeking to unseat former conference members and did not receive the same amount of media attention.
 
District 42, Democratic Primary
Jennifer Metzger: 57.56%
Pramilla Malick: 36.90%
With 160 out of 160 election districts reporting.
 
Rosendale Councilman Jennifer Metzger emerged victorious over environmental activist Pramilla Malick in this Hudson Valley district. She will now face Republican Ann Rabbitt in November. Earlier this year, state Sen. John Bonacic retired, leaving the seat up for grabs. It should still be fairly safely Republican, but in the absence of an incumbent, it is in play in a way that it had not been before. Malick previously ran against Bonacicin 2016 and lost by more than 20 points. This time around, Metzger received more establishment support than Malick, as well as the backing of Zephyr Teachout, NYSUT and the Working Families Party. The state Board of Elections recently rejected Malick's attempt to appear on the November ballot as an independent, so her lose in this race means she will not be able to appear on the ballot in November.
 
District 53, Democratic Primary
Rachel May: 50.47%
David Valesky: 46.66%
With 158 out of 158 precincts reporting.
 
In one of the more surprising races of the night, teacher and activist Rachel May ousted state Sen. and former IDC member David Valesky in a tight race. May's race flew under the radar and raised far less money than her opponent, but she still pulled out a victory. Valesky had been Klein's second in command and served as the conferences deputy leader.
 
Other Democratic primaries: Peter Harckham beat Robert Keston and will face GOP state Sen. Terrence Murphy in the general election; Amanda Kirchgessner beat Michael Lausell and will face GOP state Sen. Thomas O'Mara in November.
ASSEMBLY

District 18, Democratic Primary
Taylor Raynor: 50.06%
Earlene Hooper: 45.10%
With 94 out of 94 election districts reporting.
 
One of the more contentious Assemlby primaries resulted in an upset, with Taylor Raynor knocking out Assembly Deputy Speaker Earlene Hooper. Hooper had been linked to several racially charged episodes, including invoking "plantation politics" to suggest Raynor was beholden to white politicians. Both candidates are black. 
 
District 20, Democratic Primary
Juan Vides: 45.92%
Jack Vobis: 41.91%
With 114 out of 114 election districts reporting.
 
Two Democrats – lawyer and former court officer Jack Vobis Jr. and businessman Juan Vides – vied for the chance to take on freshman Republican Assemblywoman Melissa Miller, but Vides ultimately won in a close race. Vobis lost despite receiving the endorsement of the Nassau County Democratic Committee. Miller won a close race in 2016 by only five points to replace former Assemblyman Todd Kaminsky, who left his seat for a successful state Senate run, which could mean the seat will be competitive in November.
District 30, Democratic Primary
Brian Barnwell: 57.44%
Melissa Sklarz: 31.97%
With 82 out of 82 election districts reporting.
 
Assemblyman Brian Barnwell easily won his re-election despite a challenge from transgender activist Melissa Sklarz. Sklarz became the first transgender office holder in the state when she was elected as a judicial delegate in 1999, and she would have been the first transgender member of the Assembly. She had gained some momentum in her bid to unseat Barnwell by securing the endorsements of New York City Council members Jimmy Van Bramer and Daniel Dromm. But Barnwell was no stranger to upsets, having pulled off one of his own in 2016 when he beat longtime Assemblywoman Margaret Markey. Barnwell will face Republican Eric Butkiewicz in the general election.
 
District 39, Democratic Primary
Catalina Cruz: 48.94%
Ari Espinal: 39.51%
With 56 out of 56 election districts reporting.
 
Despite a long history of community organizing, Assemblywoman Ari Espinal failed to win re-election after only getting elected in an April special election. Former New York City Council staffer Catalina Cruz defeated her by comfortable margin. Espinal had replaced her mentor, New York City Councilman Francisco Moya, when he left his seat to join the City Council. Cruz called the special election system broken, as candidates are handpicked by county leaders, and wanted to offer the district a choice. She had also wanted to be the first "Dreamer" elected to state Legislature, though she would not be the first formerly undocumented immigrant elected and was not a recipient of Deferred Action for Childhood Arrivals. Both Cruz and Espinal had grassroots bona fides, government experience and support from lawmakers, but voters ultimately went with Cruz, who had cast herself as the progressive in the race by expressly rejecting corporate donations.
 
District 104, Democratic Primary
Jonathan Jacobson: 26.40%
Kevindaryan Lujan: 21.23%
Jodi McCredo: 20.05%
Ralph Coates: 15.24%
Alexander Reed Kelly: 11.95%
With 48 out of 48 election districts reporting.
 
Jonathan Jacobson came out ahead in this five-way Democratic primary to find a replacement for the late Assemblyman Frank Skartados, who had held the seat from 2009 until he died of cancer in April. All five of the candidates have political experience at the local level, and largely agreed on the issues. Jacobson will face Republican candidate Scott Manley. Skartados won reelection in a landslide in 2016.
 
District 133, Republican Primary
Marjorie Byrnes: 61.16%
Joe Errigo: 36.87%
With 128 out of 128 election districts reporting.
 
Assemblyman Joe Errigo returned to Albany to replace Bill Nojay, a fellow Republican who left his seat open when he committed suicide. In a rare move, Errigo faced a primary challenge from a fellow Republican, former prosecutor Marjorie Byrne. Even more rare was her victory over Errigo, whose stint in Albany will be short-lived.
District 136, Democratic Primary
Jamie Romeo: 56.26%
Jaclyn Richard: 22.79%
Todd Grady: 10.83%
With 92 out of 92 election districts reporting.
 
Monroe County Democratic Committee Chairwoman Jamie Romeo easily won her primary in the contest to replace Assemblyman Joseph Morelle, the deputy majority leader. He announced earlier this year that he would not seek reelection in order to run for the congressional seat once held by Rep. Louise Slaughter, who died in February. Morelle has held the seat for 28 years and although Republicans nominated Jim Schafer to run in November, he declined the nomination, meaning the Romeo will almost certainly be headed to Albany. She had the support of Morelle  in the race that included Jacklyn Richard, vice president of the Rochester National Organization for Women and Todd Grady, who works in real estate. Romeo also outspent her opponents and will appear on the Working Families Party and Independence Party lines in November.
 
Other open Democratic Assembly primaries: Mathylde Frontus was narrowly ahead of Ethan Lustig-Elgrably in the Democratic race to replace disgraced ex-Assemblywoman Pamela Harris, although Lustig-Elgrably said it was too close to call; Charles Fall beat Bobby Olisa and Patricia Kane in the race to replace Democrat Matt Titone on Staten Island; Karines Reyes beat John Perez and Farah Despeignes for the seat vacated by now-state Sen. Luis Sepulveda.
 
Open Republican Assembly primaries: Michael Reilly Jr. beat Glenn Yost and Ashley Zanatta in seeking the seat being vacated by GOP Assemblyman Ron Castorina; Robert Smullen beat Patrick Vincent in the race for retiring GOP Assemblyman Marc Butler's seat; and the race between Dennis Bova Jr. and Frederick Nichols was neck and neck as they seek the seat being vacated by Democratic Assemblyman Anthony Brindisi, who is running for Congress.
With reporting by Zach Williams and Jon Lentz
Powered By
NEXT STORY: New York's 2018 statewide primary results